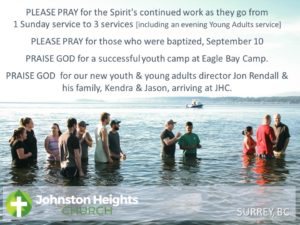 Please remember "Johnston Heights Church" – our LPD Church of the Week.
Thanks to Anna (Ben) Crumback at Sointula Community Church for producing the Church of the Week!
Two lives, two deaths, two legacies…
This week, two rather famous men died – one a Canadian and another an American.
The Canadian is David Mainse, the founder of "100 Huntley Street," the longest running daytime show in Canadian television, a show that launched in 1977 and continues today. This show shares the Christian faith through music, interviews and short messages. Many lives have been impacted through this ministry, and I personally know individuals who have been led to Christ through this work.
Mainse never became rich through his "success." He earned a modest income, was a person of integrity, both on the air and at home, and was free from the scandals that sadly took down several other tele-evangelists. Mainse died this week at the age of 81. Only in eternity will his legacy be fully realized. Mainse lived and invested his life with the hope of life eternal. He will not have regrets.
South of the border, Hugh Hefner died at the age of 91. "Hef," as he liked to be called is best known for founding Playboy Magazine and for being at the forefront of the "sexual revolution." He leaves behind a 31 year old wife, his Playboy Mansion (sold) and his magazine and social club enterprises. In 1992, he bought the cemetery crypt next to that of the late Marilyn Monroe, his first Playboy Magazine playmate, and will be interned there. His earthly legacy, whatever that is was built through the exploitation of women. Two of his famous quotes are, "The major civilizing force in the world is not religion, it is sex," and "In my wildest dreams, I could not have imagined a sweeter life." I am sorry that he lived with such a philosophy and invested his life with only interest in this short life.
Two lives lived. Two lives invested, though in very different things. Two lives ended. Two legacies…
All of us will leave a legacy. We only get one chance to live – as people – as leaders – as churches. While none of us will aspire to live like Hefner, there is a great difference between those who live with an eye to eternity and a lasting legacy versus those who live shortsightedly.
I was encouraged with an article entitled, "Turning Around a Dying Church." It is the story of God breathing new life into churches that were dying in Northfield, Birmingham, England. God is at work, and by his grace, there will be a legacy for the future…
Here is the link: https://www.e-n.org.uk/2017/10/features/turning-round-a-dying-church/f7398/
Are there lessons applicable to your church today and for your potential legacy for the future?
***
Please click this link to this week's Five Minutes on Friday with the LPD –Five_Minutes_on_Friday_Sept_29_2017.pdf
LPD Pastor and staff Cruise – Wednesday, October 25 – mark your calendars and watch for details.  
Principles for Healthy Church Boards– Tuesday, November 7, 7PM at Johnston Heights Church. This workshop, by Dr. Dan Nicholson, EFCC Leadership Catalyst, will focus on biblical principles for healthy and effective church boards. These will be applicable to all churches, regardless of church size, structure and culture.
JOB Postings Is your church hiring? Please let us know at the LPD Office! We have several resumes available and also, we are glad to post your position profile on our district website. Please email Josephine at office@lpd-efcc.ca
***
In 2017, our Lower Pacific District is assisting in the birth and revitalization of churches. We have also stepped out in faith with local churches through providing financial support and seed money.  To this end, we appreciate the gifts of many district churches and also of individuals.  You can participate through both cheques and online through PayPal at our website. See LPD website at http://www.lpd-efcc.ca/ for more info.