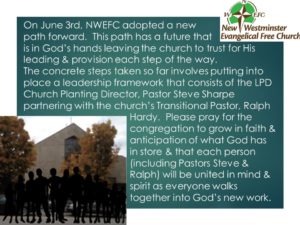 Please remember,
New Westminster Evangelical Free Church
– our  LPD Church of the Week.
Thanks to Anna (Ben) Crumback at Sointula Community Church for producing the Church of the Week!
Whatever happened to what's their names?
Have you ever asked that question of someone who had begun attending your church? You met them after the church service – or during the "greeting time." You introduced yourself and shook their hands. They seemed friendly at at home in your church. They said that they enjoyed the service. They came back the next week. But, now whatever happened to what's their names?
Leith Anderson speaks of both the "velcro" church and the "teflon" church. Velcro churches are sticky, and hard to leave. One becomes "attached" to the church by relationships with members, and feels connected.
"Teflon" churches are those that may have a good program, but people do not connect with others. While they may attend on a Sunday AM, there is really nothing to keep them on the long haul.
As I have been reflecting on my generation of pastors and church leaders, I think that in our desire to serve others and to "meet people where they are," we have perhaps made church a place where people go to have their needs met – and to be served. Over time, as "needs" change, one may seek out another church that will serve their current needs and interests.
While I understand this, I also believe that this approach has lacked both depth of relationship and depth of faith. In the end, needs will be met by Christ, not by a program. Gathering on a Sunday is so much more than being served – it brings opportunity to serve others, as an act of worship to our Lord.
Thom Rainer, in an interview with the "Unstuck Group," distinguishes  between being a "friendly church" and being a "welcoming church, and he offers some good counsel for churches of all sizes" Here is the link.

There is a difference between what draws one to attend a church and what causes one to remain in a local church! While programs may "draw people," relationships will "keep" people.
Summer can be a time of some insecurity for pastors. How about you?
Are those people away on family vacation? Are they on vacation from our church? Have they…….left our church?
When we speak of the local church as the "Body of Christ," we think of our organic connection with one another. Paul, in referring to the Body of Christ, uses the medical term for the human body. "Members" of the local body are likened to the limbs of the human body (Romans 12:4,5) – we are truly attached to one another!
Perhaps that is one reason it hurts a pastor so much when a member leaves a church. It is one thing for one to leave our church because they failed to connect. As hard as this can be, it is a much more hurtful and perhaps more personal thing when a long-time  member leaves. Somehow, we always feel that we have failed, and we may feel that our church body has just lost an "arm," or even a "toe."
Thom Rainer, in his article, "Five Reasons it is Painful for a Pastor to Lose a Church Member, " articulates some of these feelings. Here's the link.
At the end of the day, may we be found faithful in our service to our Lord and to his people. While we will never please everyone and we will never meet everyone's perceived needs, our Lord has called us to faithful service. We know what he wants and expects, and He even enables us to achieve this, by his grace.
Please pray for:
Sointula Community Church will be holding their 16th annual pancake breakfast on Saturday, June 30th,. They trust that this will be an excellent opportunity to make connections within the community, extend the love of Christ to those around them, and serve their neighbors. It is their hope and prayer that God will use this event for His glory, and that His kingdom might be furthered on Malcolm Island!
Sister Churches in the LPD – and Kingdom, as we enter the season of summer ministry and opportunity. Pray for VBS, Summer Camps, and interactions with neighbours.
Please pray for Karen and me, as we take some time of vacation for the next couple of weeks. It has been a full, fruitful  and busy season in district ministry, and we look forward to some time together. Please pray for refreshment for us as we poke about the Gulf Islands. We plan to return on Monday, July 16
TWU – as they prayerfully respond to the Supreme Court decision. Pray for wisdom and grace, and that we will be "salt and light" in our responses.
LPD Board.  Board members are Randy Lemke (Allana) – Chair, Patrick Chan (Sarah) – Property and Finance, Ben Crumback (Anna) – Island Liaison, Charles Labun (Carolyn) – Church Board Liaison, Rob Stewart (Karen) – DS, Tim Stewart (Emily) – Innovative Ministries, Kenneth Tsang (Mabel) – Chinese Church Liaison; Paul Yang (Jin) – Korean Church Liaison; Phil Yung (Grace) – Church Planting and Josephine Papp, LPD Office Administrator – Recording Secretary.
Quadra Island Bible Church in their pastoral search.
Christ Community Church (Ucluelet) in their pastoral search.
North Delta EFC, in their search for an Associate Pastor for  youth.
Pastor Lorin and Jeanette Bergin, as they trust the Lord for health and their future.
FLEFC, as they seek the Lord for his future plan for FLEFC.
For Jorge and Emily Lin, new LPD Church Planting Missionaries.They are entering a residency program in preparation for planting an international church.
The Steveston Project Team – Allen and Hannah Chang and Daniel and Joyce Wong.
Central EFC in Courtenay/Comox – as they ready their new building for ministry, and hope to be ready to move in by September. Our district is glad to assist them with a mortgage for this.
Steve (Gillian) Sharpe, in his ministry as LPD Missionary of Church Planting Development, serving both our LPD Missionaries and Church Plants and church planting in the EFCC.
***
Camp Evergreen:  2018 Camp dates for children, youth and LTDs are August  6-11. See http://www.campevergreen.ca/ for information. This is an excellent opportunity to extend your church's ministry to children and to also train young adults as Christian Leaders.
***
 EFCC National Conference , August 9-11 in Lethbridge, Alberta. Pray for God's guidance on this gathering of EFCC Churches – and better yet, plan to attend. Info is available at   https://www.efccm.ca/wordpress/conference/
***
"Pastoral Approaches: The Church & Same-Sex Attraction." Saturday, October 20 at Richmond Chinese EFC, 9AM – 4PM. This is a follow up and further resourcing of our LPD Conference presentation. All pastors and lay-leaders are welcome! Cost: $10.00 per registrant. Please register online at our LPD Website: http://www.lpd-efcc.ca/