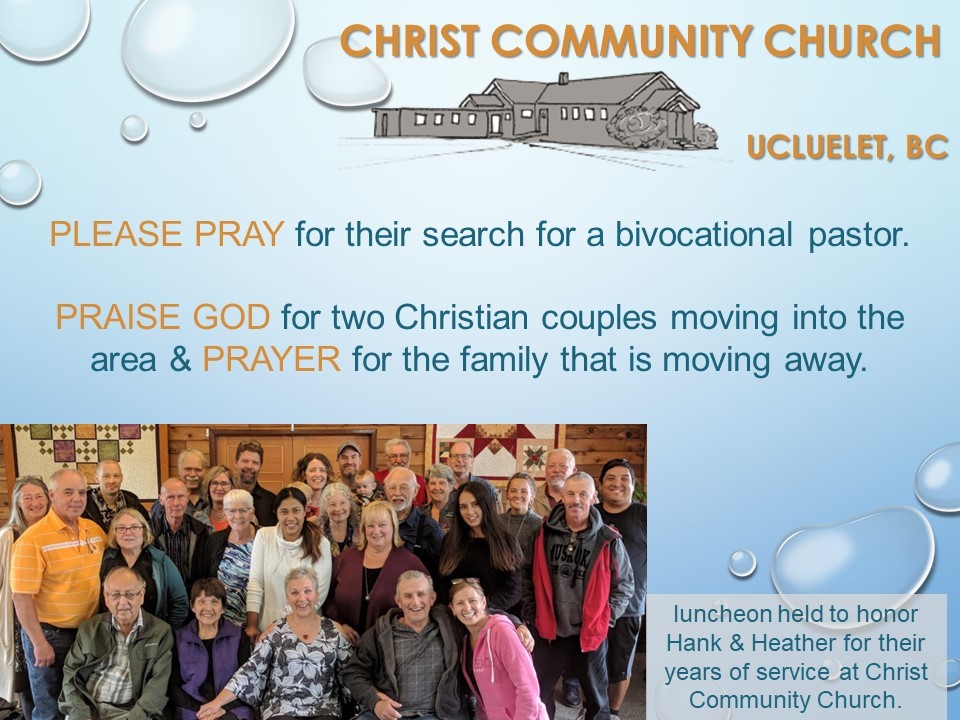 Please remember,
Christ Community Church
– our LPD Church of the Week.
Thanks to Anna (Ben) Crumback at Sointula Community Church for producing the Church of the Week!
Please pray for a pioneer, bi-vocational pastor for Christ Community Church in Ucluelet!
I was intrigued and saddened by a quotation from a recently published book by the renowned British physicist and cosmologist, the late Stephen Hawkings. The book is titled, " Short Answers to Big Questions."
In his best known book, "A Brief History of Time," written in 1998, Hawkings wrote about the possibility of a creator, stating that finding a complete theory of the universe would allow mankind to "know the mind of God."
In his latest book (as quoted in the Vancouver Sun), he denies such a possibility, writing, "We are each free to believe what we want, and it's my view that the simplest explanation is that there is no God … No one created the universe and no one directs our fate. This leads me to a profound realisation: there is probably no heaven and afterlife either. I think belief in the afterlife is just wishful thinking …There is no reliable evidence for it, and it flies in the face of everything we know in science. I think that when we die we return to dust. But there is a sense we live on, in our influence, and in the genes we pass to our children."
In this, Hawkings sounds rather like the late Sigmund Freud, who in 1927 suggested in his book, "The Future of an Illusion," that, "We leave heaven to the angels and sparrows."
As brilliant and profound as Hawkings was as a physicist, according Psalm 53:1-3, he was tragically both short-sighted and foolish (morally deficient),
The fool says in his heart, "There is no God."They are corrupt, and their ways are vile; there is no one who does good. God looks down from heaven
on all mankind to see if there are any who understand, any who seek God.
Everyone has turned away, all have become corrupt; there is no one who does good, not even one.
I write this with no intention to criticize or take away from Hawkings. To me, it is simply tragic that he appeared to face death without hope and assurance.
How about you and me? While we preach of hope of heaven and the the joy of being forever with the Lord, how does this hope impact ourlives? Our ministry? Our endurance? Our faithfulness?
Heaven and Ministry
Quite frankly, without hope, ministry, whether vocational or volunteer makes no sense. Paul said as much in 1 Corinthians 15:17-19, when he wrote, "And if Christ has not been raised, your faith is futile; you are still in your sins. Then those also who have fallen asleep in Christ are lost. If only for this life we have hope in Christ, we are of all people most to be pitied."
But, as Paul goes on to write, "But Christ has indeed been raised from the dead, the firstfruits of those who have fallen asleep … Therefore, my dear brothers and sisters, stand firm. Let nothing move you. Always give yourselves fully to the work of the Lord, because you know that your labor in the Lord is not in vain." (1 Cor. 15:20,58).
On this theme, here is an article that you will find encouraging.
***
Heaven and Those We Serve
Hope in Christ and of life with him in heaven is also important to those we serve. People need to be encouraged to see life's trials and circumstances in light of eternity. We are dwelling in earthly "tents," and we look forward to our real and permanent homes in heaven. (2 Cor. 5:1-10).
When we think of worship, we tend to focus on style and tempo. Here is an article that reminds us of the need for themes. While we desire worship to be positive and uplifting, let us also be aware than some present are suffering and grieving, and that our worship should reflect both the joy and trials people are experiencing in the Lord.
***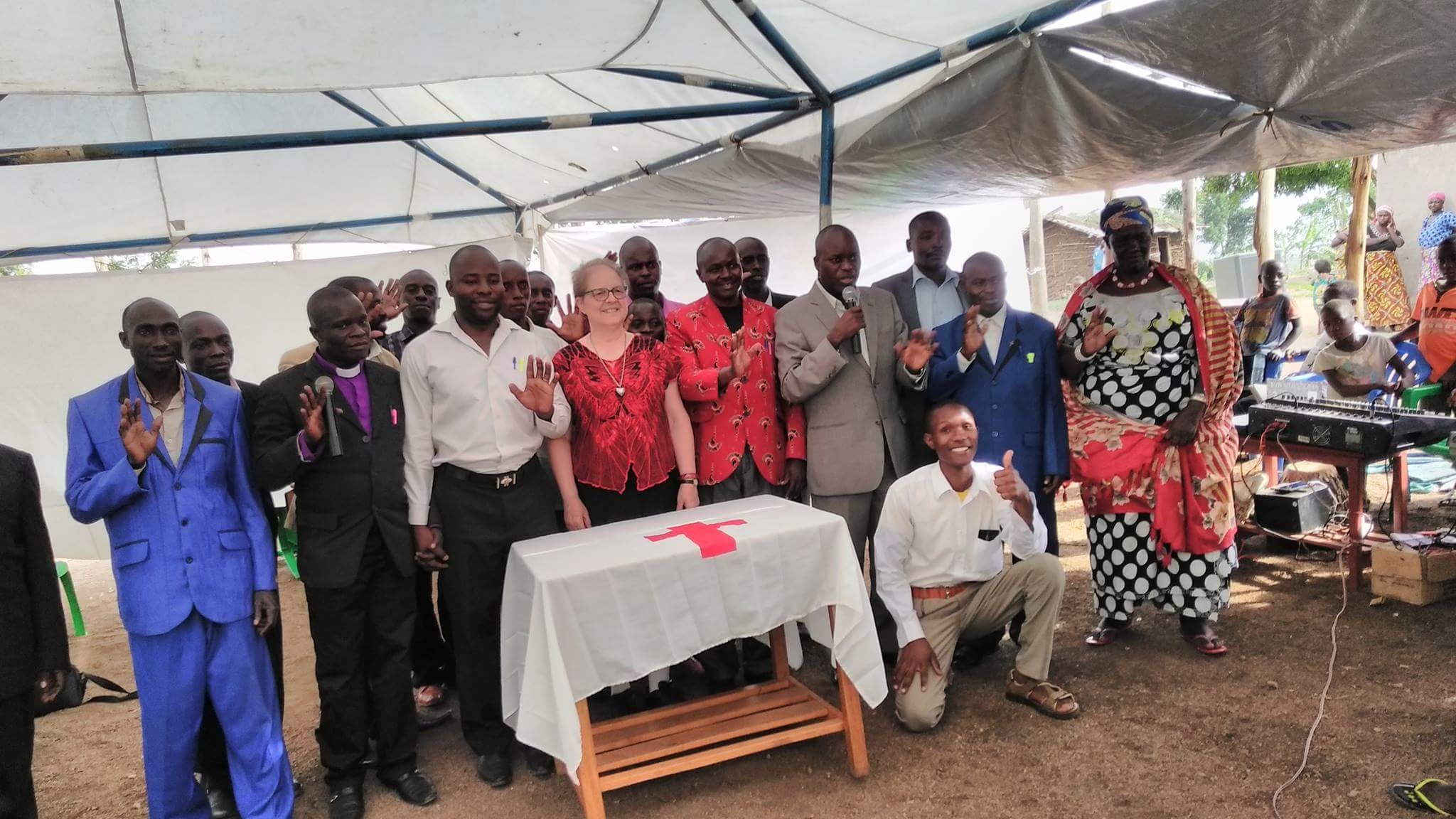 Please remember Pastor Sammy Kabyemera, who is at an Ugandan Refugee Camp:
In recent weeks, I have been updating you on the ministry of Pastor Sammy Kabyemera, who is on a two-month visit and ministry to the Kyaka Refugee Camp in Uganda. Please pray for him and for the brothers and sisters in Christ who are in poverty. Please see the attached letter and photos from Sammy, and also how you can support these dear people.
ALL GIFTS ARE APPRECIATED and can me made by cheque or e-transfer or through Jesus Grace International Church in Vancouver. Would you and your church consider giving to these brothers and sisters who are refugees? Ugandan_Refugee_Mission_2018.pd
UPCOMING EVENTS:
***
LPD Pastor and Staff Cruise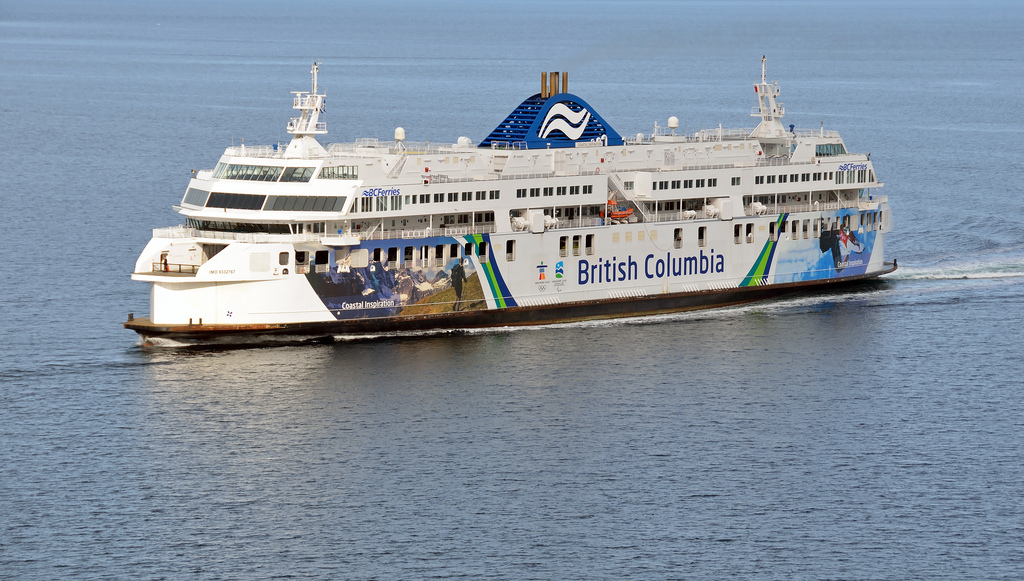 Wednesday, November 7th.
"Please mark Wednesday, November 7 on your calendar for the Fall "Pastors and Staff Cruise." Here are the details and fares:
You can now register online.
***
Please pray for:
• Our Pastoral Approaches to Same Sex Attraction workshop, Saturday, October 20 at Richmond Chinese EFC. (See above for details).
• Pray for Nori and Shelley Anderson, as they have begun ministry as pastor of Nanoose EFC, after the retirement of Chris and Verna Wilson.
• Please pray specifically with me for Quadra Island Bible Church and Christ Community Church (Ucluelet) in their pastoral searches. Both are in need of Pioneer, Bi-Vocational pastors.
• Carl Lindstrom, a faithful member and volunteer at New Westminster EFC, who has aggressive prostate cancer.
• LPD Board. Board members are Randy Lemke (Allana) – Chair, Patrick Chan (Sarah) – Property and Finance, Ben Crumback (Anna) – Island Liaison, Charles Labun (Carolyn) – Church Board Liaison, Rob Stewart (Karen) – DS, Tim Stewart (Emily) – Innovative Ministries, Kenneth Tsang (Mabel) – Chinese Church Liaison; Paul Yang (Jin) – Korean Church Liaison; Phil Yung (Grace) – Church Planting and Josephine Papp, LPD Office Administrator – Recording Secretary.
• North Delta EFC, in their search for an Associate Pastor for youth.
• Grace EFC, in their search for a part-time youth pastor.
• White Rock Community Church, in their search for a youth pastor.
• FLEFC, as they seek the Lord for his future plan for their church.
• For Jorge and Emily Lin, new LPD Church Planting Missionaries.They are in a residency program at New West EFC, in preparation for planting a church to reach all nations.
• The Steveston Project Team – Allen and Hannah Chang and Daniel and Joyce Wong.
• Steve (Gillian) Sharpe, in his ministry as LPD Missionary of Church Planting Development, serving both our LPD Missionaries and Church Plants and church planting in the EFCC.