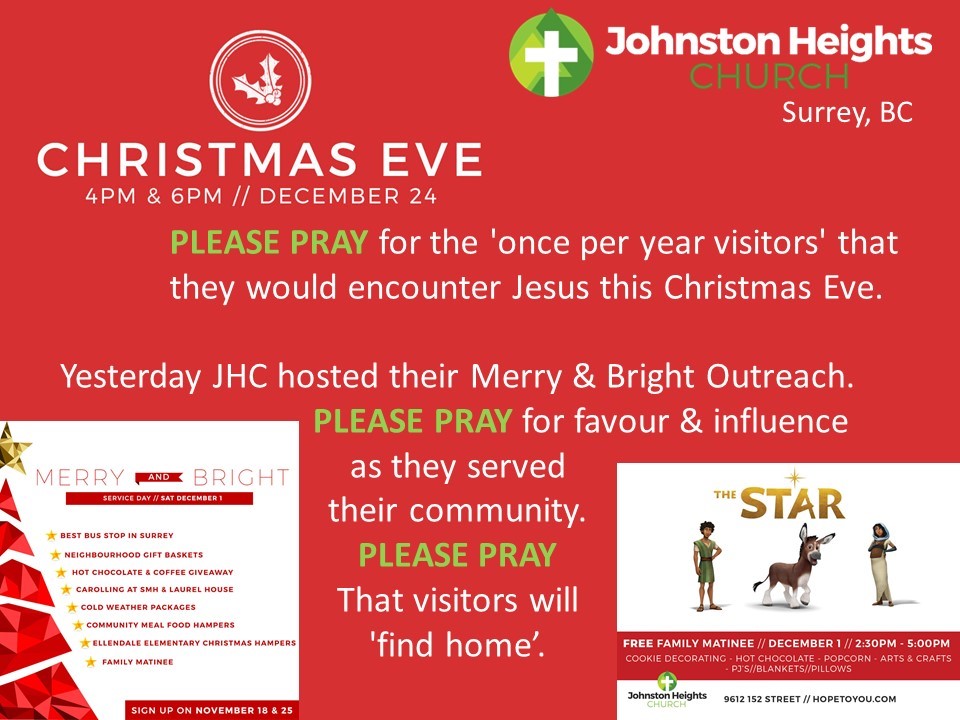 Please remember
Johnston Heights Church
– our  LPD Church of the Week.
Thanks to Anna (Ben) Crumback at Sointula Community Church for producing the Church of the Week!
***
Ready or not, the Season of Advent is upon us once again.
Many pastors will begin Advent sermon series and churches will put up decorations and ready for their Christmas programs.
I love this season, and it is one of the seasons in which I miss pastoring a local church most of all.
Here is an interesting article about Advent in the local church:
How Can Advent Help Church This Christmas?
District ministry in December is often invested in the year end responsibilities and preparing for the year ahead. While all this is good, it is a season where I miss sharing the Good News of Great Joy in new and creative ways in the local church.
The message is the same Good News. The method and style of delivery may change. I, as a "premillennial," have seen a lot of changes over the years.
Last Sunday, it was a joy to join with Allen Chang and Daniel Wong at the Steveston Project. Stories were shared about people being transformed by Christ, and all shared of those they were engaging in casual, meaningful and spiritual conversations, to the end of inviting them to Discovery Bible Studies, where God can reveal himself through his Word.
While there, I did something I had never done before. When we joined to worship through singing together, we did so by scrolling the lyrics on our cell phones, and the music accompaniment was provided via a cell phone amplified through wireless speakers.
The worship lyrics were the same. We simply accessed them through a different way.
In my time in ministry, I have used old hymnals, and took the bold step to purchase "modern" hymnals in the late 1980's. These were superseded by an overhead projector, complete with a huge selection of overhead sheets. This was in turn superseded by PowerPoint, Media Shout and other video projector tools. (My late mother loved the PowerPoint slides, as finally she could see the words!). Now, I'm using a cell phone!
Be faithful to the message and mission. Be flexible on the methods and styes.
This Sunday, I look forward to gathering with New Westminster EFC, for worship and for a congregational meeting to follow. At this meeting, the congregation will be asked to consider a proposal that will both honour the heritage, history and core values of New Westminster EFC, but will also embrace a new future – one that will include the calling of Jorge and Emily to serve as church planters of the "new" New Westminster EFC, to serve  alongside transitional pastor Ralph and Karen Hardy, as the church transitions and prepares for God's future.
We are thankful for what God is doing at New West EFC, for the dedication of the leadership and for the ministry of Ralph (Karen) Hardy as transitional pastors and Steve (Gillian) Sharpe as  coach and consultant. We are also thankful for the willingness of the congregation to participate in this bold venture and for their prayerful support.
Please pray for the congregation, as we meet on Sunday, and as we trust the Lord for "God's New Work" at New Westminster EFC. May they be faithful to the message and mission – and flexible on the methods and styes.
***
This week, I, as a "Premillennial,"  viewed an interesting video on "Millennials" (sorry Millennials).
it is called, "The Millennial Question." In this, speaker, Simon Sinek speaks to both the characteristics and strengths of the millennial generation. While this generation is often stereotyped and even maligned (unfairly), they have often not been inspired or challenged by the leaders that they have looked up to. It is an informative and insightful interview.
It has led to some healthy dialogue – and rather than "blaming" Millennials, looks to their parents and mentors. Have a look…

Please pray for:
New Westminster EFC, as they meet this Sunday to prayerfully consider God's plan for their future. Pray for the congregation, the volunteer leaders and for Transitional Pastor, Ralph (Karen) Hardy, Coach/consultant Steve (Gillian) Sharpe and Church Planting Resident Missionary Jorge and Emily Lin.
The Steveston Project Team – Allen and Hannah Chang and Daniel and Joyce Wong.
One Hope Community Church. We welcome Pastor Daniel So and this Korean-Canadian church to our LPD/EFCC Family. We look forward to introducing them to you, and to hopefully welcoming them as a member church at our LPD Conference in March.
Pastor Sammy Kabyemera (Jesus Grace International Church),  who has safely returned from his short-term mission to refugee camps in Uganda. We look forward to his reports in the days ahead.
Fort Langley EFC, as they as a congregation seek the Lord in their search for a lead pastor.
Tom and Sandy Ford and family, as he undergoes cataract surgery and awaits transplants, made necessary through the impact of his diabetes.
Please pray specifically with me for Quadra Island Bible Church and Christ Community Church (Ucluelet) in their pastoral searches. Both are in need of Pioneer, Bi-Vocational pastors.
Carl Lindstrom, a faithful member and volunteer at New Westminster EFC, who has aggressive prostate cancer.
LPD Board, as we meet on Wednesday, December 5. Board members are Randy Lemke (Allana) – Chair, Patrick Chan (Sarah) – Property and Finance, Ben Crumback (Anna) – Island Liaison, Charles Labun (Carolyn) – Church Board Liaison, Rob Stewart (Karen) – DS, Tim Stewart (Emily) – Innovative Ministries, Kenneth Tsang (Mabel) – Chinese Church Liaison; Paul Yang (Jin) – Korean Church Liaison; Phil Yung (Grace) – Church Planting and Josephine Papp, LPD Office Administrator – Recording Secretary.
North Delta EFC, in their search for an Associate Pastor for youth.
Grace EFC, in their search for a part-time youth pastor.
White Rock Community Church, in their search for a youth pastor.
Steve (Gillian) Sharpe, in his ministry as LPD Missionary of Church Planting Development, serving both our LPD Missionaries and Church Plants and church planting in the EFCC.
***
Upcoming Events:
LPD Annual Conference: March 1,2 at Vancouver Chinese EFC.