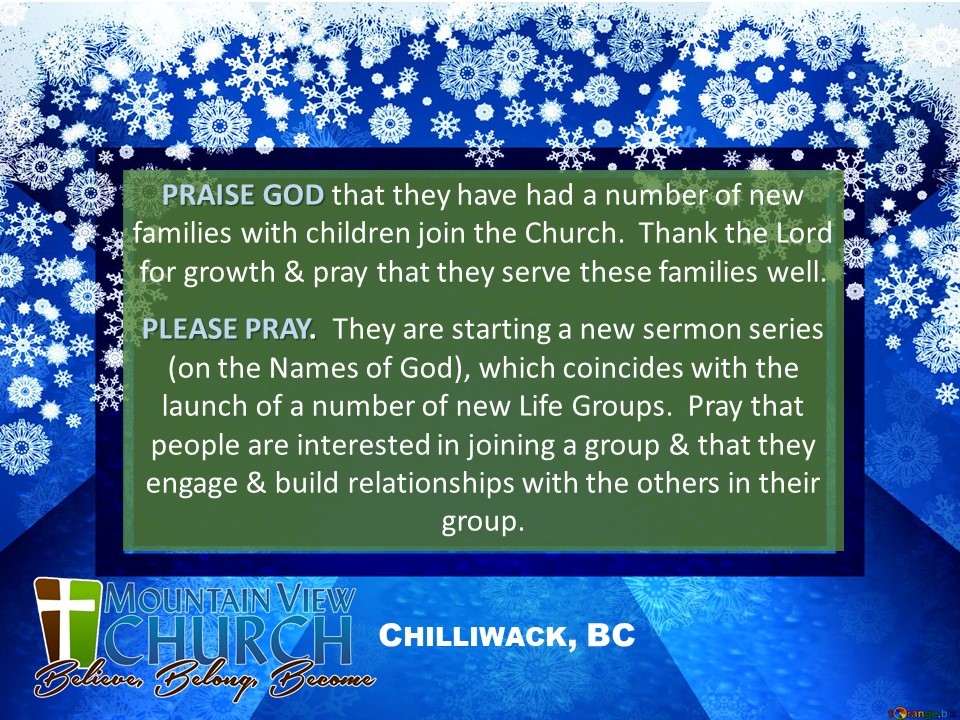 Please remember
Mountain View Church
– Our LPD Church of the Week.
Thanks to Anna (Ben) Crumback at Sointula Community Church for producing the Church of the Week!
***
Trust: assured reliance on the character, ability, strength, or truth of someone or something (Merriam Webster).
Daily, from stairs, to a restaurant meal, to our driving ability, we all place our trust in a variety of things.

We also place our trust in people. Sometimes this trust can be misplaced, in that we trust things and people who prove to not be as trustworthy as we hoped.


In the last federal election, a candidate for Prime Minister was quoted saying, "Transparent government is good government. If we want Canadians to trust their government, we need a government that trusts Canadians." So, how is that working for us?

South of the 49th, we read that according to the 2016 exit poll, just 33% said Trump was honest and trustworthy while 64% said he wasn't. Trump won 94% of the vote among the people who said he was honest and trustworthy, and he also won 20% of the vote among people who said he wasn't. So, one in every five people who voted for Trump did not believe he was honest or trustworthy.

Politicians as a rule do not rate very well when it comes to trust. Before we say too much about this, it is interesting and also humbling to learn that pastors are also not very respected in our culture.

According to a recent poll by Gallup, far more Americans trust nurses (84%), doctors (67%) and pharmacists(66%) teachers(60%) and police officers(54%) than pastors (37%).

Only a third of Americans say that clergy have high or very high honesty and ethical standards. Forty-three percent say they have average honesty, while 15 percent give clergy "low" or "very low" marks.
While this scores above used car salesmen and politicians, still 2/3 of Americans do not grant trust to a pastor because of their vocation. Here is a link to the study:

Public Trust of Pastors at All Time Low
To this end, Henry Cloud offers some interesting insights into the importance of trust for leaders. Trust comes from people who believe that their leaders really understand them and listen to them. Trusted leaders do not spout off platitudes and patronize – they know that trust is earned and comes through servant-leadership. Here is a link to Cloud's article.

When we think of trust, we are so blessed to place our trust in a Saviour who both understands us and has acted in our interests!
As the writer to the Hebrews writes:

Therefore, since we have a great high priest who has ascended into heaven,Jesus the Son of God, let us hold firmly to the faith we profess. For we do not have a high priest who is unable to empathize with our weaknesses, but w, knowinte have one who has been tempted in every way, just as we are—yet he did not sin. Let us then approach God's throne of grace with confidence, so that we may receive mercy and find grace to help us in our time of need. (Hebrews 4:14-16).
As we enter this new year, I am thankful that we can do so, knowing that our Saviour is trustworthy, as is our hope in Him. May we who bear his Name and share his message prove trustworthy in both word and deed.

We cannot assume trust because of our position. We earn trust through faithfulness; through care and listening; by keeping our word, and by a life that is consistent with what we profess.
***
Please pray for:
New Westminster EFC. Pray for Transitional Pastor Ralph (Karen) Hardy and Church Planters Jorge (Emily) Lin this church family, as they seek the Lord for the "New" work as they begin 2019.
The Steveston Project Team – Allen and Hannah Chang and Daniel and Joyce Wong.
Pastor Sammy Kabyemera (Jesus Grace International Church), who has safely returned from his short-term mission to refugee camps in Uganda.
Fort Langley EFC, as they as the congregation seeks the Lord in their search for a lead pastor.
Tom and Sandy Ford and family, as he awaits transplants, made necessary through the impact of his diabetes. He has gone onto long-term disability as he awaits further treatment.
Please pray specifically with me for Quadra Island Bible Church and Christ Community Church (Ucluelet) in their pastoral searches. Both are in need of Pioneer, Bi-Vocational pastors.
Carl Lindstrom, a faithful member and volunteer at New Westminster EFC, who has aggressive prostate cancer.
LPD Board. Board members are Randy Lemke (Allana) – Chair, Patrick Chan (Sarah) – Property and Finance, Ben Crumback (Anna) – Island Liaison, Charles Labun (Carolyn) – Church Board Liaison, Rob Stewart (Karen) – DS, Tim Stewart (Emily) – Innovative Ministries, Kenneth Tsang (Mabel) – Chinese Church Liaison; Paul Yang (Jin) – Korean Church Liaison; Phil Yung (Grace) – Church Planting and Josephine Papp, LPD Office Administrator – Recording Secretary.
North Delta EFC, in their search for an Associate Pastor for youth.
Grace EFC, in their search for a part-time youth pastor.
White Rock Community Church, in their search for a youth pastor.
Steve (Gillian) Sharpe, in his ministry as LPD Missionary of Church Planting Development, serving both our LPD Missionaries and Church Plants, and church planting in the EFCC.
***
Upcoming Events:
LPD Annual Conference:
March 1,2 at Vancouver Chinese EFC.
"Discipleship that Transforms"
The expectation of the Great Commission is to make disciples, yet it seems like we are struggling to see transformed lives in our churches today. If we are going to be the gospel-sharing people that Christ desires, how do we accomplish the goal of becoming a Great Commission church? In exploring how to create a church culture where disciples are transformed; we are confident you will be equipped to meet the challenge of helping people hear the voice of Jesus and follow in simple obedience.

Please plan to join us for this annual gathering, and to attend with your leadership team!

Please mark your calendars and watch for details early in the New Year!