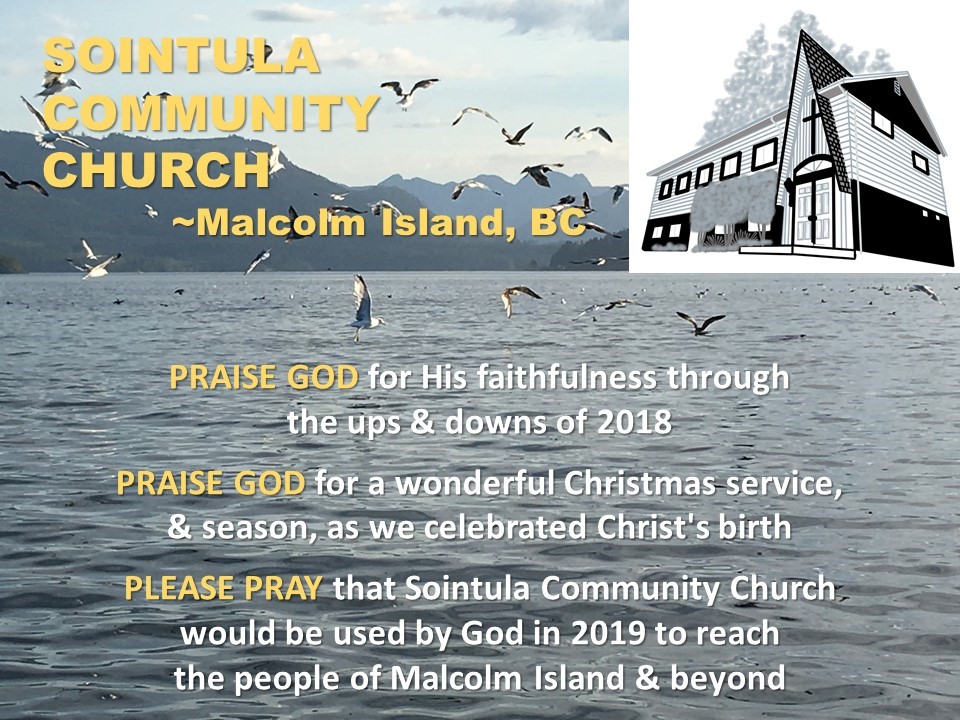 Please remember
Soiuntula Community Church
– Our LPD Church of the Week.
Thanks to Anna (Ben) Crumback at Sointula Community Church for producing the Church of the Week!
***
Last week, I wrote about being "done with church." Not done with Christ, or our Christian faith – just "done" with "doing church" in the way that "success" is measured by meeting budget and "loss prevention," (a.k.a. maintaining attendance).

I'm not alone! I have heard from several of you, most older than me, who resonate with what I wrote last week. Many "dones" have served faithfully, and have volunteered in local churches for years – but now are done. You can read more on the "Dones" in the following article:
While relating to the sentiments of the "dones," I am immensely optimistic about the Church! While I am "done," I am definitley not "out."

Local churches – and some denominations are waking up to a fresh realization of and commitment to our mission of making and growing disciples of Christ. This is true in our LPD!

Last Sunday, I joined with New Westminster EFC, as they embark on a new chapter of becoming the "new" New Westminster EFC in order to reach new generations of people in New Westminster and Burnaby.

This week, our LPD Advisory Committee met with Allen Chang and Daniel Wong of the Steveston Project. We are delighted to learn of transformed lives and their team's 100% participation in disciplemaking, as we journey with them in the birth of this church.

Parkdale Church is reaching people considered beyond the reach of the church. Johnston Heights Church is engaged in intentional discipleship training. Grace Ethiopian Evangelical Church is joining us in our mutual mission, as is One Hope Community Church and Cross Community Church – churches are "getting it!"

On Wednesday, our LPD Board met, continuing our planning for our upcoming LPD Conference. We are excited for this, and trust that you, your church leadership and your church will not be the same afterwards.

Here are some questions we believe are important for you to consider with your church. Are you able to answer them?
What is a disciple? Dumb question? After all, isn't that what we do? Okay, define "Disciple." Define a mature disciple.

What is your discipleship pathway? How does your church "make" and grow disciples? How do your ministries contribute and align to this end?

We look forward to focusing on these questions and more as we meet for conference this year. We will not give answers so much as equip and facilitate your church considering these questions and more. Please come as a team of leaders from your church!

Here is conference information:

LPD Annual Conference:
March 1,2 at Vancouver Chinese EFC.
"Discipleship that Transforms"

Please plan to join us for this annual gathering, and to attend with your leadership team!

Please mark your calendars and see the attached letter and brochure.
Conference_invitation_letter.pdf

Brochure:
LPD Conference Brochure

Please also see our Conference Page for registration:
***
AROUND THE LPD

Last Sunday, I had a chance to join with New West EFC, as they launched into their their new year and affirmed Jorge and Emily Lin as church planters for the "new" New Westminster EFC alongside transitional pastor Ralph and Karen Hardy. It is a bold step of faith, and we pray for a new ministry for a new era of ministry for new and changing generations.

Sunday afternoon, I preached at Grace Ethiopian Evangelical Church, a church, as the name implies, is composed largely of Ethiopian immigrants. They have applied to become a member church of the LPD/EFCC, and we look forward to welcoming them into the family at our conference in March. It was so good to meet with these brothers and sisters and it will be a joy to serve together.

This Sunday, Karen and I look forward to being at Nanoose EFC, where I am to preach, and oversee the installation of Nori and Shelley Anderson as lead pastor. We are thankful for the fifteen years of faithful ministry of Chris and Verna Wilson at the church, and we pray for a revitalized ministry in the church for the future.

Nori and Shelley used to pastor at Christ Community Church in Ucluelet, and since then have pastored in Alberta, overseas as pastors of an international church and as church planters.
***

Please pray for:
Our upcoming LPD Conference, March 1,2 at Vancouver Chinese EFC. We look forward to seeing your church leadership team at this important time of growing and learning together.
White Rock Community Church has called a youth pastor. Josiah and Martha Wall are coming from Winnipeg.
The Steveston Project Team – Allen and Hannah Chang and Daniel and Joyce Wong.
Grace Ethiopian Evangelical Church. This church meets at New West EFC and will be joining the LPD/EFCC at conference.
New Westminster EFC. Pray for Transitional Pastor Ralph (Karen) Hardy and Church Planters Jorge (Emily) Lin this church family, as they seek the Lord for the "New" work as they begin 2019. I look forward to joining them this Sunday.
Fort Langley EFC, as they as the congregation seeks the Lord in their search for a lead pastor.
Tom and Sandy Ford and family, as he awaits transplants, made necessary through the impact of his diabetes. He has gone onto long-term disability as he awaits further treatment.
Please pray specifically with me for Quadra Island Bible Church and Christ Community Church (Ucluelet) in their pastoral searches. Both are in need of Pioneer, Bi-Vocational pastors.
Carl Lindstrom, a faithful member and volunteer at New Westminster EFC, who has aggressive prostate cancer.
LPD Board. Board members are Randy Lemke (Allana) – Chair, Patrick Chan (Sarah) – Property and Finance, Ben Crumback (Anna) – Island Liaison, Charles Labun (Carolyn) – Church Board Liaison, Rob Stewart (Karen) – DS, Tim Stewart (Emily) – Innovative Ministries, Kenneth Tsang (Mabel) – Chinese Church Liaison; Paul Yang (Jin) – Korean Church Liaison; Phil Yung (Grace) – Church Planting and Josephine Papp, LPD Office Administrator – Recording Secretary.
North Delta EFC, in their search for an Associate Pastor for youth.
Grace EFC, in their search for a part-time youth pastor.
Steve (Gillian) Sharpe, in his ministry as LPD Missionary of Church Planting Development, serving both our LPD Missionaries and Church Plants, and church planting in the EFCC.
***
Upcoming Events:
"Listening to their Voices"

A seminar on reaching second-generation Chinese Canadians and other younger people. This is partly sponsored by ANACEFC

Jan 26 9:30am – 12:30pm
@ Vancouver Chinese Alliance Church, 3330 Knight St.
Seminar Poster
***
Canada Summer Jobs Program for 2019
application deadline is January 25
Last year, the federal government made changes to the Canada Summer Jobs Program, which essentially excluded Evangelical Churches and ministries. Thankfully, changes have been made for 2019, and we encourage you to apply for a grant to hire for summer ministries in your church. Over the years, many district churches have received grants for summer ministry personnel, and this is a great way to mentor youth in Christian service and leadership. Here is a link to the news story and a second link to the government website for the application:
https://www.cbc.ca/news/politics/liberals-summer-jobs-program-changes-1.4934674

https://www.canada.ca/en/employment-social-development/services/funding/canada-summer-jobs.html
***
LPD Pastor and Spouse Retreat
Nov. 22-24, 2019
Hello LPD pastors, we'd like to invite you to join us on Nov. 22-24, 2019 for a Pastors' retreat! We'd like to encourage you to take a breather in late November (before Advent begins) with your fellow pastors at Camp Charis in Chilliwack.

Please set this date aside and watch for details early in the New Year,