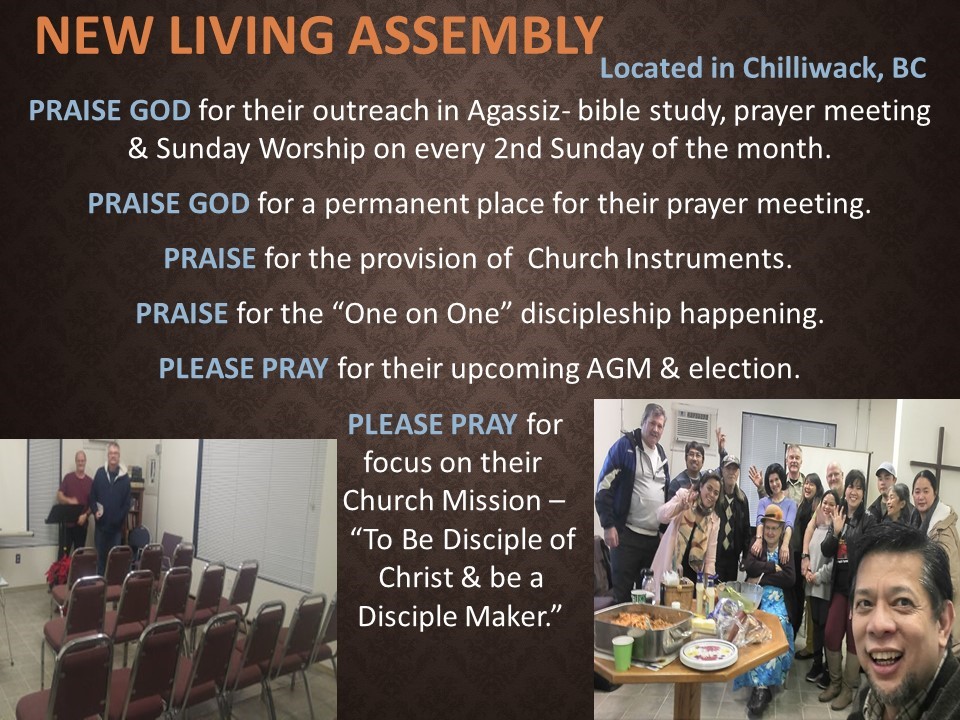 New Living Assembly
– Our LPD Church of the Week.
Thanks to Anna (Ben) Crumback at Sointula Community Church for producing the Church of the Week!
***
I consider myself to be a rather loyal person. I like sailboats – always have. I've had one since I was a teenager. I've never owned a powerboat. Though I currently drive a Hyundai, I am loyal to Volkswagen and hope to drive one again soon. I am loyal to camping and to Manning Park. I have been loyal to Blackberry Smartphones…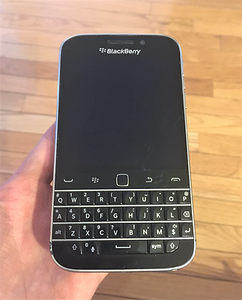 Lest I be cast off as a total Luddite, I have also have found that loyalty, while good when it comes to precepts and principles, should not be attached to methodology.

One of our sons encouraged our family to connect by using "What's App," as a tool to share photos and news. Great idea! But, how can one do this on an old Blackberry?

A Google search informed me that I could make What's App work on my Blackberry Classic (perhaps an appropriate name) with the addition of a SD card. It worked!

What's App has been a fun tool, and we use it daily. While the Blackberry Classic minimally ran the app, to enhance our experience, I upgraded my smartphone – to a Blackberry Key One! (An Android/Blackberry hybrid). Karen has upgraded to an LG phone.

Change happens – and we are called to navigate with it. Sometimes we need to decide between effectiveness in mission and methodology. I needed to choose between effectively communicating with my family and using an older phone. Our family won!

Standing on the foundation of God's Word and the Gospel message, we must connect with, speak into and make disciples in each generation!

What does it take to make and grow disciples in your church today? What are the characteristics of a disciple of Christ today? How do the ministries and message of our church further (or hinder) this mission?

Might it be time to reflect, "upgrade and to change in order to reach new generations – and older ones too!
At our LPD Conference, we will be reflecting on both mission and serving to this end, as we consider, "Discipleship that Transforms."


Just four weeks until – LPD Annual Conference:
March 1,2 at Vancouver Chinese EFC.
"Discipleship that Transforms"
Please plan to join us for this annual gathering, and to attend with your leadership team!

Please mark your calendars and see the attached letter and brochure.

Conference Letter:
Conference Invitation Letter


Brochure:
LPD Conference Brochure
Please also see our LPD Website for registration:
***

AROUND THE LPD

This Friday evening, Karen and I look forward to joining with LPD Chair, Randy and Allan Lemke, and the leaders of One Hope Community Church, who have made application for their church to join the LPD at our conference in March.We welcome this church to the family, and celebrate their mission to reach and bridge multiple generations of immigrants from Korea.

***

This Sunday, Karen and I will be joining Coquitlam Chinese EFC for their 26th anniversary service. I will have the opportunity to preach at their service – and look forward to lunch to follow!

***
Our LPD is changing – as is our region.

Have you noticed how our Lower Pacific District is growing in the number of "ethnic" churches? So we should be!

Between 2001 and 2011, the population of the Lower Mainland grew by about 326,333 people. Of these, 292,875, more than 90% were immigrants, born outside of Canada, and 30% of these do not know English. The majority of these people came from Asia, and the trend continues.

Welcome new friends!

Here are a couple of articles for your information:

https://vancouversun.com/life/vancouver-is-most-asian-city-outside-asia-what-are-the-ramifications

https://theprovince.com/opinion/columnists/douglas-todd-how-chinese-filipino-and-other-immigrants-differ/wcm/f6ede2e3-eb73-4491-af91-e5c3dfe17586

***

Please pray for:
Coquitlam Chinese EFC – as they celebrate their 26th Anniversary!
Our upcoming LPD Conference, March 1,2 at Vancouver Chinese EFC. We look forward to seeing your church leadership team at this important time of growing and learning together.
The Church of the Sent for Life Proclamation – This is our first Korean Church in the LPD (2002). Please pray for Pastor Namgyu (Heejoung) Lee and the congregation. The church building they have been renting has been sold, and they will need to relocate by the end of April.
White Rock Community Church has called a youth pastor. Josiah and Martha Wall are coming from Winnipeg.
The Steveston Project Team – Allen and Hannah Chang and Daniel and Joyce Wong.
Grace Ethiopian Evangelical Church. This church meets at New West EFC and will be joining the LPD/EFCC at conference.
New Westminster EFC. Pray for Transitional Pastor Ralph (Karen) Hardy and Church Planters Jorge (Emily) Lin this church family, as they seek the Lord for the "new" work.
Fort Langley EFC, as they as the congregation seeks the Lord in their search for a lead pastor.
Tom and Sandy Ford and family, as he awaits transplants, made necessary through the impact of his diabetes. He has gone onto long-term disability as he awaits further treatment.
Please pray specifically with me for Quadra Island Bible Church and Christ Community Church (Ucluelet) in their pastoral searches. Both are in need of Pioneer, Bi-Vocational pastors – and are prayerfully proceeding.
Carl Lindstrom, a faithful member and volunteer at New Westminster EFC, who has aggressive prostate cancer.
LPD Board. Board members are Randy Lemke (Allana) – Chair, Patrick Chan (Sarah) – Property and Finance, Ben Crumback (Anna) – Island Liaison, Charles Labun (Carolyn) – Church Board Liaison, Rob Stewart (Karen) – DS, Tim Stewart (Emily) – Innovative Ministries, Kenneth Tsang (Mabel) – Chinese Church Liaison; Paul Yang (Jin) – Korean Church Liaison; Phil Yung (Grace) – Church Planting and Josephine Papp, LPD Office Administrator – Recording Secretary.
North Delta EFC, in their search for an Associate Pastor for youth.
Grace EFC, in their search for a part-time youth pastor.
Steve (Gillian) Sharpe, in his ministry as LPD Missionary of Church Planting Development, serving both our LPD Missionaries and Church Plants, and church planting in the EFCC.
***
Summer Ministry Opportunity

Looking for a youth mission opportunity this summer? Have you considered a beautiful island in the Pacific? – as in Vancouver Island?

Some Island Churches would welcome ministry teams to come to the Island to minister with Vacation Bible School Ministry and children's programs this summer.

Your church can take your VBS ministry on the road with your youth or mission team – and be a real blessing to Island churches too.

Please contact the LPD Office for information!
***
LPD Pastor and Spouse Retreat
Nov. 22-24, 2019
Hello LPD pastors, we'd like to invite you to join us on Nov. 22-24, 2019 for a Pastors' retreat! We'd like to encourage you to take a breather in late November (before Advent begins) with your fellow pastors at Camp Charis in Chilliwack.

Please set this date aside and watch for details early in the months ahead.
***
LPD Conference Luncheon, Saturday, March 2:

Please sign up with your conference registration