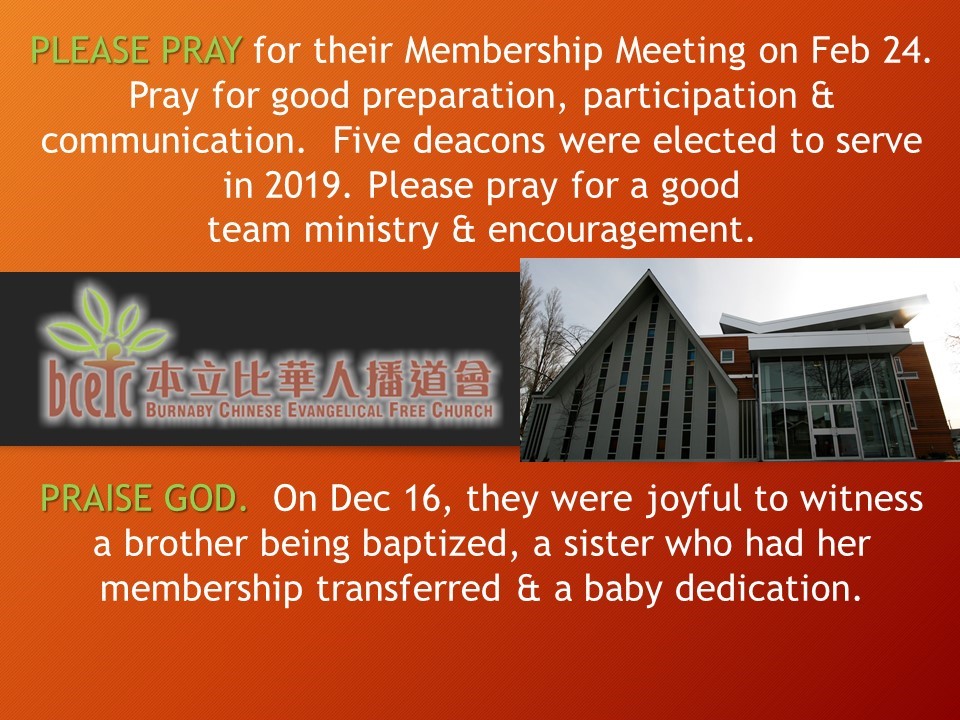 Burnaby Chinese EFC
– Our LPD Church of the Week.
Thanks to Anna (Ben) Crumback at Sointula Community Church for producing the Church of the Week!

We have all had the experience of following a slow vehicle with the bumper sticker above. "Success" by the thinking of this slogan is simply to be ahead of someone else. There is no goal to strive towards, just settle for being ahead of others.

Might this describe some people's understanding of their Christian walk? Slow, but at least ahead of some others...

We are called to make disciples – but what is your church striving to produce in your context?
LPD Conference presenters, Steve Sharpe and Neil Bassingthwaighte write:
Every church has its own practices and programs. Pastors and volunteers lead and staff programs believing they are working towards a shared goal. But what is that goal?

We were commissioned by Jesus to make disciples. But what, exactly, is a disciple, and how do can we tell when one has been made? In what environment does discipleship come naturally, and how can we cultivate that environment in our churches? When is discipleship complete — and how can we celebrate that completion?

Without the answers to these important questions, people struggle to see how their church's practices and programs lead to helping people to know Jesus better and becoming more like him. No one can bring his whole heart and passion to a mission without understanding that mission's goal.

To answer these questions, we invite you to bring a team from your church to our upcoming LPD Conference, "Discipleship that Transforms". Instead of a flashy new book or program, we will guide your team through exploration and discovery, applying Biblical principles to your practices to become a transformative, disciple-making church.

Neil & Steve

***

Please plan to join is for this time of learning, fellowship and growing together – and bring your leaders with you!

Please also bring with you your church's definition of a mature disciple of Jesus Christ.

Here is an article to begin your thinking: What-is-a-Disciple?


Just three weeks until – LPD Annual Conference:
March 1,2 at Vancouver Chinese EFC.
"Discipleship that Transforms"
Conference Letter:
Conference Invitation Letter

Brochure:
LPD Conference Brochure
AROUND THE LPD

Last week, I wrote about the growing diversity of our region – and of our churches.

Last Friday evening, Karen and I joined with LPD Chair, Randy and Allan Lemke, and the leaders of One Hope Community Church for dinner and fellowship. We look forward to welcoming this church into the LPD/EFCC Family at our upcoming conference.

Last Saturday, Josephine and I met with Pastor Noel and the leaders of New Living Assembly, a church plant that reaches Filipino immigrants in Chilliwack and the surrounding region.
Last Sunday, it was a joy to preach at the 26th anniversary service of Coquitlam Chinese EFC – and to join them for dim sum afterwards.

This Sunday, I look forward to being with Cross Fellowship Church in Burnaby. This church is reaching Korean immigrants in the region, and has made application to join our LPD/EFCC. I look forward to joining with them, and also to welcoming them into the Family at our upcoming LPD Conference.
***

Please pray for:
Our upcoming LPD Conference, March 1,2 at Vancouver Chinese EFC. We look forward to seeing your church leadership team at this important time of growing and learning together.
The Church of the Sent for Life Proclamation – This is our first Korean Church in the LPD (2002). Please pray for Pastor Namgyu (Heejoung) Lee and the congregation. The church building they have been renting has been sold, and they will need to relocate by the end of April.
White Rock Community Church has called a youth pastor. Josiah and Martha Wall are coming from Winnipeg.
The Steveston Project Team – Allen and Hannah Chang and Daniel and Joyce Wong.
Grace Ethiopian Evangelical Church. This church meets at New West EFC and will be joining the LPD/EFCC at conference.
New Westminster EFC. Pray for Transitional Pastor Ralph (Karen) Hardy and Church Planters Jorge (Emily) Lin this church family, as they seek the Lord for the "new" work.
Fort Langley EFC, as they as the congregation seeks the Lord in their search for a lead pastor.
Tom and Sandy Ford and family, as he awaits transplants, made necessary through the impact of his diabetes. He has gone onto long-term disability as he awaits further treatment.
Please pray specifically with me for Quadra Island Bible Church and Christ Community Church (Ucluelet) in their pastoral searches. Both are in need of Pioneer, Bi-Vocational pastors – and are prayerfully proceeding.
Carl Lindstrom, a faithful member and volunteer at New Westminster EFC, who has aggressive prostate cancer.
LPD Board. Board members are Randy Lemke (Allana) – Chair, Patrick Chan (Sarah) – Property and Finance, Ben Crumback (Anna) – Island Liaison, Charles Labun (Carolyn) – Church Board Liaison, Rob Stewart (Karen) – DS, Tim Stewart (Emily) – Innovative Ministries, Kenneth Tsang (Mabel) – Chinese Church Liaison; Paul Yang (Jin) – Korean Church Liaison; Phil Yung (Grace) – Church Planting and Josephine Papp, LPD Office Administrator – Recording Secretary.
North Delta EFC, in their search for an Associate Pastor for youth.
Grace EFC, in their search for a part-time youth pastor.
Steve (Gillian) Sharpe, in his ministry as LPD Missionary of Church Planting Development, serving both our LPD Missionaries and Church Plants, and church planting in the EFCC.
***
Upcoming Events:
Summer Ministry Opportunity
Looking for a youth mission opportunity this summer?

Have you considered a beautiful island in the Pacific? – as in Vancouver Island?

Some Island Churches would welcome ministry teams to come to the Island to minister with Vacation Bible School Ministry and children's programs this summer.

Your church can take your VBS ministry on the road with your youth or mission team – and be a real blessing to Island churches too.
Please contact the LPD Office for information!
***
LPD Pastor and Spouse Retreat
Nov. 22-24, 2019
Hello LPD pastors, we'd like to invite you to join us on Nov. 22-24, 2019 for a Pastors' retreat! We'd like to encourage you to take a breather in late November (before Advent begins) with your fellow pastors at Camp Charis in Chilliwack.

Please set this date aside and watch for details early in the months ahead.