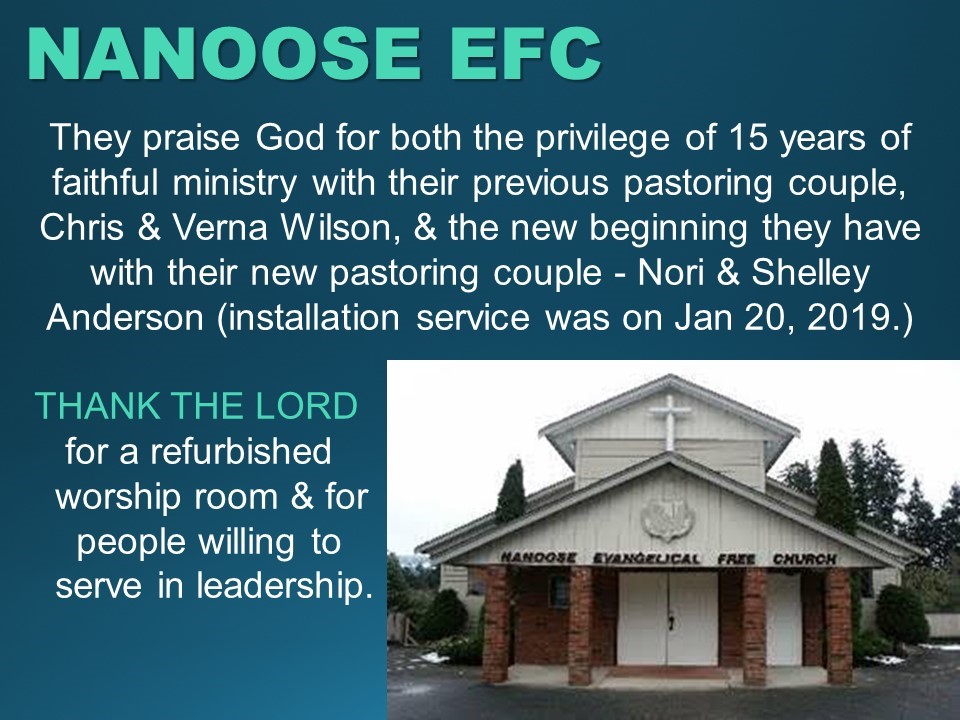 Nanoose EFC
– Our LPD Church of the Week.

Thanks to Anna (Ben) Crumback at Sointula Community Church for producing the Church of the Week!

As Canadians, we take pride in being "polite"people. This can mean to simply "live and let live." Or, "don't get in my face, and I won't get in yours."

Can we be polite about our faith? Is it rude or insensitive to evangelize? Or, is it loving to not tell people the truth about God's love?

A recent article states that many millennials believe that it is "wrong" to evangelize.

Half of Millennials Believe it is Wrong to Evangelize

Contrast the above to Rick Warren, as he speaks in an interview with John Piper:

John-Piper-interviews-Rick-Warren-on-Doctrine
The interview is 98 Minutes, so you might want to skip ahead to 102:45 to hear him sharing regarding hell and the uniqueness of the Gospel message. He speaks of the Atonement at 113.

Finally, I appreciate Tim Keller, and his approach to sharing faith in a pluralistic world. I think he bridges the conviction of the goodness, uniqueness and necessity of the Gospel with the sensitivity of pluralism that in his article, "Preaching Amid Pluralism."


Preaching Amid Pluralism


In the EFCC, we believe:
(from statement of faith)

God's gospel alone addresses our deepest need.
3. We believe that God created Adam and Eve in His image, but they sinned when tempted by Satan. In union with Adam, human beings are sinners by nature and by choice, alienated from God, and under His wrath. Only through God's saving work in Jesus Christ can we be rescued, reconciled and renewed.

God's gospel is made known supremely in the Person of Jesus Christ.
4. We believe that Jesus Christ is God incarnate, fully God and fully man, one Person in two natures. Jesus—Israel's promised Messiah—was conceived through the Holy Spirit and born of the virgin Mary. He lived a sinless life, was crucified under Pontius Pilate, arose bodily from the dead, ascended into heaven and sits at the right hand of God the Father as our High Priest and Advocate.

God's gospel is accomplished through the work of Christ.
5. We believe that Jesus Christ, as our representative and substitute, shed His blood on the cross as the perfect, all-sufficient sacrifice for our sins. His atoning death and victorious resurrection constitute the only ground for salvation.

So, how do we make and grow disciples of Christ in a Pluralistic Age?

Come, learn, apply and grow together at our LPD Conference, as we focus on discipleship that transforms.


***

Just TWO weeks until – LPD Annual Conference:

March 1,2 at Vancouver Chinese EFC.
"Discipleship that Transforms"
Please also see our LPD Website for registration:
AROUND THE LPD

Last Sunday, it was a joy to be with Cross Fellowship Church in Burnaby. This church is reaching Korean immigrants in the region, and has made application to join our LPD/EFCC. I look forward to joining with them, and also to welcoming them into the Family at our upcoming LPD Conference.

This Sunday, Karen and I look forward to visiting Parkdale EFC in Victoria – and to seeing our son Pastor Tim and Emily Stewart – and our grandchildren, Miriam, Malcolm and Wesley. We are thankful for them, and for his work of renewal in this church family.
***
Please pray for:
Our upcoming LPD Conference, March 1,2 at Vancouver Chinese EFC. We look forward to seeing your church leadership team at this important time of growing and learning together.
Jon and Emily Reesor, who will be completing their ministry as associate pastor at Fort Langley EFC this Sunday morning, with a farewell to follow. They are loved and appreciated, and will value our prayers as they seek the Lord's guidance in future ministry.
The Church of the Sent for Life Proclamation – This is our first Korean Church in the LPD (2002). Please pray for Pastor Namgyu (Heejoung) Lee and the congregation. The church building they have been renting has been sold, and they will need to relocate by the end of April.
White Rock Community Church has called a youth pastor. Josiah and Martha Wall are coming from Winnipeg.
The Steveston Project Team – Allen and Hannah Chang and Daniel and Joyce Wong. Pray for our Steveston Advisory Committee, which meets next week.
Grace Ethiopian Evangelical Church. This church meets at New West EFC and will be joining the LPD/EFCC at conference.
New Westminster EFC. Pray for Transitional Pastor Ralph (Karen) Hardy and Church Planters Jorge (Emily) Lin this church family, as they seek the Lord for the "new" work.
Fort Langley EFC, as they as the congregation seeks the Lord in their search for a lead pastor.
Tom and Sandy Ford and family, as he awaits transplants, made necessary through the impact of his diabetes. He has gone onto long-term disability as he awaits further treatment.
Please pray specifically with me for Quadra Island Bible Church and Christ Community Church (Ucluelet) in their pastoral searches. Both are in need of Pioneer, Bi-Vocational pastors – and are prayerfully proceeding.
Carl Lindstrom, a faithful member and volunteer at New Westminster EFC, who has aggressive prostate cancer.
LPD Board. Board members are Randy Lemke (Allana) – Chair, Patrick Chan (Sarah) – Property and Finance, Ben Crumback (Anna) – Island Liaison, Charles Labun (Carolyn) – Church Board Liaison, Rob Stewart (Karen) – DS, Tim Stewart (Emily) – Innovative Ministries, Kenneth Tsang (Mabel) – Chinese Church Liaison; Paul Yang (Jin) – Korean Church Liaison; Phil Yung (Grace) – Church Planting and Josephine Papp, LPD Office Administrator – Recording Secretary.
North Delta EFC, in their search for an Associate Pastor for youth.
Grace EFC, in their search for a part-time youth pastor.
Steve (Gillian) Sharpe, in his ministry as LPD Missionary of Church Planting Development, serving both our LPD Missionaries and Church Plants, and church planting in the EFCC. Steve and Neil B are ministering at Central EFC in Thunder Bay Ontario this weekend.
***
Upcoming Events:
Summer Ministry Opportunity
Looking for a youth mission opportunity this summer?

Vancouver Island?Have you considered a beautiful island in the Pacific? – as in …

Some Island Churches would welcome ministry teams to come to the Island to minister with Vacation Bible School Ministry and children's programs this summer.
Your church can take your VBS ministry on the road with your youth or mission team – and be a real blessing to Island churches too.
Please contact the LPD Office for information!
***
LPD Pastor and Spouse Retreat
Nov. 22-24, 2019
Hello LPD pastors, we'd like to invite you to join us on Nov. 22-24, 2019 for a Pastors' retreat! We'd like to encourage you to take a breather in late November (before Advent begins) with your fellow pastors at Camp Charis in Chilliwack.

Please set this date aside and watch for details early in the months ahead.
***
LPD Women in Ministry:
LPD Conference Luncheon, Saturday, March 2:
Please sign up with your conference registration