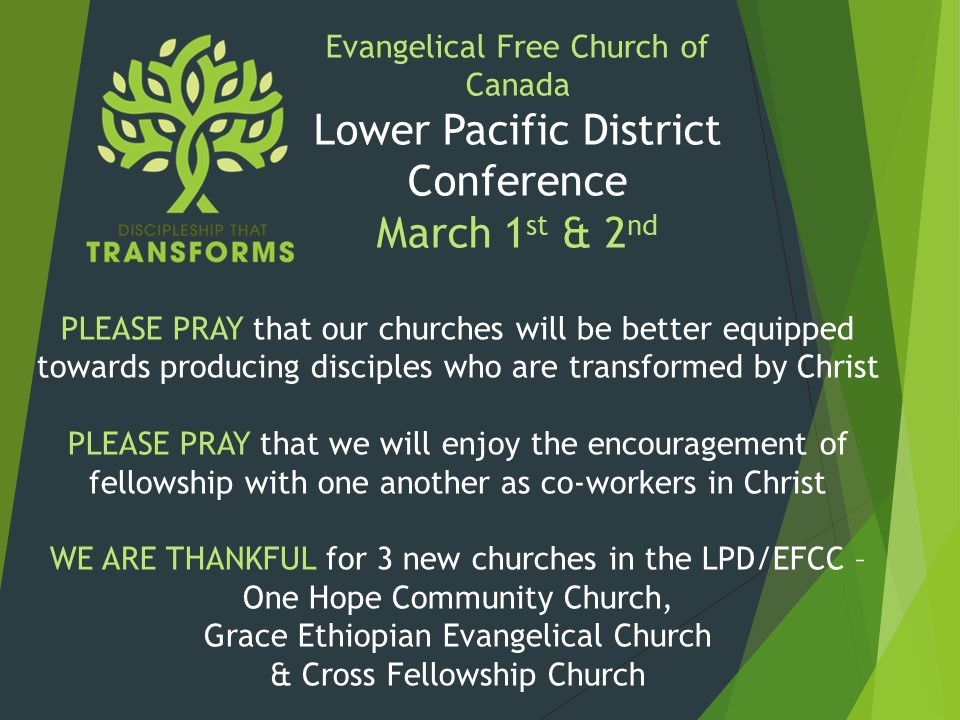 LPD Conference, March 1,2
Our LPD Church of the Week.
Thanks to Anna (Ben) Crumback at Sointula Community Church for producing the Church of the Week!
Next Friday and Saturday, we look forward to joining with many of you, as we sharpen our focus on our call to make disciples of Jesus Christ.
While we acknowledge our assigned task to "make disciples," we may not always feel that we are doing this all that well.
What are the characteristics of a disciple of Christ? Is it about "knowing the right things?" Is it about "doing the right things?"
While knowledge and behaviour are both important, why does our behaviour often not align with what we know? (cf. Romans 7).
In making disciples, we are called to produce people who are committed followers of Jesus Christ – not followers of us or followers of a teaching, but followers of Jesus Christ our Lord and Saviour.
Oswald Chambers makes this point in his devotional on service and devotion:
The Service of Passionate Devotion
By Oswald Chambers
…do you love Me?…Tend My sheep. —John 21:16
Jesus did not say to make converts to your way of thinking, but He said to look after His sheep, to see that they get nourished in the knowledge of Him. We consider what we do in the way of Christian work as service, yet Jesus Christ calls service to be what we are to Him, not what we do for Him. Discipleship is based solely on devotion to Jesus Christ, not on following after a particular belief or doctrine. "If anyone comes to Me and does not hate…, he cannot be My disciple" (Luke 14:26). In this verse, there is no argument and no pressure from Jesus to follow Him; He is simply saying, in effect, "If you want to be My disciple, you must be devoted solely to Me." A person touched by the Spirit of God suddenly says, "Now I see who Jesus is!"— that is the source of devotion.
Today we have substituted doctrinal belief for personal belief, and that is why so many people are devoted to causes and so few are devoted to Jesus Christ. People do not really want to be devoted to Jesus, but only to the cause He started. Jesus Christ is deeply offensive to the educated minds of today, to those who only want Him to be their Friend, and who are unwilling to accept Him in any other way. Our Lord's primary obedience was to the will of His Father, not to the needs of people— the saving of people was the natural outcome of His obedience to the Father. If I am devoted solely to the cause of humanity, I will soon be exhausted and come to the point where my love will waver and stumble. But if I love Jesus Christ personally and passionately, I can serve humanity, even though people may treat me like a "doormat." The secret of a disciple's life is devotion to Jesus Christ, and the characteristic of that life is its seeming insignificance and its meekness. Yet it is like a grain of wheat that "falls into the ground and dies"— it will spring up and change the entire landscape (John 12:24).
---
Come, join us as we learn, apply and grow together at our LPD Conference, as we focus on the theme of discipleship that transforms.
---
Just ONE Week until – LPD Annual Conference:
March 1,2 at Vancouver Chinese EFC.
"Discipleship that Transforms"
Conference Invitation Letter
LPD Conference Brochure
LPD_Conference_Schedule
AROUND THE LPD
This Sunday, I look forward to visiting Fort Langley EFC, where I will be preaching from the Gospel of Mark. Please pray for Pastor Jason Lavergne (Susanna), as he serves through this time of transition, and for guidance for all in the Lead Pastor Search Process.
---
Please pray for:
• Our upcoming LPD Conference, March 1,2 at Vancouver Chinese EFC. We look forward to seeing your church leadership team at this important time of growing and learning together.
• Matt and Mary Howard and family, who will be candidating this weekend at Christ Community Church in Ucluelet. Pray for God's guidance and wisdom for all.
• The Church of the Sent for Life Proclamation – This is our first Korean Church in the LPD (2002). Please pray for Pastor Namgyu (Heejoung) Lee and the congregation. The church building they have been renting has been sold, and they will need to relocate by the end of April.
• White Rock Community Church has called a youth pastor. Josiah and Martha Wall are coming from Winnipeg.
• The Steveston Project Team – Allen and Hannah Chang and Daniel and Joyce Wong. Come hear their report of God's work at conference!
• Grace Ethiopian Evangelical Church. This church meets at New West EFC and will be joining the LPD/EFCC at conference.
• New Westminster EFC. Pray for Transitional Pastor Ralph (Karen) Hardy and Church Planters Jorge (Emily) Lin this church family, as they seek the Lord for the "new" work.
• Fort Langley EFC, as they as the congregation seeks the Lord in their search for a lead pastor.
• Tom and Sandy Ford and family, as he awaits transplants, made necessary through the impact of his diabetes. He has gone onto long-term disability as he awaits further treatment.
• Please pray specifically with me for Quadra Island Bible Church in their pastoral search. They are in need of a Pioneer, Bi-Vocational pastor.
• Carl Lindstrom, a faithful member and volunteer at New Westminster EFC, who has aggressive prostate cancer.
• LPD Board. Board members are Randy Lemke (Allana) – Chair, Patrick Chan (Sarah) – Property and Finance, Ben Crumback (Anna) – Island Liaison, Charles Labun (Carolyn) – Church Board Liaison, Rob Stewart (Karen) – DS, Tim Stewart (Emily) – Innovative Ministries, Kenneth Tsang (Mabel) – Chinese Church Liaison; Paul Yang (Jin) – Korean Church Liaison; Phil Yung (Grace) – Church Planting and Josephine Papp, LPD Office Administrator – Recording Secretary.
• North Delta EFC, in their search for an Associate Pastor for youth.
• Grace EFC, in their search for a part-time youth pastor.
• Steve (Gillian) Sharpe, in his ministry as LPD Missionary of Church Planting Development, serving both our LPD Missionaries and Church Plants, and church planting in the EFCC. Steve and Neil B are ministering at our LPD Conference next weekend.
---
Upcoming Events:
Summer Ministry Opportunity
Looking for a youth mission opportunity this summer?
Vancouver Island? Have you considered a beautiful island in the Pacific? – as in …
Some Island Churches would welcome ministry teams to come to the Island to minister with Vacation Bible School Ministry and children's programs this summer.
Your church can take your VBS ministry on the road with your youth or mission team – and be a real blessing to Island churches too.
Please contact the LPD Office for information!
---
LPD Pastor and Spouse Retreat
Nov. 22-24, 2019
Hello LPD pastors, we'd like to invite you to join us on Nov. 22-24, 2019 for a Pastors' retreat! We'd like to encourage you to take a breather in late November (before Advent begins) with your fellow pastors at Camp Charis in Chilliwack.
Please set this date aside and watch for details early in the months ahead.
---
LPD Women in Ministry:
• LPD Conference Luncheon, Saturday, March 2:
Please sign up with your conference registration