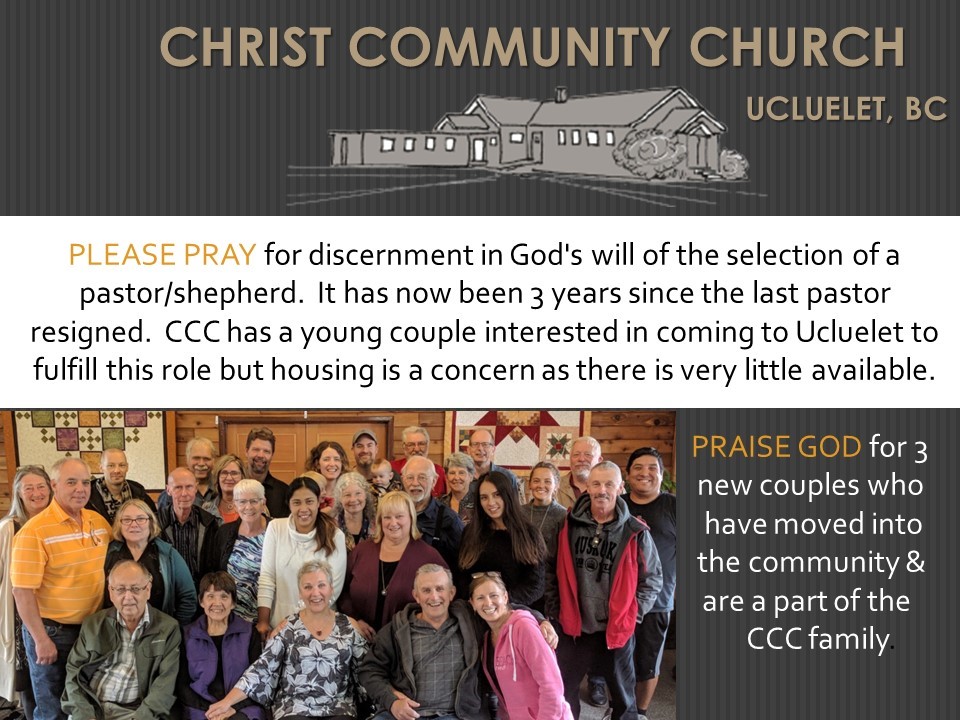 Christ Community Church
– Our LPD Church of the Week.
Thanks to Anna (Ben) Crumback at Sointula Community Church for producing the Church of the Week!

Christ Community Church is our most western church, in Ucluelet, on the west side of Vancouver Island. Please pray for these brothers and sisters, as they witness for Christ in their community, and as they seek the Lord for a bi-vocational pastor/shepherd.

Those who can do; those who can't teach; those who can't teach, teach teachers…

So was said in jest, at my father's retirement from being  a professor of education at the University of Lethbridge. My father had served as a teacher, as a principal, as a member of the Canadian Artillery and later the Canadian Intelligence Corp. in WWII, as a director of special education for the Surrey School District and as a professor of education.


He was also a capable carpenter, helping construct the White Rock Evangelical Free Church in his summer vacation, an avid sports fisherman, a church chairperson in two different churches, a loving husband, father and grandfather and a godly example. He was always well-grounded, and just as happy with a hammer in hand as in a classroom.

I am thankful for those who can – and do, and among these are pastors of district churches.

At our recent district conference, our theme was "Discipleship that Transforms," and we heard several stories of where God was working in different settings,  from church plants to renewal in churches. I promised to share more stories of transformation, and today, I share a story from Parkdale Church in Victoria, where our son Tim Stewart and his wife Emily serve as pastor.

Tim writes:

Has your church ever had an unhealthy, codependent relationship with a rental group?
 
When I interviewed for the role of Pastor at Parkdale in summer of 2016, one of their questions in the interview was, "what do you think we should do about our Daycare?"

I quickly learned that this was a sore spot for the church – a source of tension and despair.  They eagerly hoped that the Early Childhood Centre which operated downstairs could be a ministry to the community – and a source of growth for the church.  But, in reality, though we technically owned the Centre, we had a sour relationship with the staff, and little to no connection with the children and families.  It ran more like a separate business, and we were too dependent on it, financially to be willing to rock the boat.
 
My initial response was "well, I'd like to take some time to listen and get to know the situation."  Then, over the course of the next year, we prayed and discussed and prayed some more.  Eventually, we developed a vision for the Centre, and gathered the courage to begin to ask for this from the staff.  Over the next year, the staff completely turned over, and we absorbed a great deal of turmoil and complaints.  But God provided us with a godly new director who has not only led the Centre to grow numerically, but to become more ministry-minded.  Enrollment has doubled, the Centre is quickly paying off its debt, and has been funding and carrying out improvements to the building.  And more importantly, it's becoming an outreach to the community!  They've actually taken their Christmas production "on the road," visiting local businesses, a seniors' home, and another residence in our neighborhood.  We've also found creative projects for parents and church members to partner on, like a new garden bed, and sending a Balikbayan box of relief supplies to the Philippines.
 
But one specific story: Last fall, our director invited me to read Bible stories to the kids.  After getting by criminal record check, I brought my kids Bible (from our dinner table) to the Daycare, where my youngest son attended.  Though he already knew the stories, very few other kids did – but they loved it!  The director had never seen kids so eager to attend a Bible class.  Not only did the kids love it, but one of the teachers, a devout Muslim, asked if she could borrow my kids' Bible.  And she never gave it back.  Before she resigned from her position to care for her mother, she told me that she kept the Bible by her bedside, and read it every night.  Of course, I didn't have the heart to request it back, so I ordered more to share!  We're thankful for these opportunities to find middle ground between the church and our neighbors, and to share the good news!
Wes Stewart and friend at Preschool

***
So, what is God up to in your church? Let's share your story next week!

***
Small Churches – Big Ministries:
https://www.christianitytoday.com/pastors/2015/may-web-exclusives/smarter-rural-ministry.html?utm_source=leadership-html&utm_medium=Newsletter&utm_term=28026684&utm_content=639861598&utm_campaign=email


AROUND THE LPD
This week, I joined with other district and national leaders at the EFCC National Leadership Meetings – We met at the EFCC Office and Cedar Springs, and spent time praying together and seeking the Lord for the future working relationships within the EFCC. We will continue this discussion at our annual meeting/ Theology Summit in May (see upcoming events below).
***
Please pray for:
The Church of the Sent for Life Proclamation – This is our first Korean Church in the LPD (2002). Please pray for Pastor Namgyu (Heejoung) Lee and the congregation. The church building they have been renting has been sold, and they will need to relocate by the end of April.
White Rock Community Church has called a youth pastor. Josiah and Martha Wall are coming from Winnipeg, and are to begin on April 1.
The Steveston Project Team – Allen and Hannah Chang and Daniel and Joyce Wong.
Welcome to Grace Ethiopian Evangelical Church, Cross Fellowship Church and One Hope Community Church, new churches in our LPD/EFCC Family.
New Westminster EFC. Pray for Transitional Pastor Ralph (Karen) Hardy and Church Planters Jorge (Emily) Lin this church family, as they seek the Lord for the "new" work.
Fort Langley EFC, as they as the congregation seeks the Lord in their search for a lead pastor.
Tom and Sandy Ford and family, as he awaits transplants, made necessary through the impact of his diabetes. He has gone onto long-term disability as he awaits further treatment.
Please pray specifically with me for Quadra Island Bible Church and Christ Community Church, as they seek the Lord regarding potential pastor candidates.
Carl Lindstrom, a faithful member and volunteer at New Westminster EFC, who has aggressive prostate cancer.
LPD Board. Board members are Randy Lemke (Allana) – Chair, Patrick Chan (Sarah) – Property and Finance, Ben Crumback (Anna) – Island Liaison, Charles Labun (Carolyn) – Church Board Liaison, Rob Stewart (Karen) – DS, Tim Stewart (Emily) – Innovative Ministries, Paul Yang (Jin) – Korean Church Liaison; Phil Yung (Grace) – Church Planting and Josephine Papp, LPD Office Administrator – Recording Secretary. Pray for us as we meet on March 20.
North Delta EFC, in their search for an Associate Pastor for youth.
Grace EFC, in their search for a part-time youth pastor.
Steve (Gillian) Sharpe, in his ministry as LPD Missionary of Church Planting Development, serving both our LPD Missionaries and Church Plants, and church planting in the EFCC.
***
Upcoming Events:
Summer Ministry Opportunity
Looking for a youth mission opportunity this summer?

Have you considered a beautiful island in the Pacific? – as in …
Vancouver Island?

Some Island Churches would welcome ministry teams to come to the Island to minister with Vacation Bible School Ministry and children's programs this summer.
Your church can take your VBS ministry on the road with your youth or mission team – and be a real blessing to Island churches too.
Please contact the LPD Office for information!

***



Attend live in Okotoks, Alberta or join us for livestream locally.
Watch for details next week!

***
LPD Pastor and Staff Cruise

– a day with colleagues in ministry.
Wednesday, May 29



***
LPD Pastor and Spouse Retreat
Nov. 22-24, 2019
Hello LPD pastors, we'd like to invite you to join us on Nov. 22-24, 2019 for a Pastors' retreat! We'd like to encourage you to take a breather in late November (before Advent begins) with your fellow pastors at Camp Charis in Chilliwack.

Please set this date aside and watch for details early in the months ahead.

***