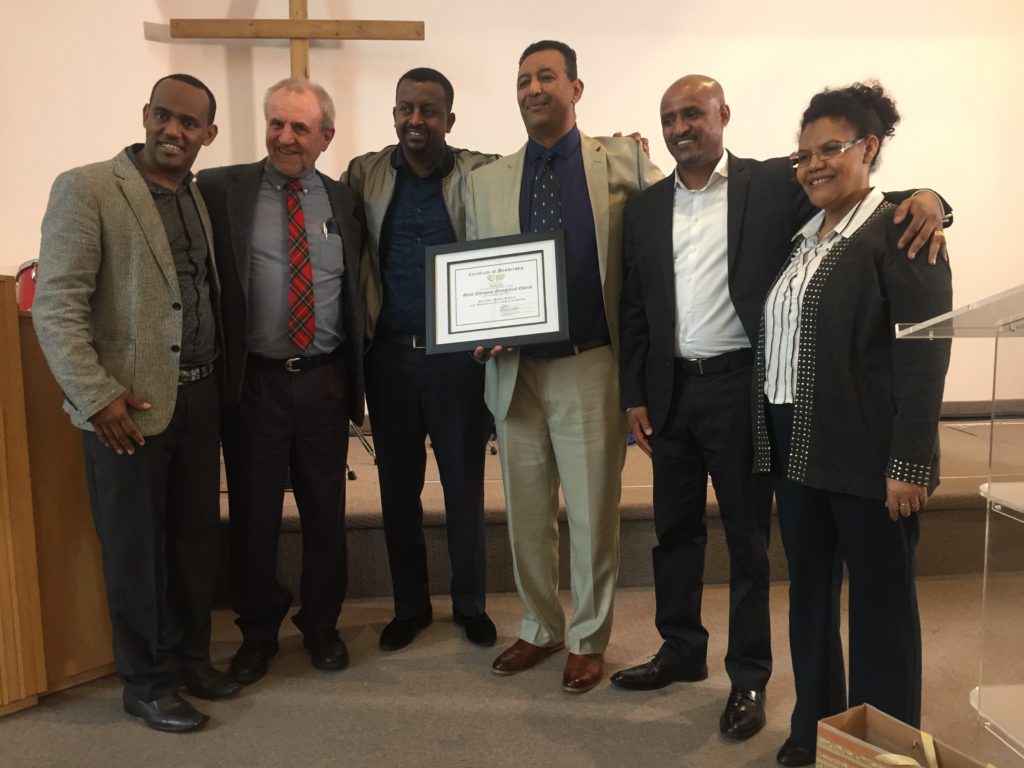 Good evening all,
This afternoon, I had the joy of preaching at and welcoming into the LPD/EFCC Family, Grace Ethiopian Evangelical Church.

Delegates unanimously accepted this church into membership at our district conference on March 1,2, and it was my joy to officially welcome them today.

These brothers and sisters meet at the site of New Westminster EFC from 2:30-5:00PM on Sundays – and in true African fashion, meet for food and fellowship downstairs afterward.
Welcome Grace Ethiopian Evangelical Church! This is our second African LPD/EFCC Church, after Jesus Grace International Church, pastored by Sammy (Eva) Kabyemera.

Grace Ethiopian Evangelical Church is one of three churches that joined us at member churches at our district conference. I look forward to visiting and welcoming One Hope Community Church and Cross Fellowship Church in the weeks ahead.

***

I am sending this week's Five Minutes on Sunday, instead of Friday, as Karen and I have made plans to go away for the week to mark our 40th wedding anniversary (yes, I know, we must have married very young).

Our anniversary is not until July, but there was a window of opportunity to get away this week, so we are going for it.

Though forty years is a long time, the years have gone very quickly, and we are thankful for God's faithfulness to us and to our family. Just like the Children of Israel of old, God has been with us each step of our 40 year journey – though we have not had to walk the wilderness.

When my parents celebrated their 40th anniversary, they gave each of us children and our families a framed scripture, Psalm 10:17,18, which reads:

But from everlasting to everlasting
the Lord's love is with those who fear him,
and his righteousness with their children's children—
with those who keep his covenant
and remember to obey his precepts.
This promise served my parents well, as it does Karen and me. May this be true for the generations to come as well.

May God bless and keep you all through the week – you will be in our prayers – we are thankful for you.

In Jesus,

Rob

P.S. I leave you with a note of encouragement from Oswald Chamber's devotional – I met a lot of people going through a variety of trials over the week.

The Source of Abundant Joy
In all these things we are more than conquerors through Him who loved us. —Romans 8:37
Paul was speaking here of the things that might seem likely to separate a saint from the love of God. But the remarkable thing is that nothing can come between the love of God and a saint. The things Paul mentioned in this passage can and do disrupt the close fellowship of our soul with God and separate our natural life from Him. But none of them is able to come between the love of God and the soul of a saint on the spiritual level. The underlying foundation of the Christian faith is the undeserved, limitless miracle of the love of God that was exhibited on the Cross of Calvary; a love that is not earned and can never be. Paul said this is the reason that "in all these things we are more than conquerors." We are super-victors with a joy that comes from experiencing the very things which look as if they are going to overwhelm us.
Huge waves that would frighten an ordinary swimmer produce a tremendous thrill for the surfer who has ridden them. Let's apply that to our own circumstances. The things we try to avoid and fight against— tribulation, suffering, and persecution— are the very things that produce abundant joy in us. "We are more than conquerors through Him" "in all these things"; not in spite of them, but in the midst of them. A saint doesn't know the joy of the Lord in spite of tribulation, but because of it. Paul said, "I am exceedingly joyful in all our tribulation" (2 Corinthians 7:4).
The undiminished radiance, which is the result of abundant joy, is not built on anything passing, but on the love of God that nothing can change. And the experiences of life, whether they are everyday events or terrifying ones, are powerless to "separate us from the love of God which is in Christ Jesus our Lord" (Romans 8:39).