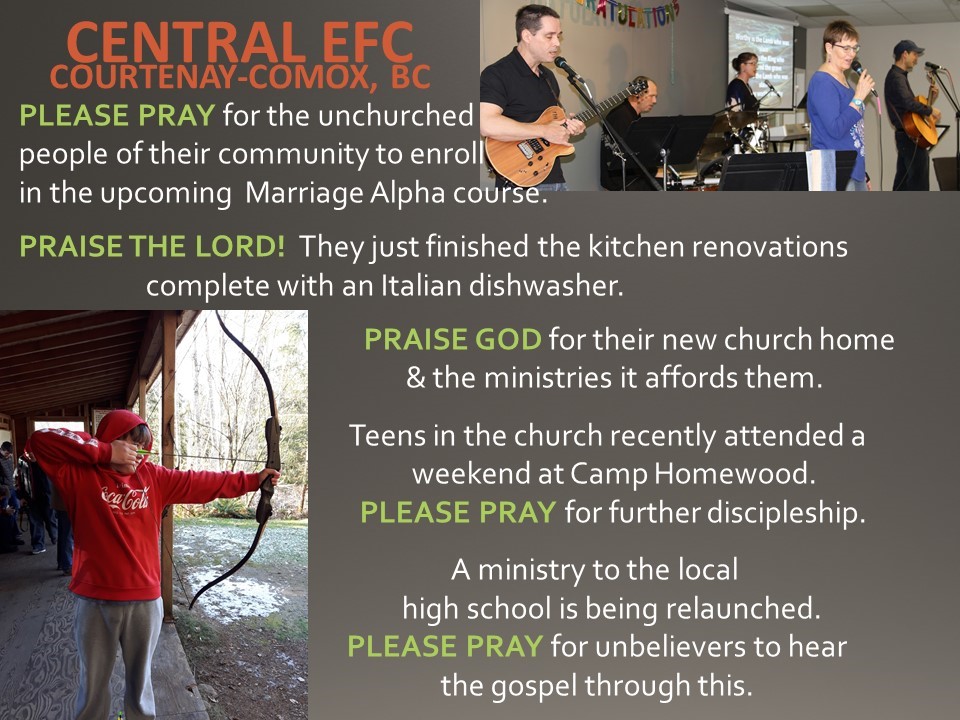 Central Evangelical Free Church
– Our LPD Church of the Week.
Thanks to Anna (Ben) Crumback at Sointula Community Church for producing the Church of the Week!
Last week, Karen and and I did something we have never done before… we traveled to Honolulu, Hawaii for a week. It took us almost forty years of marriage to get there!

It was a wonderful time together, and we enjoyed the sights, the weather, the beach, and I enjoyed the snorkeling with all the colourful fish.

As one who is drawn to the ocean – and to the sailboats that float upon it, I soon noticed that the breakwaters are much smaller than here in Canada – and that the tides also appear to be much less significant.

Checking my tide charts, I find that the tides are indeed much smaller in Hawaii than here. While tides can be up to 15′ or more here, they will range only to a maximum of about 3′ in Hawaii, usually much less.

It is due to what are called "amphidromes." These are points at the centres of oceans, where the tides are much smaller, almost non-existent. Hawaii is near the center of the Pacific Ocean, and is only a few hundred miles from one of these amphidromes. It also lacks large land masses, bays and passages that provide obstacles that "funnel" the moving waters of the oceans.

Interesting that we experience the impact of the invisible gravitational attraction of the moon that causes tides, more at the "edges" than the middle of the oceans. Here on the west coast, we see the impact of both the ebb and flood tides and the Salish Sea drains and floods up to 15 feet of water twice each day. Tides run at 1-2 knots in the Straight, and up to 9 or more knots in the narrow passes.

How like ministry! It is at the "edges," where we and our churches encounter people, obstacles and engage challenges, that we witness the work of the "invisible" work of God and His Spirit among us. The centre of the ocean may be more calm and free of obstacles, but it is at the edges, where and when we engage others that we trust and see the Lord at work.

In my office is a picture of a sailboat with the caption, "Calm Seas never made great Captains." How true!

Here is how one church is encountering its neighbourhood, and trusting God to work through the Easter Season.

Johnston Heights Church is encouraging their congregation to invite people to church at Easter this year. Last Sunday, as they are preaching through Luke 15, they gave people opportunity to list the names of those in their lives they will pray for (the identified). Over the week, they have prayed for these people, and are asked to invite them to attend Easter Services. These will then be prayed for, in anticipation of them hearing the Good News of God's Great Love, as demonstrated through Christ on the Cross and our Great Hope through Christ risen! Please join us in praying for these dear folks – and plan to do something similar in your own church too!



Here is an article on maximizing the opportunities with Easter:

5-ways-to-leverage-your-easter-services

***
So, what is God doing in and through your church? we would love to share your story as well!

AROUND THE LPD
This Sunday, Karen and I look forward to joining Grace Evangelical Free Church on Sunday, where I will have the honour of preaching as they celebrate their seventh anniversary. We are thankful for Pastor Ping Su and this church family, and their outreach to Mandarin-speaking people in Richmond and on the campus of Trinity Western University.

Friday evening, I look forward to meeting with Pastor Danny (Erico) Wu and the leaders of the English Ministry at Burnaby Chinese EFC, as we seek the Lord for growing this ministry for the future.

***
Please pray for:
Fort Langley EFC, as they as Jason and Susanna Lavergne candidate for the position of lead pastor. May God guide and confirm his leading for all.
Pray Joshua and Nicole Fast, new Children's Ministry Intern at Parkdale EFC.
The Church of the Sent for Life Proclamation – This is our first Korean Church in the LPD (2002). Please pray for Pastor Namgyu (Heejoung) Lee and the congregation. The church building they have been renting has been sold, and they will need to relocate by the end of April.
White Rock Community Church Youth Pastor Josiah (Martha) Wall began on April 1. Welcome Josiah and Martha!
The Steveston Project Team – Allen and Hannah Chang and Daniel and Joyce Wong.
New Westminster EFC. Pray for Transitional Pastor Ralph (Karen) Hardy and Church Planters Jorge (Emily) Lin this church family, as they seek the Lord for the "new" work.
Tom and Sandy Ford and family, as he awaits transplants, made necessary through the impact of his diabetes. We are thankful for healing for his shoulder.
Please pray specifically with me for Quadra Island Bible Church and Christ Community Church, as they seek the Lord regarding potential pastor candidates.
Carl Lindstrom, a faithful member and volunteer at New Westminster EFC, who has aggressive prostate cancer.
LPD Board. Board members are Randy Lemke (Allana) – Chair, Patrick Chan (Sarah) – Property and Finance, Ben Crumback (Anna) – Island Liaison, Charles Labun (Carolyn) – Church Board Liaison, Rob Stewart (Karen) – DS, Tim Stewart (Emily) – Innovative Ministries, Paul Yang (Jin) – Korean Church Liaison; Phil Yung (Grace) – Church Planting and Josephine Papp, LPD Office Administrator – Recording Secretary.
North Delta EFC, in their search for an Associate Pastor for youth.
Grace EFC, in their search for a part-time youth pastor, and as they celebrate their seventh anniversary.
Steve (Gillian) Sharpe, in his ministry as LPD Missionary of Church Planting Development, serving both our LPD Missionaries and Church Plants, and church planting in the EFCC.
***
Upcoming Events:
Summer Ministry Opportunity
Looking for a youth mission opportunity this summer?

Have you considered a beautiful island in the Pacific? – as in …
Vancouver Island?

Some Island Churches would welcome ministry teams to come to the Island to minister with Vacation Bible School Ministry and children's programs this summer.
Your church can take your VBS ministry on the road with your youth or mission team – and be a real blessing to Island churches too.
Please contact the LPD Office for information!
***
Attend this conference and the EFCC Annual Meeting live in Okotoks,
or join us via livestream.
Watch for details of livestream in the Lower Mainland and on the Island!
***
LPD Pastor and Staff Cruise
– a day with colleagues in ministry.
Wednesday, May 29
***
LPD Pastor and Spouse Retreat
Nov. 22-24, 2019
Hello LPD pastors, we'd like to invite you to join us on Nov. 22-24, 2019 for a Pastors' retreat! We'd like to encourage you to take a breather in late November (before Advent begins) with your fellow pastors at Camp Charis in Chilliwack.

Please set this date aside and watch for details early in the months ahead.