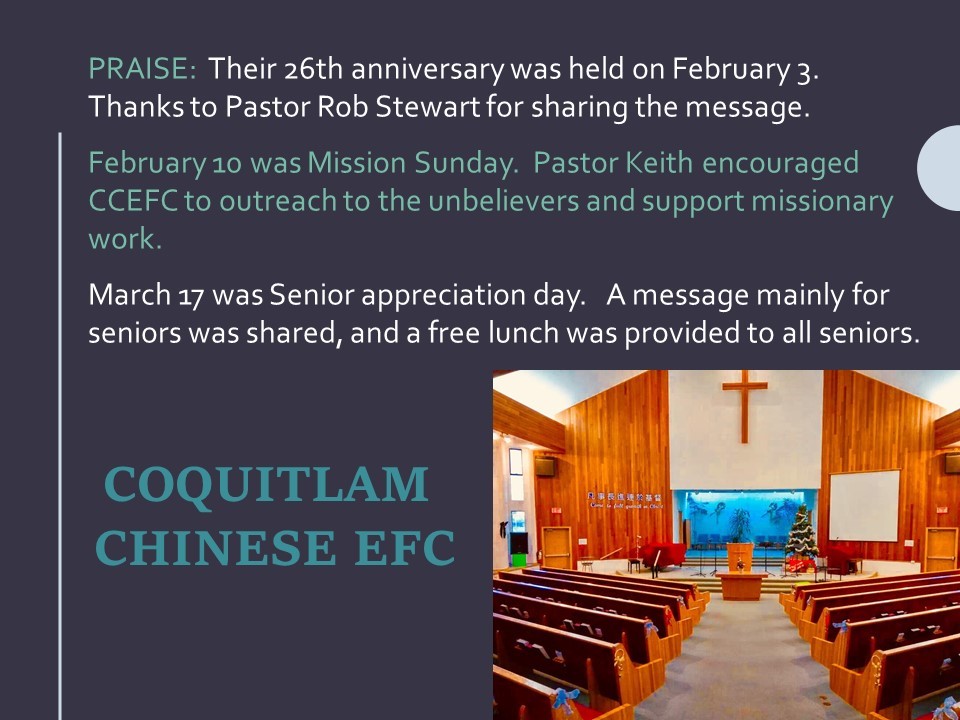 Coquitlam Chinese Evangelical Free Church
– Our LPD Church of the Week.
Thanks to Anna (Ben) Crumback at Sointula Community Church for producing the Church of the Week!
Only one life, 'twill soon be past,
Only what's done for Christ will last.

So said the plaque hanging in our home when I was growing up. Obviously, it has stuck with me, and as I grow older, it becomes more and more meaningful as life passes so quickly. One life. One chance to make a difference. One chance to invest in what will outlive us…

Over this past week, we recognized the first Green Shirt Day in Canada. This day emphasizes the urgency of Canadians to become organ donors, and more than 3300 Canadians responded by signing on as donors.

This day was birthed out of the tragedy of the horrific bus crash, in which 16 member of the Humbolt Broncos hockey team were killed in the collision of their team bus and a semi-trailer truck than drove through a marked crossing.

One of those killed was Logan Boulet, a young hockey player, who had signed to be an organ donor, just one year before his untimely death. Through his donated organs, six people were given new hope and quality in life.

One life can make a difference – none more than that of Jesus Christ, our Lord and our Saviour, and in this Easter Season, we proclaim the message of hope and new life through him.

I tell you the truth, unless a kernel of wheat falls to the ground and dies, it remains only a single seed. But if it dies, it produces many seeds. The man who loves his life will lose it, while the man who hates his life in this world will keep it for eternal life. (John 12:24-25)

This Sunday, as I preach at Jesus Grace International Church, I will remind them of the difference one person made in their country. In 1921, two young Swedish couples, David ad Svea Flood and Joel and Bertha Erickson, headed to what was then known as the Belgian Congo as missionaries. They felt called to a remote village, N'dolera, where the Gospel had not yet been heard.

Their ministry appeared to end in failure. Both couples suffered bouts of pneumonia. The Ericksons abandoned the mission. The Floods remained, as Svea was expecting their second child. Shortly after the birth of their daughter, Svea died, and her husband David buried her at their remote homestead.

Discouraged and feeling abandoned by God, David left the mission and walked away from God. It was only at the end of his life that he learned of the impact of their short mission to the Congo. A boy had received Christ as a result of their ministry. The boy became a witness, and led the village to Christ. He became a bishop, and there are now thousands of Christians in that region.

One life invested in another. That life was in turn invested in the lives of others, in light of what matters for eternity…

You can read the full story here: David_and_Svea_Flood.pdf

And if Christ has not been raised, your faith is futile; you are still in your sins. Then those also who have fallen asleep in Christ are lost. If only for this life we have hope in Christ, we are of all people most to be pitied. But Christ has indeed been raised from the dead, the firstfruits of those who have fallen asleep… Therefore, my dear brothers and sisters, stand firm. Let nothing move you. Always give yourselves fully to the work of the Lord, because you know that your labor in the Lord is not in vain. (1 Cor. 15:17-20,58)
Likely, it will only be in eternity that we will realize the impact that our one life and ministry has had.

***
5 Ways to Make Your Easter Invite More Effective
5-ways-to-make-your-easter-invite-more-effective
***
AROUND THE LPD:
This Sunday, I look forward to joining Pastor Sammy and Eva Kabyemera at Jesus Grace Evangelical International Church, where I will have the honour of preaching on this Palm Sunday. We are thankful for this church family, and their outreach to African-Canadians in our region. Many have come to Canada as refugees, and it is a joy to welcome them to our country and to our family of churches.

***
Please pray for:
Fort Langley EFC, as they as Jason and Susanna Lavergne candidate for the position of lead pastor. May God guide and confirm his leading for all as the congregation meets on Sunday.
Pray Joshua and Nicole Fast, new Children's Ministry Intern at Parkdale EFC.
The Church of the Sent for Life Proclamation – This is our first Korean Church in the LPD (2002). Please pray for Pastor Namgyu (Heejoung) Lee and the congregation. Praise God that they have found a new place to worship on Sunday at Willoughby Elementary School.
White Rock Community Church Youth Pastor Josiah (Martha) Wall began on April 1. Welcome Josiah and Martha!
The Steveston Project Team – Allen and Hannah Chang and Daniel and Joyce Wong. Pray for our Advisory Team, that meets on Wednesday, April 17.
New Westminster EFC. Pray for Transitional Pastor Ralph (Karen) Hardy and Church Planters Jorge (Emily) Lin this church family, as they seek the Lord for the "new" work.
Tom and Sandy Ford and family, as he awaits transplants, made necessary through the impact of his diabetes. We are thankful for healing for his shoulder.
Please pray specifically with me for Quadra Island Bible Church and Christ Community Church, as they seek the Lord regarding potential pastor candidates.
Carl Lindstrom, a faithful member and volunteer at New Westminster EFC, who has aggressive prostate cancer.
LPD Board. Board members are Randy Lemke (Allana) – Chair, Patrick Chan (Sarah) – Property and Finance, Ben Crumback (Anna) – Island Liaison, Charles Labun (Carolyn) – Church Board Liaison, Rob Stewart (Karen) – DS, Tim Stewart (Emily) – Innovative Ministries, Paul Yang (Jin) – Korean Church Liaison; Phil Yung (Grace) – Church Planting and Josephine Papp, LPD Office Administrator – Recording Secretary. Pray for us as we meet on Wednesday, April 17.
North Delta EFC, in their search for an Associate Pastor for youth.
Grace EFC. Praise God for their outreach to Mandarin-speaking people in our region and on TWU Campus.
Steve (Gillian) Sharpe, in his ministry as LPD Missionary of Church Planting Development, serving both our LPD Missionaries and Church Plants, and church planting in the EFCC.
Upcoming Events:

Apologetics Event: Responding to Secular Perspectives on Christian Faith

Join us as Dr. Chamberlain addresses the following questions:
* How can Jesus be the only way?
* What caused God?
* Isn't Christianity anti-woman?
* Isn't Christianity anti-gay?
* If God is so good, why do so many bad things happen to good people?
May 5 – 6 | Johnston Heights Church Surrey 7:00 – 9:00 pm
Registration is required, so please RSVP by purchasing your $10 ticket soon at the above link.

Dr. Paul Chamberlain is the director of the Institute for Christian Apologetics at Trinity Western University and teaches ethics, philosophy of religion and Christian Apologetics and Leadership there. He has also worked with Ravi Zacharias International Ministries during part of that time. He is an effective communicator both in and out of the classroom. His humorous, down-to-earth manner appeals to a wide variety of people. Drawing from the media and using a professional power point presentation, his seminars are both interesting and relevant. Dr. Chamberlain has appeared on numerous radio and television talk shows, debated on university campuses, and is a frequent guest speaker at public functions. He is the author of five books: Can We be Good Without God, Final Wishes, How To Talk About Good and Bad Without Getting Ugly: A Guide to Moral Persuasion, Why People Don't Believe: Confronting Seven Challenges to Christian Faith, and Why People Stop Believing, as well as a number of articles addressing current social and moral issues.

***
Attend this conference and the EFCC Annual Meeting live in Okotoks,
or join us via livestream.
Watch for details of livestream in the Lower Mainland and on the Island!
Here's a link: https://www.efccm.ca/wordpress/conference-2019/


***
LPD Pastor and Staff Cruise
– a day with colleagues in ministry.
Wednesday, May 29
***
LPD Pastor and Spouse Retreat
Nov. 22-24, 2019
Hello LPD pastors, we'd like to invite you to join us on Nov. 22-24, 2019 for a Pastors' retreat! We'd like to encourage you to take a breather in late November (before Advent begins) with your fellow pastors at Camp Charis in Chilliwack.

Please set this date aside and watch for details early in the months ahead.