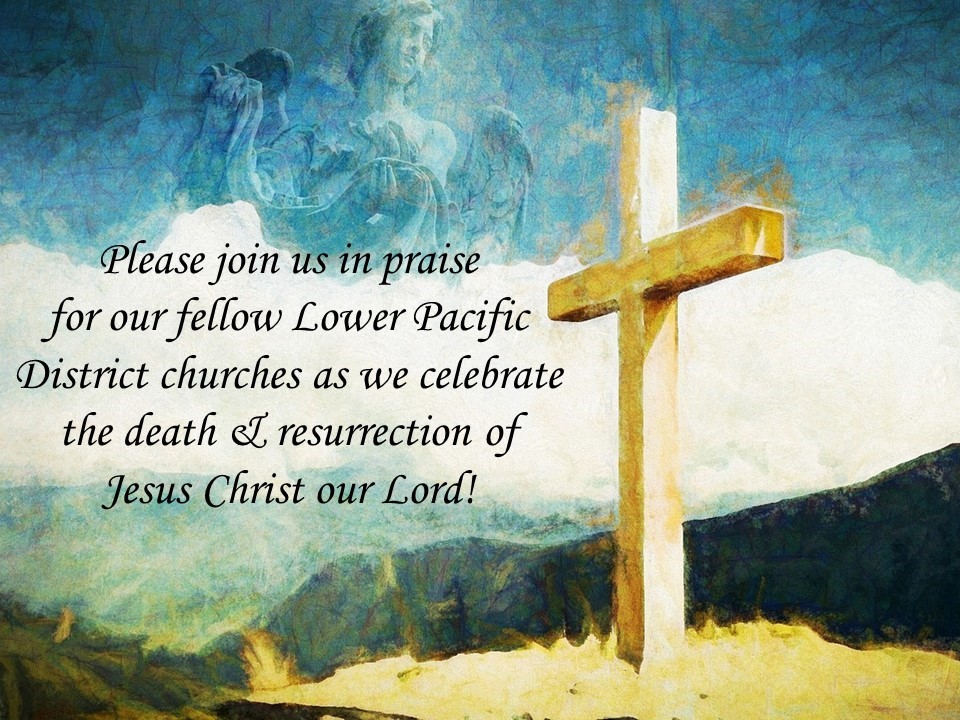 Easter Greetings to all

– may you rejoice in the hope we share in and through Jesus Christ – and in sharing it with others
Thanks to Anna (Ben) Crumback at Sointula Community Church for producing the Church of the Week!
***

The word "alien" can bring a number of word pictures to mind. One's thoughts might turn to science fiction, and imagine "little green men." One might think of the United States, where we are reminded at the border that, not being U.S. citizens, we are "aliens" while visiting their country.

I have been studying the Book of Ephesians, and have been again struck by the word, "alien." Paul writes that Gentiles had been strangers and aliens to God's covenants of promise, and, "without hope and without God in the world." All this has changed through the work of Christ! He writes, " But now in Christ Jesus you who formerly were far off have been brought near by the blood of Christ. (2:13), and "So then you are no longer strangers and aliens, but you are fellow citizens with the saints, and are of God's household…"(2:19 NASB).

God's amazing work. Foreigners, strangers and aliens no more – together, we are the household of God. Paul writes, "And in him you too are being built together to become a dwelling in which God lives by his Spirit."

One of the many things I love about Canada is that we are a nation built of people from many nations, many who have come to us as refugees from countries in which they were in danger. Some of these are now part of LPD Churches.

Last Sunday, I had the honour of ministering at Jesus Grace International Church in Vancouver.

Several of these brothers and sisters came to Canada a refugees from Congo, including Pastor Sammy and Eva Kabyemera and their family. All are happy to be a part of the Country of Canada that we share.


In 2013, I had the opportunity to witness the citizenship ceremony for Pastor Sammy and his family. It was such a joy to see this family, having come to Canada a refugees, and having lived in Canada as "foreigners and aliens," become fellow citizens of Canada. They now bear all the rights, privileges and responsibilities that I do as fellow-Canadians.
We live in an age that speaks celebrates that we as mankind are "one." While there is a degree of truth in this, we as believers are called to live as "temporary residents and foreigners" in the world. The world is not our our "fixed-address." We are still "en route" to our home with the Lord, and as long as we remain here, we are simply "not yet home."
"Once you had no identity as a people; now you are God's people. Once you received no mercy; now you have received God's mercy." Dear friends, I warn you as "temporary residents and foreigners" to keep away from worldly desires that wage war against your very souls. Be careful to live properly among your unbelieving neighbors. Then even if they accuse you of doing wrong, they will see your honorable behavior, and they will give honor to God when he judges the world. (1 Peter 2:10-12 NLT).

As we celebrate Easter, may we be encouraged to know that whatever our circumstances in life, we have a home waiting for us – a home that is safe and secure; a home where there will be well-being and peace; a home that will be in the presence of our risen Lord. We don't deserve this. We have not earned this. we have humbly received this through Christ.

God saved you by his grace when you believed. And you can't take credit for this; it is a gift from God. Salvation is not a reward for the good things we have done, so none of us can boast about it. For we are God's masterpiece. He has created us anew in Christ Jesus, so we can do the good things he planned for us long ago. (Eph. 2:8-10 NLT).

As Paul encourages us, because of our hope in Christ,

Let us not become weary in doing good, for at the proper time we will reap a harvest if we do not give up. Therefore, as we have opportunity, let us do good to all people, especially to those who belong to the family of believers. (Gal. 6:9,10 NIV).

Let's encourage one another as fellow-aliens!

***

Ironically, in light of the above, many British people who profess to be Christians do not believe in either the significance of Christ's work on the cross or the fact of his resurrection. I'm not sure by what definition these claim to be Christians, but let's pray that the Gospel and the message of hope in Christ will be proclaimed clearly and to hearts and ears opened at this Easter Season.

fewer-than-half-of-uk-christians-believe-biblical-story-of-easter


AROUND THE LPD:
This Sunday, Karen and I, and Dr. Paul and Jin Yang (LPD Korean Church Liaison) look forward to joining with One Hope Community Church, where we will welcome them into our LPD/EFCC Family. This Korean Church Plant was birthed out of Grace Hanin Community Church, and joined our district at conference in March. We are thankful for this new and growing work that seeks to bridge first, second and following generations of Korean immigrants to our region. Welcome One Hope Community Church!

***
Please pray for:
Jason and Susanna Lavergne have been strongly affirmed as Lead Pastor of Fort Langley EFC. Please pray for all, as they ready for a new season and chapter in the life and ministry of FLEFC. We are thankful for this step forward in faith, and in unity.
Praise God for a number of baptisms happening over the Easter Sunday weekend. Each represents a testimony of God's work of grace.
Pray Joshua and Nicole Fast, new Children's Ministry Intern at Parkdale EFC.
The Church of the Sent for Life Proclamation – This is our first Korean Church in the LPD (2002). Please pray for Pastor Namgyu (Heejoung) Lee and the congregation. Praise God that they have found a new place to worship on Sunday at Willoughby Elementary School.
The Steveston Project Team – Allen and Hannah Chang and Daniel and Joyce Wong. Pray for our Advisory Team, that meets on Wednesday, April 17.
New Westminster EFC. Pray for Transitional Pastor Ralph (Karen) Hardy and Church Planters Jorge (Emily) Lin this church family, as they seek the Lord for the "new" work. Pray for the church, as they interview a candidate to provide servant-leadership for the Japanese ministry within the church.
Tom and Sandy Ford and family, as he awaits transplants, made necessary through the impact of his diabetes.
Please pray specifically with me for Quadra Island Bible Church and Christ Community Church, as they seek the Lord regarding potential pastor candidates.
Carl Lindstrom, a faithful member and volunteer at New Westminster EFC, who has aggressive prostate cancer.
LPD Board. Board members are Randy Lemke (Allana) – Chair, Patrick Chan (Sarah) – Property and Finance, Ben Crumback (Anna) – Island Liaison, Charles Labun (Carolyn) – Church Board Liaison, Rob Stewart (Karen) – DS, Tim Stewart (Emily) – Innovative Ministries, Paul Yang (Jin) – Korean Church Liaison; Phil Yung (Grace) – Church Planting and Josephine Papp, LPD Office Administrator – Recording Secretary. Please pray for provision of a Chinese Church Liaison.
North Delta EFC, in their search for an Associate Pastor for youth.
Steve (Gillian) Sharpe, in his ministry as LPD Missionary of Church Planting Development, serving both our LPD Missionaries and Church Plants, and church planting in the EFCC.

Upcoming Events:

Apologetics Event: Responding to Secular Perspectives on Christian Faith
Join us as Dr. Chamberlain addresses the following questions: 
* How can Jesus be the only way?
* What caused God?
* Isn't Christianity anti-woman?
* Isn't Christianity anti-gay?
* If God is so good, why do so many bad things happen to good people?
May 5 – 6 | Johnston Heights Church Surrey 7:00 – 9:00 pm
Registration is required, so please RSVP by purchasing your $10 ticket soon at the above link.
Dr. Paul Chamberlain is the director of the Institute for Christian Apologetics at Trinity Western University and teaches ethics, philosophy of religion and Christian Apologetics and Leadership there. He has also worked with Ravi Zacharias International Ministries during part of that time. He is an effective communicator both in and out of the classroom. His humorous, down-to-earth manner appeals to a wide variety of people. Drawing from the media and using a professional power point presentation, his seminars are both interesting and relevant. Dr. Chamberlain has appeared on numerous radio and television talk shows, debated on university campuses, and is a frequent guest speaker at public functions. He is the author of five books: Can We be Good Without God, Final Wishes, How To Talk About Good and Bad Without Getting Ugly: A Guide to Moral Persuasion, Why People Don't Believe: Confronting Seven Challenges to Christian Faith, and Why People Stop Believing, as well as a number of articles addressing current social and moral issues.
***
Attend this conference and the EFCC Annual Meeting live in Okotoks,
or join us via livestream. You can register for this individually, or join with others locally at:
Islanders: Parkdale EFC in Victoria
Mainland: Abbotsford EFC

Here's a link: https://www.efccm.ca/wordpress/conference-2019/
***
LPD Pastor and Staff Cruise
– a day with colleagues in ministry.
Wednesday, May 29
***
LPD Pastor and Spouse Retreat
Nov. 22-24, 2019
Hello LPD pastors, we'd like to invite you to join us on Nov. 22-24, 2019 for a Pastors' retreat! We'd like to encourage you to take a breather in late November (before Advent begins) with your fellow pastors at Camp Charis in Chilliwack.
Registration is open on our LPD Website:: Please see
http://www.lpd-efcc.ca/event/lpd-pastor-and-spouse-retreat/