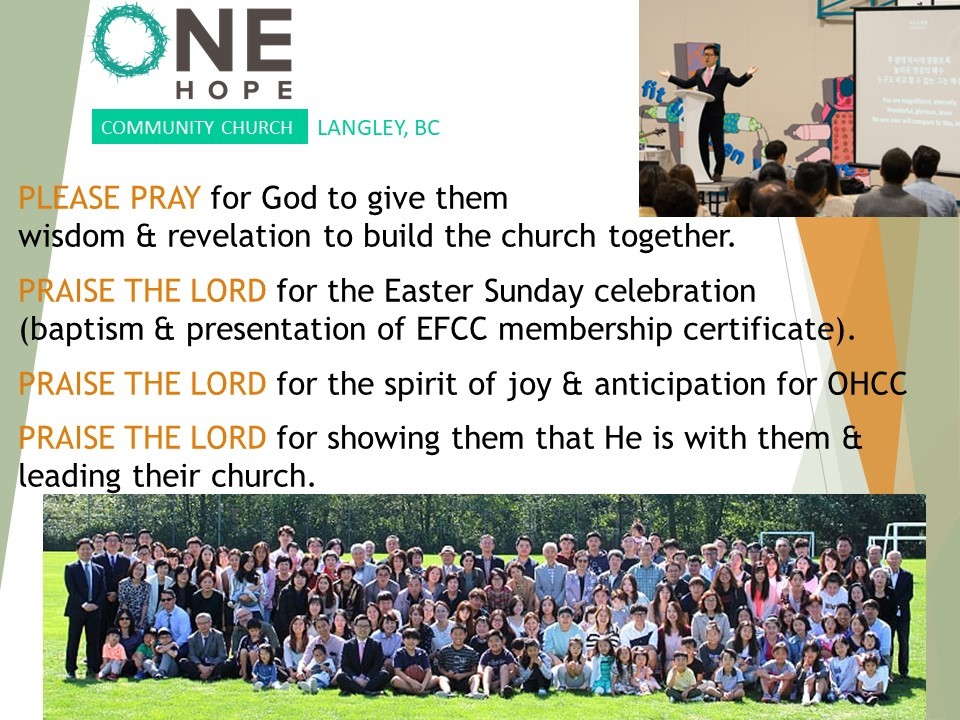 One Hope Community Church
– our LPD Church of the Week
Thanks to Anna (Ben) Crumback at Sointula Community Church for producing the Church of the Week!


Last weekend was a highlight in many district churches. What a joy and honour to preach the good, but costly News of Easter to churches filled with visitors, to conduct baptisms and gather with family. Easter is a highlight weekend!

Now, it is the Sunday after the week before. Back to the routine… Are we feeling "pumped up" or " let down."

It is often after "spiritual highs" that a servant of God can struggle – such it was for Elijah. On Mount Carmel, he had experienced the decisive demonstration of God's presence and power over that claimed for Baal. Yet, the very next day, he was cowering in fear and in hiding. He said, "I have had enough, Lord. Take my life; I am no better than my ancestors." (1 Kings 18,19).

So it was for the disciples. After the Triumphal Entry, Jesus was crucified, and it seemed to his followers that it was all over. With him died their hopes, dreams and ambitions. They had given up everything to follow him. What now?

As two disciples walked the road towards Emmaus, the risen Jesus joined them and engaged in their conversation. Not recognizing him, the two disciples expressed their disappointment that Jesus did not "pan out" to be the, "…one who would redeem Israel," (cf. Luke 24). Later, as they broke bread together, "…their eyes were opened and they recognized him."

The disciples gathered together in a room in Jerusalem, behind locked doors, for fear of the Jews. Though it had been reported to them that Jesus had risen, they were doubtful, and it was only when He appeared among them that they believed and were overjoyed! Knowing that Christ was risen and empowered by the Holy Spirit, the disciples gave their lives to, and all but one gave their lives up for Christ.

Today, the Sunday after Easter can also feel like something of a "let down" for us. We have come down from the mountain top of Easter, and now may feel that we are in the valley of the routine. But, because Christ is risen, ministry is worthwhile and though not easy, totally worth it! Let's follow up on the "high moments," and trust that these will come to bear further fruit. As Paul writes in 1 Corinthians 15:58, "Therefore, my dear brothers and sisters, stand firm. Let nothing move you. Always give yourselves fully to the work of the Lord, because you know that your labor in the Lord is not in vain."

Thursday morning's reading in Oswald Chamber's "My Utmost for His Highest," speaks to this. It reads,

Ready in Season

Be ready in season and out of season. —2 Timothy 4:2
Many of us suffer from the unbalanced tendency to "be ready" only "out of season." The season does not refer to time; it refers to us. This verse says, "Preach the Word! Be ready in season and out of season." In other words, we should "be ready" whether we feel like it or not. If we do only what we feel inclined to do, some of us would never do anything. There are some people who are totally unemployable in the spiritual realm. They are spiritually feeble and weak, and they refuse to do anything unless they are supernaturally inspired. The proof that our relationship is right with God is that we do our best whether we feel inspired or not.
One of the worst traps a Christian worker can fall into is to become obsessed with his own exceptional moments of inspiration. When the Spirit of God gives you a time of inspiration and insight, you tend to say, "Now that I've experienced this moment, I will always be like this for God." No, you will not, and God will make sure of that. Those times are entirely the gift of God. You cannot give them to yourself when you choose. If you say you will only be at your best for God, as during those exceptional times, you actually become an intolerable burden on Him. You will never do anything unless God keeps you consciously aware of His inspiration to you at all times. If you make a god out of your best moments, you will find that God will fade out of your life, never to return until you are obedient in the work He has placed closest to you, and until you have learned not to be obsessed with those exceptional moments He has given you.

***Let's encourage one another through both the ups and the downs of ministry

Here is an article for some perspective:

Three Dangers the Day After Easter: Dan Reiland
3-dangers-the-day-after-easter

***
Last week, results of a recent study on religion (or lack thereof) in BC was released. It paints an interesting and challenging picture of our mission field.

Here's an excerpt:
This region of 2.3 million people now has the fewest inhabitants of any major Canadian metropolitan area who call themselves Christian, according to the National Household Survey, which is Statistics Canada's first major measurement of national religiosity since 2001.
Only 41 per cent of Metro residents are Christian, compared to a national average of 67 per cent. B.C. has the fewest Christians on average of any province or territory.
Here's a link to Douglas Todd's article in the Vancouver Sun.
b-c-breaks-records-when-it-comes-to-religion-and-the-lack-thereof
***
AROUND THE LPD:
This Sunday, Karen and I look forward to joining Randy and Allana Lemke at Abbotsford EFC (Abby Free), where I have the privilege of preaching and we can join in worship.

Last week, Karen and I, and Dr. Paul and Jin Yang (LPD Korean Church Liaison) joined with One Hope Community Church (This week's Church of the Week), to welcome them into our LPD/EFCC Family. It was a wonderful day of celebrating Easter, and what God is doing in and through this new work.

***
Please pray for:
Pray for our LPD Chinese Churches, as they meet on Sunday evening for a mini-conference on the subject of, "Leading through Change"
Jason and Susanna Lavergne have been strongly affirmed as Lead Pastor of Fort Langley EFC. Pray for them and for the church, as they ready for this new season.
Pray Joshua and Nicole Fast, new Children's Ministry Intern at Parkdale EFC.
The Church of the Sent for Life Proclamation – This is our first Korean Church in the LPD (2002). Please pray for Pastor Namgyu (Heejoung) Lee and the congregation, as they ready to move to Willoughby Elementary for their Sunday services.
The Steveston Project Team – Allen and Hannah Chang and Daniel and Joyce Wong. Pray for our Advisory Team, as we meet Wednesday, May 1.
New Westminster EFC. Pray for Transitional Pastor Ralph (Karen) Hardy and Church Planters Jorge (Emily) Lin this church family, as they seek the Lord for the "new" work. Pray for the church, as they vote on Sunday to affirm a candidate to provide servant-leadership for the Japanese ministry within the church.
Tom and Sandy Ford and family, as he awaits transplants, made necessary through the impact of his diabetes.
Quadra Island Bible Church will be inviting a pastor to come and candidate in the weeks ahead. Please pray for God's confirmation.
Christ Community Church is readying the church for a new season and a potential pastor candidate.
Carl Lindstrom, a faithful member and volunteer at New Westminster EFC, who has aggressive prostate cancer.
LPD Board. Board members are Randy Lemke (Allana) – Chair, Patrick Chan (Sarah) – Property and Finance, Ben Crumback (Anna) – Island Liaison, Charles Labun (Carolyn) – Church Board Liaison, Rob Stewart (Karen) – DS, Tim Stewart (Emily) – Innovative Ministries, Paul Yang (Jin) – Korean Church Liaison; Phil Yung (Grace) – Church Planting and Josephine Papp, LPD Office Administrator – Recording Secretary. Please pray for provision of a Chinese Church Liaison.
North Delta EFC, in their search for an Associate Pastor for youth.
Steve (Gillian) Sharpe, in his ministry as LPD Missionary of Church Planting Development, serving both our LPD Missionaries and Church Plants, and church planting in the EFCC.
Upcoming Events:

Apologetics Event: Responding to Secular Perspectives on Christian Faith

Join us as Dr. Chamberlain addresses the following questions:
* How can Jesus be the only way?
* What caused God?
* Isn't Christianity anti-woman?
* Isn't Christianity anti-gay?
* If God is so good, why do so many bad things happen to good people?
May 5 – 6 | Johnston Heights Church Surrey 7:00 – 9:00 pm
Registration is required, so please RSVP by purchasing your $10 ticket soon at the above link.
Dr. Paul Chamberlain is the director of the Institute for Christian Apologetics at Trinity Western University and teaches ethics, philosophy of religion and Christian Apologetics and Leadership there. He has also worked with Ravi Zacharias International Ministries during part of that time. He is an effective communicator both in and out of the classroom. His humorous, down-to-earth manner appeals to a wide variety of people. Drawing from the media and using a professional power point presentation, his seminars are both interesting and relevant. Dr. Chamberlain has appeared on numerous radio and television talk shows, debated on university campuses, and is a frequent guest speaker at public functions. He is the author of five books: Can We be Good Without God, Final Wishes, How To Talk About Good and Bad Without Getting Ugly: A Guide to Moral Persuasion, Why People Don't Believe: Confronting Seven Challenges to Christian Faith, and Why People Stop Believing, as well as a number of articles addressing current social and moral issues.

***
Attend this conference and the EFCC Annual Meeting live in Okotoks,
or join us via livestream. You can register for this individually, or join with others locally at:
Islanders: Parkdale EFC in Victoria
Mainland: Abbotsford EFC

Here's a link: https://www.efccm.ca/wordpress/conference-2019/

***
LPD Pastor and Staff Cruise
– a day with colleagues in ministry.
Wednesday, May 29
***


CAMP EVERGREEN
August 5-10

This local summer camp is affiliated with the Lower Pacific District, and provides a great opportunity to extend your church ministry through camp, and to follow up afterwards. Many district families, including ours have benefited through this ministry, both in the children's camp and leadership development in the LTD program. This summer, there is a children's camp (Aug. 5-10), a teen camp and the LTD Leadership Program. Check out their website for details:
https://www.campevergreen.ca/

***
LPD Pastor and Spouse Retreat
Nov. 22-24, 2019
Hello LPD pastors, we'd like to invite you to join us on Nov. 22-24, 2019 for a Pastors' retreat! We'd like to encourage you to take a breather in late November (before Advent begins) with your fellow pastors at Camp Charis in Chilliwack.Registration is open on our LPD Website:: Please see
http://www.lpd-efcc.ca/event/lpd-pastor-and-spouse-retreat/