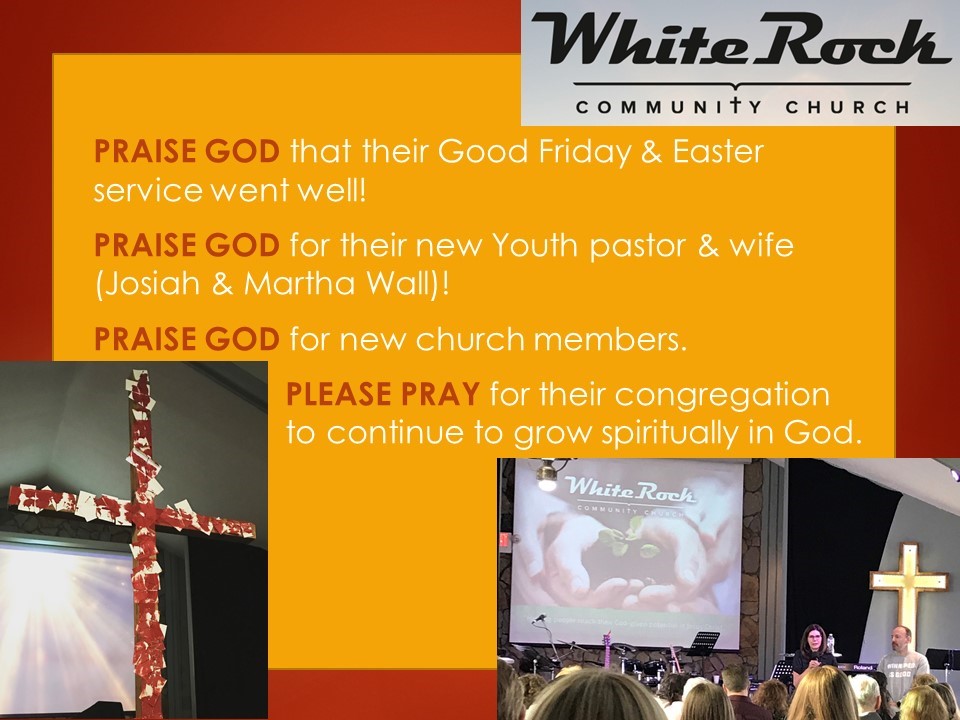 White Rock Community Church
– our LPD Church of the Week
Thanks to Anna (Ben) Crumback at Sointula Community Church for producing the Church of the Week!


Do we walk by faith or folly?

It occurred to me when I was preparing to meet with students at ACTS Seminary. The course the students were taking was on vision and strategic planning in the church.

While the course is an excellent one, we noted that the irony of leadership in the church is that we often define "good leadership" as that in which the vision, proposal or any initiative will be fully funded and success "guaranteed" before being presented to the congregation for approval.

Whether it be a building program, a new ministry, a hiring or anything involving change or money, we may feel compelled to guarantee results before we can present something to our congregation. Yet, we are called to walk by faith, and not by sight… (2 Cor. 5:7).

Biblical heroes were those who walked by faith. Hebrews 11 provides a "hall of fame" of those who walked by faith. Noah, Abraham, Moses, David and Gideon are perhaps the "big names," but these are accompanied by Barak, Samson, Samuel and yes, Rahab, and a cast of those who go unnamed.

Is walking by faith now somewhat outdated? Not if we are up to the Lord's Work.

All ministry is simply human endeavor, unless it is empowered by the Holy Spirit and done in obedience to and faith in our Lord. It is not God who needs us! We are in desperate need of him.

Faith is defined as, "confidence in what we hope for and assurance about what we do not see." (Heb. 11:1). God, having revealed his call and leading can be fully counted on to deliver all that is needed to this end.

Folly is when we devise a plan in presumption and self-confidence. As James reminds us, "Now listen, you who say, "Today or tomorrow we will go to this or that city, spend a year there, carry on business and make money." Why, you do not even know what will happen tomorrow. What is your life? You are a mist that appears for a little while and then vanishes. Instead, you ought to say, "If it is the Lord's will, we will live and do this or that." As it is, you boast in your arrogant schemes. All such boasting is evil. If anyone, then, knows the good they ought to do and doesn't do it, it is sin for them. (James 4:13-17).

Oswald Chambers describes this truth as "Gracious Uncertainty."

Gracious Uncertainty
…it has not yet been revealed what we shall be… —1 John 3:2
Our natural inclination is to be so precise– trying always to forecast accurately what will happen next– that we look upon uncertainty as a bad thing. We think that we must reach some predetermined goal, but that is not the nature of the spiritual life. The nature of the spiritual life is that we are certain in our uncertainty. Consequently, we do not put down roots. Our common sense says, "Well, what if I were in that circumstance?" We cannot presume to see ourselves in any circumstance in which we have never been.
Certainty is the mark of the commonsense life– gracious uncertainty is the mark of the spiritual life. To be certain of God means that we are uncertain in all our ways, not knowing what tomorrow may bring. This is generally expressed with a sigh of sadness, but it should be an expression of breathless expectation. We are uncertain of the next step, but we are certain of God. As soon as we abandon ourselves to God and do the task He has placed closest to us, He begins to fill our lives with surprises. When we become simply a promoter or a defender of a particular belief, something within us dies. That is not believing God– it is only believing our belief about Him. Jesus said, "…unless you…become as little children…" (Matthew 18:3). The spiritual life is the life of a child. We are not uncertain of God, just uncertain of what He is going to do next. If our certainty is only in our beliefs, we develop a sense of self-righteousness, become overly critical, and are limited by the view that our beliefs are complete and settled. But when we have the right relationship with God, life is full of spontaneous, joyful uncertainty and expectancy. Jesus said, "…believe also in Me" (John 14:1), not, "Believe certain things about Me". Leave everything to Him and it will be gloriously and graciously uncertain how He will come in– but you can be certain that He will come. Remain faithful to Him.
***

Sometimes, in ministry, walking by faith and not by sight can be very personal and very lonely. Some decisions are particularly challenging. The answer is not obvious, and there may not be a team or person to guide us. We seek the Lord, sometimes in solitude.

Such was my decision to resign as pastor to become district superintendent. Church leadership encouraged me to stay. Trusted pastor friends believed I was somewhat uniquely qualified to become D.S. Karen is always a support. In the end, it came down to seeking the Lord alone. I desired to be faithful to the call to pastor North Delta E.F.C. I also did not want to be "stubborn," and to stay on, simply because I didn't want to leave. Finally, I did not want to be "fickle," to leave simply for opportunity. (I now refer to this as the dilemma of "faithfulness," "fickleness" and "stubbornness"). In the end, I believed that I was being called to step out in faith, from the known to the unknown.

You, as a leader, may also face some difficult decisions. Here is an article that speaks to this:

5-really-tough-decisions-pastors-make/


Are you facing any difficult ministry decisions? With whom can you (and your spouse) share this burden? Your leadership team? Colleagues in ministry? We are here to help too.

Difficult decisions are part of life and part of ministry. May God give you guidance and peace – and may you know what is is to walk by faith, and not by sight through these.
***
AROUND THE LPD:
This Sunday will be an international one for me! I will join with Darryn and Kim Botha at Mountain View Church in Sardis on Sunday morning, meet with the Board at New Living Assembly on Sunday afternoon, and then join the mini-conference of ANACEFC (Association of North American Chinese Evangelical Free Churches) in Vancouver in the late afternoon and evening. Darryn and Kim have come to us from from South Africa, New Living Assembly is a church primarily of Filipino immigrants, and ANACEFC primarily serves Cantonese and Mandarin-speaking Chinese churches as they reach first, second and following generations of Chinese immigrants.

Last week, Karen and I joined Randy and Allana Lemke at Abbotsford EFC (Abby Free), where I had the privilege of preaching. Good so see good things happening at Abby Free!

***
Please pray for:
Our LPD Chinese Churches, as they meet this Sunday evening, May 5, for a mini-conference on the subject of, "Leading Through Change."
Jason and Susanna Lavergne have been strongly affirmed as Lead Pastor of Fort Langley EFC. Pray for them and for the church, as they ready for this new season.
Pray Joshua and Nicole Fast, new Children's Ministry Intern at Parkdale EFC. Joshua is also beginning a ministry to families of special needs children/youth, called "Precious Youth Ministries." We will be introducing this in the weeks ahead!
The Church of the Sent for Life Proclamation – This is our first Korean Church in the LPD (2002). Please pray for Pastor Namgyu (Heejoung) Lee and the congregation, as have moved to Willoughby Elementary for their Sunday services.
The Steveston Project Team – Allen and Hannah Chang and Daniel and Joyce Wong. Pray for them, as they lead this developing work of God.
New Westminster EFC. Pray for Transitional Pastor Ralph (Karen) Hardy and Church Planters Jorge (Emily) Lin this church family, as they seek the Lord for the "new" work.
Tom and Sandy Ford and family, as he awaits transplants, made necessary through the impact of his diabetes.
Quadra Island Bible Church will be inviting a pastor to come and candidate in the weeks ahead. Please pray for God's confirmation.
Christ Community Church is readying the church for a new season and a potential pastor candidate.
Carl Lindstrom, a faithful member and volunteer at New Westminster EFC, who has aggressive prostate cancer.
LPD Board. Board members are Randy Lemke (Allana) – Chair, Patrick Chan (Sarah) – Property and Finance, Ben Crumback (Anna) – Island Liaison, Charles Labun (Carolyn) – Church Board Liaison, Rob Stewart (Karen) – DS, Tim Stewart (Emily) – Innovative Ministries, Paul Yang (Jin) – Korean Church Liaison; Phil Yung (Grace) – Church Planting and Josephine Papp, LPD Office Administrator – Recording Secretary. Please pray for provision of a Chinese Church Liaison.
North Delta EFC, as they candidate a person for Associate Pastor for youth.
Steve (Gillian) Sharpe, in his ministry as LPD Missionary of Church Planting Development, serving both our LPD Missionaries and Church Plants, and church planting in the EFCC.
***
LPD Pastor and Staff Cruise
– a day with colleagues in ministry.
Wednesday, May 29
Plan to join us, as we learn more about, "Discipleship that Transforms," pray for one another and build relationships!

***
CAMP EVERGREEN
August 5-10
This local summer camp is affiliated with the Lower Pacific District, and provides a great opportunity to extend your church ministry through camp, and to follow up afterwards. Many district families, including ours have benefited through this ministry, both in the children's camp and leadership development in the LTD program. This summer, there is a children's camp (Aug. 5-10), a teen camp and the LTD Leadership Program. Check out their website for details:
***

LPD Pastor and Spouse Retreat
Nov. 22-24, 2019
Hello LPD pastors, we'd like to invite you to join us on Nov. 22-24, 2019 for a Pastors' retreat! We'd like to encourage you to take a breather in late November (before Advent begins) with your fellow pastors at Camp Charis in Chilliwack.Registration is open on our LPD Website. Please see:
http://www.lpd-efcc.ca/event/lpd-pastor-and-spouse-retreat/