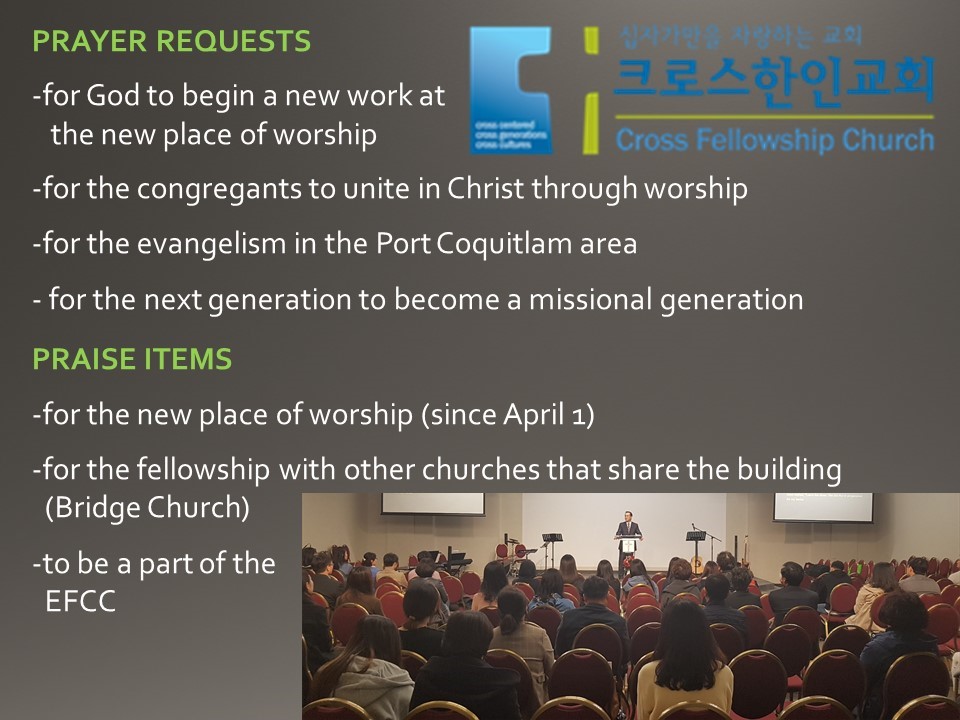 Cross Fellowship Church
– our LPD Church of the Week
Thanks to Anna (Ben) Crumback at Sointula Community Church for producing the Church of the Week!

Cross Fellowship Church joined our LPD/EFCC at our conference in March. This church was planted by Grace Hanin Community Church, meets in Port Coquitlam, and reaches Korean-Canadians. We welcome them to the family!
***

Who, what, where, when …. and why? So go the five questions of journalism and investigation.

What questions are most important to ask for leading a church?

Very often our discussions focus on what we do and who, where and when we do it. It is descriptive of our ministry.

How often to we ask why do we do what we do?
Why are we considering making a change in our church? Without a "why," what motivates us? We can have the best plans in the world, but without the "why," are they worth the time, expense and energy?
Why do we have a Sunday worship service? You might say, "Why do you ask?" But, what is our purpose? How do we determine what are the characteristics of a worship service that is in alignment with our mission and values? We might also ask, "Why do we meet at 11AM; 9AM; 10AM?"
Why do we do AWANA for children? – or not do AWANA?
We could go on. The point is that we often spend much more time on questions of "what" and "how" than why.
Last Sunday, as I met with the pastors and leaders of Chinese Churches and ANACEFC (Association of North American Chinese Evangelical Free Churches), presenter Pastor Ed Lee introduced a Ted Talk video by Simon Sinek on why some organizations succeed and others do not. It is titled, "How Great Leaders Inspire Action." Here is the link:

how_great_leaders_inspire_action?language=en

I would encourage you to view this video with your leadership team. Why does your church do what it does? What is your church's calling and mission? Knowing this, how does it change your priorities as a church.

So many things we do in a church might simply be done because, "that is the way we have always done it," or because, "that is the way most of us like it."

The story is told that when Michelangelo was painting the ceiling of the Sistine Chapel, he spoke to some workmen who were constructing the building.

He asked the first, "What are you doing?"The worker replied, "I'm mixing mortar."

He asked the second worker the same question, and he replied, "Can't you see, I'm building a wall."

He asked the same question of a third workman, and he replied, "I'm building a chapel to the glory of God."

Which worker do you think was the one committed to do their best work?

Knowing "why" we do what we do makes all the difference in the world!

Why do you do what you do in your church?

***

Does church matter? Who needs the local church?

Often we hear about the "nones" and "dones;" those who choose to not be engaged with a local church, and those who are "done" with the local church.

All believers need the local church in order to grow and thrive in their Christian lives. While no church is perfect, the Christian life is not meant to be lived in isolation.
Why is it Important to be Part of the Local Church?
AROUND THE LPD:

This Sunday, I look forward to being with Grace Hanin Community Church. I have the opportunity to preach at their morning services and also to conduct the ordination of Pastors Seung Hwan Kim and Sanghun Han. While some other Korean pastors have transferred their ordinations to the EFCC, these are the first Korean pastors to be ordained in the EFCC. We are thankful for this step in their lives and ministries.
Last Sunday, it was a joy to be with Darryn and Kim Botha at Mountain View Church in Sardis on Sunday morning, to meet with the Board at New Living Assembly on Sunday afternoon, and then join the mini-conference of ANACEFC (Association of North American Chinese Evangelical Free Churches) in Vancouver in the late afternoon and evening.

Mountain View Church Worship Team

What a blessing to have such a diversity of churches and ministries to reach our increasingly changing population!
***
Please pray for:
The EFCC Theology Conference at Okotoks on May 16,17. Scott McKnight is the speaker, on the subject of, "Gospel of Substance; Church of Difference." Pray for the conference, and also the EFCC Annual Meeting which accompanies this. You can attend in the Lower Mainland at Abby Free or on the Island at Parkdale EFC in Victoria. (Please see details below in upcoming events).
Jason and Susanna Lavergne have been strongly affirmed as Lead Pastor of Fort Langley EFC. Pray for them and for the church, as they ready for this new season.
Pray Joshua and Nicole Fast, new Children's Ministry Intern at Parkdale EFC. Joshua is also beginning a ministry to families of special needs children/youth, called "Precious Youth Ministries." We will be introducing this in the weeks ahead!
The Steveston Project Team – Allen and Hannah Chang and Daniel and Joyce Wong. Pray for them, as they lead this developing work of God.
New Westminster EFC. Pray for Transitional Pastor Ralph (Karen) Hardy and Church Planters Jorge (Emily) Lin this church family, as they seek the Lord for the "new" work.
Tom and Sandy Ford and family, as he awaits transplants, made necessary through the impact of his diabetes.
Quadra Island Bible Church, as they seek the Lord in their pastoral search.
Christ Community Church is readying the church for a new season.
Carl Lindstrom, a faithful member and volunteer at New Westminster EFC, who has aggressive prostate cancer. Praise the Lord that he is responding well to chemotherapy.
LPD Board. Board members are Randy Lemke (Allana) – Chair, Patrick Chan (Sarah) – Property and Finance, Ben Crumback (Anna) – Island Liaison, Charles Labun (Carolyn) – Church Board Liaison, Rob Stewart (Karen) – D.S., Tim Stewart (Emily) – Innovative Ministries, Paul Yang (Jin) – Korean Church Liaison; Phil Yung (Grace) – Church Planting and Josephine Papp, LPD Office Administrator – Recording Secretary. Please pray for provision of a Chinese Church Liaison.
North Delta EFC, as they look to affirm a candidate as Associate Pastor for youth.
Steve (Gillian) Sharpe, in his ministry as LPD Missionary of Church Planting Development, serving both our LPD Missionaries and Church Plants, and church planting in the EFCC.
Upcoming Events:
***
Attend this conference and the EFCC Annual Meeting live in Okotoks,
or join us via livestream. You can register for this individually, or join with others locally at:
Here's a link for conference info:
https://www.efccm.ca/wordpress/conference-2019/
***
LPD Pastor and Staff Cruise
– a day with colleagues in ministry.
Wednesday, May 29
Plan to join us, as we learn more about, "Discipleship that Transforms," pray for one another and build relationships!

***
CAMP EVERGREEN
August 5-10
This local summer camp is affiliated with the Lower Pacific District, and provides a great opportunity to extend your church ministry through camp, and to follow up afterwards. Many district families, including ours have benefited through this ministry, both in the children's camp and leadership development in the LTD program. This summer, there is a children's camp (Aug. 5-10), a teen camp and the LTD Leadership Program. Check out their website for details:
***

LPD Pastor and Spouse Retreat
Nov. 22-24, 2019
Hello LPD pastors, we'd like to invite you to join us on Nov. 22-24, 2019 for a Pastors' retreat! We'd like to encourage you to take a breather in late November (before Advent begins) with your fellow pastors at Camp Charis in Chilliwack.Registration is open on our LPD Website. Please see:
http://www.lpd-efcc.ca/event/lpd-pastor-and-spouse-retreat/