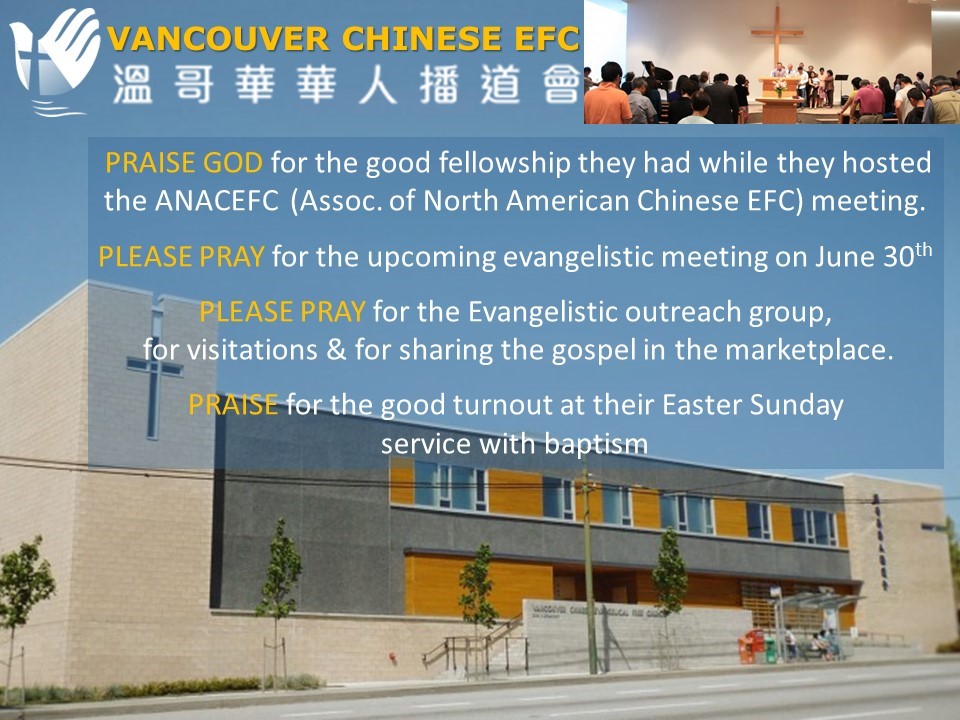 Vancouver Chinese EFC
– our LPD Church of the Week
Thanks to Anna (Ben) Crumback at Sointula Community Church for producing the Church of the Week!
So, what do people think of your church? I'm not asking about those who attend. I'm asking about those who live in your community and do not attend.

I often hear the words, "we are a welcoming or friendly church," but very often this is the experience of "insiders."

Rick Warren, in his book, "The Purpose Driven Church," writes of five questions he asked of the people in his neighbourhood as he began Saddleback Church (see pages 190,191). They are:
What do you think is the greatest need in this area?
Are you currently attending any church? (If so, he thanked then, wished them well and moved on).
Why do you think most people don't attend church?
If you were to look for a church to attend, what kind of things would you look for?
What could I do for you? What advice can you give to a minister who really wants to be helpful to people?
I like these questions, and have used them. These questions open doors and invite conversation. It conveys that we are interested in people and here to serve.

While this is a good start, what are we really known for on the long haul? It is good for a church to be here, to serve and to listen, but what do we stand for, and what do we offer?

We, in the EFCC speak of being a "Gospel-sharing people." Each article of our Statement of Faith begins with the phrase, "God's gospel…"

In his recent book,"Above All: The Gospel Is the Source of the Church's Renewal," J.D. Greer asks,
Is the gospel what you leave your church and your neighbors talking about? … Or do you talk about your pastor's insights, your great worship band, your guest services, your massive pipe organ, your care for the poor, or your courageous proclamations against sin? Do others see your church as that place that gives really practical, helpful advice about life? Or as a classroom with theologically robust, original-languages-savvy preaching? … We have a gospel too great and a mission too urgent to be distracted by any secondary thing. Everything we do in our own lives and in our churches must be run through the filter of how well it enables and deepens our gospel mission.

It is a good read, and asks good questions. Here is an excerpt article:

what-is-your-church-really-known-for?
So, what is your church known for? Our district? The EFCC?

***
Speaking of the Gospel, what constitutes the Gospel Message today?

Again, I turn to J.D. Greer, who in his book, "Stop Asking Jesus into Your Heart: How to Know for Sure You are Saved," suggests,

Salvation comes not because you prayed a prayer correctly, but because you have leaned the hopes of your soul on the finished work of Christ …Shorthand phrases for the gospel can serve a good purpose, insofar as everyone knows exactly what they mean.
But in light of the fact that so many in our nation seem assured of a salvation they give no evidence of having because of a prayer they prayed, and so many others are unable to find assurance no matter how often they pray that prayer, I believe it is time to put the shorthand aside and preach simply salvation by repentance toward God and faith in the finished work of Christ.

As one raised in the church, who prayed often as a child for salvation, I relate to Greer's story. Let's be sure that we share the Gospel with integrity and fully.

Here is a link to the article:
should-we-stop-asking-jesus-into-our-hearts?
AROUND THE LPD:

This Sunday, Karen and I look forward to joining Rick and Sandy McAllister and the people of Wildwood Community Church in Bowser, as they celebrate their 50th anniversary.
We are thankful for this work of God and its witness through the years. Originally planted by the Shantymen, this church has been a member of the LPD/EFCC since 2002.

Pray for them, as they look back on God's faithfulness through 50 years, and look forward to God's call and mission for the future.
***
Please pray for:
Our Pastor and Staff Cruise on May 29. May this be a useful time of fellowship and learning together!
Joshua and Nicole Fast, new Children's Ministry Intern at Parkdale EFC. We also welcome Joshua as our newest LPD Missionary, as he begins "Precious Youth Ministries," a ministry to families of special needs children/youth. Watch for an introduction to this ministry in the weeks ahead. Joshua will be with us on the Cruise, so come and meet him!
Jason and Susanna Lavergne have been strongly affirmed as Lead Pastor of Fort Langley EFC. Pray for them and for the church, as he begins ministry as Lead Pastor this week.
The Steveston Project Team – Allen and Hannah Chang and Daniel and Joyce Wong. Pray for them, as they lead this developing work of God, and give thanks for the lives being touched through the Gospel.
New Westminster EFC. Pray for Transitional Pastor Ralph (Karen) Hardy and Church Planters Jorge (Emily) Lin this church family, as they seek the Lord for the "new" work.
Tom and Sandy Ford and family, as he awaits transplants, made necessary through the impact of his diabetes.
Quadra Island Bible Church, as they seek the Lord in their pastoral search. They are interviewing a potential candidate.
Christ Community Church is readying the church for a new season.
Carl Lindstrom, a faithful member and volunteer at New Westminster EFC, who has aggressive prostate cancer. Praise the Lord that he is responding well to chemotherapy.
LPD Board. Board members are Randy Lemke (Allana) – Chair, Patrick Chan (Sarah) – Property and Finance, Ben Crumback (Anna) – Island Liaison, Charles Labun (Carolyn) – Church Board Liaison, Rob Stewart (Karen) – D.S., Tim Stewart (Emily) – Innovative Ministries, Paul Yang (Jin) – Korean Church Liaison; Phil Yung (Grace) – Church Planting and Josephine Papp, LPD Office Administrator – Recording Secretary. Please pray for provision of a Chinese Church Liaison. Our board met on Wednesday, May 22, and affirmed Joshua Fast as a LPD Missionary.
North Delta EFC, as they look to affirm a candidate as Associate Pastor for youth at their congregational meeting on May 26.
Steve (Gillian) Sharpe, in his ministry as LPD Missionary of Church Planting Development, serving both our LPD Missionaries and Church Plants, and church planting in the EFCC.
Upcoming Events:
LPD Pastor and Staff Cruise
– a day with colleagues in ministry.
Wednesday, May 29
Plan to join us, as we learn more about, "Discipleship that Transforms," pray for one another and build relationships!
***
CAMP EVERGREEN
August 5-10
This local summer camp is affiliated with the Lower Pacific District, and provides a great opportunity to extend your church ministry through camp, and to follow up afterwards. Many district families, including ours have benefited through this ministry, both in the children's camp and leadership development in the LTD program. This summer, there is a children's camp (Aug. 5-10), a teen camp and the LTD Leadership Program. Check out their website for details:
***
LPD Pastor and Spouse Retreat
Nov. 22-24, 2019
Hello LPD pastors, we'd like to invite you to join us on Nov. 22-24, 2019 for a Pastors' retreat! We'd like to encourage you to take a breather in late November (before Advent begins) with your fellow pastors at Camp Charis in Chilliwack.