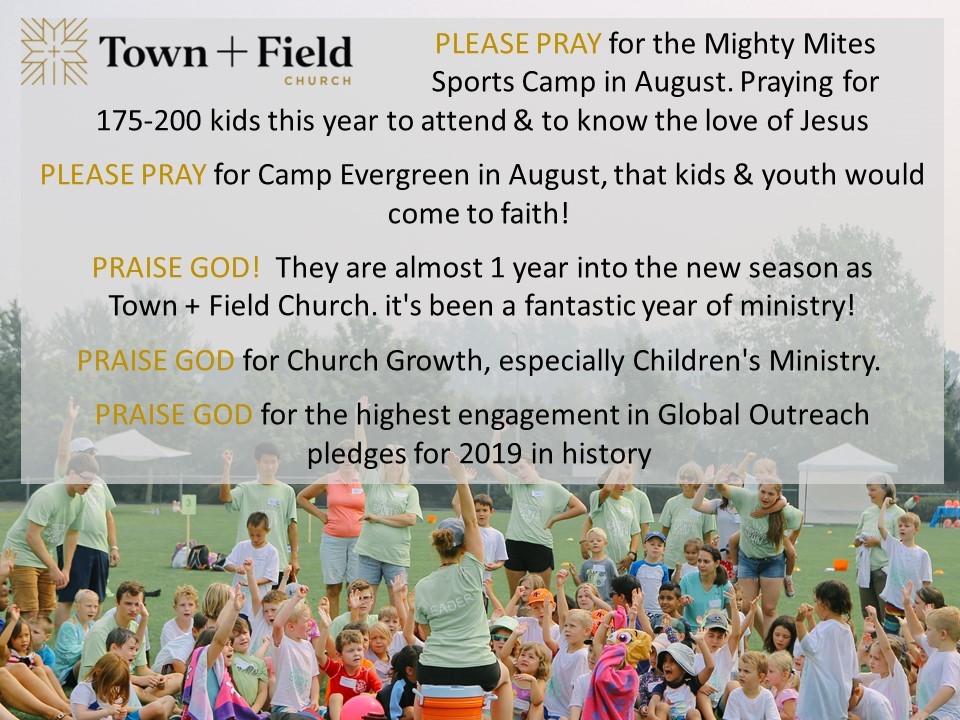 Town + Field Church
– our LPD Church of the Week
Thanks to Anna (Ben) Crumback at Sointula Community Church for producing the Church of the Week!
Why should I come to your church? Why should anyone come to your church?

Or, if you didn't "work" at your church, would you attend it?

This question can and will be answered in a number of ways, and in a number of contexts. Some would appeal to loyalty, devotion, and even to guilt. Church attendance might be seen to be a measure of one's commitment to following Christ. Non- attenders or those who attend infrequently are simply viewed as not serious about their faith.

Others might think more about "loss prevention," and run about seeking to emulate growing churches through embracing the latest trends – from specialty coffee to the latest in worship music, all efforts are made to cater to people's wishes and to hopefully keep them coming.

Still others will scoff at such efforts as simply giving in to "consumers." In their minds, such efforts will simply result in the church becoming a kilometer wide and a centimeter deep.

All of the above fail to acknowledge and appreciate that Christians are actually seeking something far deeper and meaningful – something that is both authentic and will encourage them to grow in their knowledge and experience of God in their life and faith.

Dan Reiland, in a recent article suggests seven reasons that guests will return to church. Please rad this over, and see if it aligns with your understanding of why people do – or do not attend your church.

Top-7-reasons-guests-return-church/

As you read this article, I would encourage you to reflect on your church. Your church is not competing with others or appealing to "consumers." Such efforts never end well.

People in your community are seeking to know the Living God in the context of an authentic community of fellow-beleivers.

AROUND THE LPD:

Last Sunday, Karen and I enjoyed being with Parkdale EFC in Victoria, where I was able to preach, as our son Pastor Tim Stewart, and wife Emily were on a "field trip" for his DMn Studies at TWS/ACTS Seminary. Karen and I also have enjoyed a special time watching our Victoria grandchildren, Miriam, Malcolm and Wesley!

This Sunday, I look forward to being with Fort Langley EFC, to recognize and affirm the calling of Jason and Susanna Lavergne to serve as Lead Pastor. We are thankful for the way that God has led, both in the church and in the lives of Jason, Susanna and family. Jason has served as Youth Pastor, Associate Pastor and now as Lead Pastor

Please pray for:
Jason and Susanna Lavergne have been strongly affirmed as Lead Pastor of Fort Langley EFC. Pray for them and for the church, as he begins ministry as Lead Pastor. and for his installation on Sunday.
North Delta EFC, as Pastor of Youth and Young Adults Matthias Ekkert begins ministry.
Joshua and Nicole Fast, new Children's Ministry Intern at Parkdale EFC. We also welcome Joshua as our newest LPD Missionary, as he begins "Precious Youth Ministries," a ministry to families of special needs children/youth. Pray for their son, Malachai, as he recovers from surgery on Wednesday.
The Steveston Project Team – Allen and Hannah Chang and Daniel and Joyce Wong. Pray for them, as they lead this developing work of God, and give thanks for the lives being touched through the Gospel.
New Westminster EFC. Pray for Transitional Pastor Ralph (Karen) Hardy and Church Planters Jorge (Emily) Lin this church family, as they seek the Lord for the "new" work.
Tom and Sandy Ford and family, as he awaits transplants, made necessary through the impact of his diabetes.
Quadra Island Bible Church, as they seek the Lord in their pastoral search. They are interviewing a potential candidate.
Christ Community Church is readying the church for a new season.
Carl Lindstrom, a faithful member and volunteer at New Westminster EFC, who has aggressive prostate cancer. Praise the Lord that he is responding well to chemotherapy.
LPD Board. Board members are Randy Lemke (Allana) – Chair, Patrick Chan (Sarah) – Property and Finance, Ben Crumback (Anna) – Island Liaison, Charles Labun (Carolyn) – Church Board Liaison, Rob Stewart (Karen) – D.S., Tim Stewart (Emily) – Innovative Ministries, Paul Yang (Jin) – Korean Church Liaison; Phil Yung (Grace) – Church Planting and Josephine Papp, LPD Office Administrator – Recording Secretary. Please pray for provision of a Chinese Church Liaison.
Steve (Gillian) Sharpe, in his ministry as LPD Missionary of Church Planting Development, serving both our LPD Missionaries and Church Plants, and church planting in the EFCC.
Upcoming Events:

"Arise Ministers Conference"

We are thankful for Pastor Sammy Kabyemera (Eva), who pastor Jesus Grace International Church, a church in Vancouver. Sammy, Eva and their six children came to Canada as refugees from Congo, via an Ugandan Refugee Camp.

While their church ministers primarily to African Immigrants, they retain a heart for the people and church of Africa. Sammy is troubled by the spread of the "prosperity gospel" in Africa, and is burdened to see that pastors are grounded in the Word of God and equipped to teach and guide God's people.

Sammy is trusting God to travel to Africa for a mission trip to train and equip African Pastors through a conference that he has been asked to speak at. Please see the attached email, to learn more of this conference, and the need in Africa, and how we can support this important ministry to brothers and sisters in Africa.

Arise_Pastors_Conference_2019.pdf

Please prayerully consider giving towards this mission

***


CAMP EVERGREEN
August 5-10
This local summer camp is affiliated with the Lower Pacific District, and provides a great opportunity to extend your church ministry through camp, and to follow up afterwards. Many district families, including ours have benefited through this ministry, both in the children's camp and leadership development in the LTD program. This summer, there is a children's camp (Aug. 5-10), a teen camp and the LTD Leadership Program. Check out their website for details:
***
LPD Pastor and Spouse Retreat
Nov. 22-24, 2019
Hello LPD pastors, we'd like to invite you to join us on Nov. 22-24, 2019 for a Pastors' retreat! We'd like to encourage you to take a breather in late November (before Advent begins) with your fellow pastors at Camp Charis in Chilliwack.
Registration is open on our LPD Website. Please see:
http://www.lpd-efcc.ca/event/lpd-pastor-and-spouse-retreat/