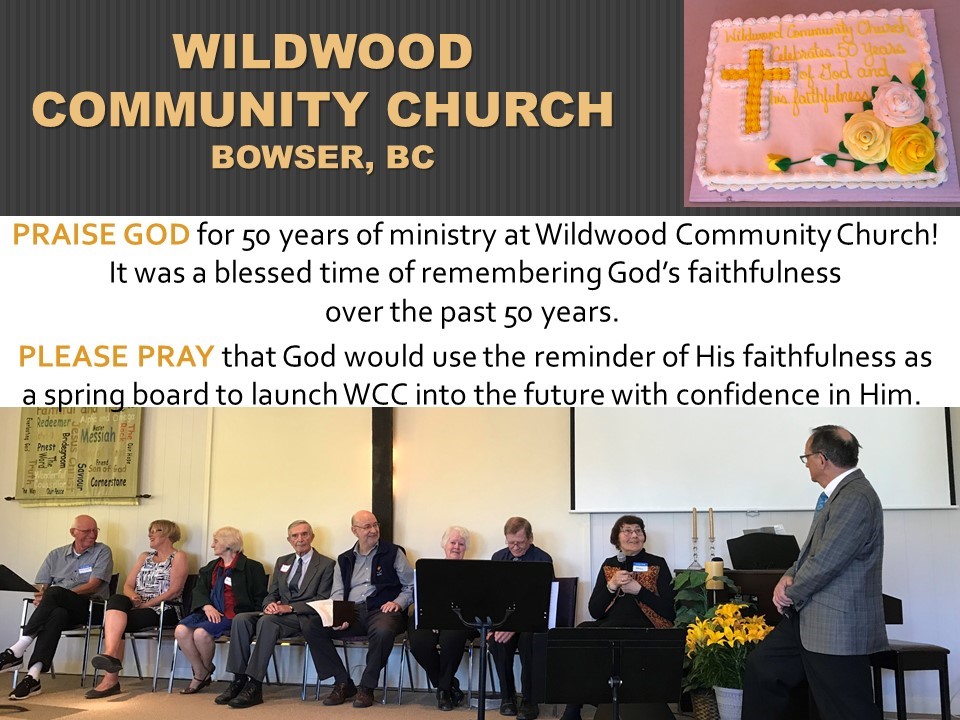 Wildwood Community Church
– our LPD Church of the Week
Thanks to Anna (Ben) Crumback at Sointula Community Church for producing the Church of the Week!

One of my favourite and also really convicting Scriptures is found in Psalm 103: 13-18, which reads:

As a father has compassion on his children,
so the Lord has compassion on those who fear him;
for he knows how we are formed,
he remembers that we are dust.
The life of mortals is like grass,
they flourish like a flower of the field;
the wind blows over it and it is gone,
and its place remembers it no more.
But from everlasting to everlasting
the Lord's love is with those who fear him,
and his righteousness with their children's children—
with those who keep his covenant
and remember to obey his precepts.

I love the words of this Psalm and the picture it paints of God's great love. As the son of a loving earthly father, I can comprehend something of my Heavenly Father's love through the love received my dad's love and example. Though it has been twelve years since my dad passed away, his influence and example are with me daily.
 
As we again approach Father's Day, I as a father and grandfather, am humbled to think that my life and example will either provide a positive or negative image of the depth of our Heavenly Father's love.

In a recent interview of a pastor, I was moved to learn of the devastation he experienced as a child of six, when his Christian parents divorced, and he felt abandoned by his dad. He came to believe that somehow he was responsible for the demise of his parent's marriage. While not true, it has shaped this young man's image of what a father's love is like, and it has take him years to gain a positive association with fatherhood.

Some of you have experienced the loss of your father, either as your were a child or more recently as an adult. You feel a void of your father's love, encouragement and support. My younger brother died nine years ago, and his children feel his loss daily.

This week, I rejoiced with a father, who shared the news that his son had "come home" to Christ and was now wanting to live in fellowship with his Heavenly Father and also his earthly father – and mother too.

Our churches are made up of those who have positive experiences of fatherhood, and some with negative. It falls to fathers and to all men in positions of leadership in the local church to provide positive role models of both manhood and fatherhood. May we be Luke 15: 11-32 fathers, ready to love our children, to be looking out daily for those who have strayed from the faith, and ready to embrace and welcome all who would come home – even while they are still a long way off !

Here is an inspiring story of a father's example and love.

In 1924, Bill Havens, a skilled competitive canoeist was considered to be certain to win a gold medal in the 1924 Olympic Games in Paris. But a few months before the Games were held, he learned that his wife would likely give birth to their first child while he was away. She told him that she could make it on her own, but this was a milestone Bill just didn't want to miss. So he surprised everyone and stayed home. Bill greeted his infant son, Frank, into the world on August 1, 1924. Though he always wondered what might have been, he said he never regretted his decision.

Well, he poured his life into that little lad and shared with him a love for the rapids. Twenty-four years passed, and the Olympic Games were held in Helsinki, Finland. This time Frank Havens was chosen to compete in the canoeing event. The day after the competition, Bill received a telegram from his son that read:

"Dear Dad, Thanks for waiting around for me to be born in 1924. I'm coming home with the gold medal that you should have won." It was signed, "Your loving son, Frank."

Many would question Bill Haven's decision to miss his big opportunity in Paris, but he never wavered. He wanted his family to know that they always came first, no matter what. And that made him a hero to a little boy named Frank.

As a pastor and father, I have always hope that my example, that of Karen would provide a positive image of our Heavenly Father's love, and the experience of our church family would reinforce this. Though both I and our church ministry experience have fallen short of this and of always reflecting God and his love, our Heavenly Father has always been faithful and true.

Recently, I was asked to write a paper on the family life of a pastor, and here are my thoughts. I hope that you find this helpful as you seek to balance life, family and ministry.
 
AROUND THE LPD:

Last Sunday, Karen and I were glad to be with Fort Langley EFC, to recognize and affirm the calling of Jason and Susanna Lavergne to serve as Lead Pastor. We are thankful for the way that God has led, both in the church and in the lives of Jason, Susanna and family. Jason has served as Youth Pastor, Associate Pastor and now as Lead Pastor, and we look forward to the new season of ministry.
 
This Sunday, I look forward to being at North Delta EFC, to attend church with my family for Father's Day! We are thankful for the ministry of Pastor Mark (Tami) Johnson, Associate Pastor for Youth and Young Adults, Mattias (Stacey) Ekkert, and Pastor Intern, James (Cindy) Clark.
Please pray for:
Fathers! Pray for fathers, grandfathers and for those who are like fathers to children, and young adults without positive father figures.
Joshua and Nicole Fast, new Children's Ministry Intern at Parkdale EFC. We also welcome Joshua as our newest LPD Missionary, as he begins "Priceless Youth Ministries," a ministry to families of special needs children/youth. Pray for their son, Malachai, as he recovers from surgery he underwent on June 5.
The Steveston Project Team – Allen and Hannah Chang and Daniel and Joyce Wong. Pray for them, as they lead this developing work of God, and give thanks for the lives being touched through the Gospel.
New Westminster EFC. Pray for Transitional Pastor Ralph (Karen) Hardy and Church Planters Jorge (Emily) Lin this church family, as they seek the Lord for the "new" work.
Tom and Sandy Ford and family, as he awaits transplants, made necessary through the impact of his diabetes.
Quadra Island Bible Church, as they seek the Lord in their pastoral search. They are interviewing a potential candidate.
Christ Community Church is readying the church for a new season.
Carl Lindstrom, a faithful member and volunteer at New Westminster EFC, who has aggressive prostate cancer. Praise the Lord that he is responding well to chemotherapy.
LPD Board. Board members are Randy Lemke (Allana) – Chair, Patrick Chan (Sarah) – Property and Finance, Ben Crumback (Anna) – Island Liaison, Charles Labun (Carolyn) – Church Board Liaison, Rob Stewart (Karen) – D.S., Tim Stewart (Emily) – Innovative Ministries, Paul Yang (Jin) – Korean Church Liaison; Phil Yung (Grace) – Church Planting and Josephine Papp, LPD Office Administrator – Recording Secretary. Please pray for provision of a Chinese Church Liaison – and for our board as we meet on Wednesday, June 19.
Steve (Gillian) Sharpe, in his ministry as LPD Missionary of Church Planting Development, serving both our LPD Missionaries and Church Plants, and church planting in the EFCC.
Upcoming Events:
"Arise Ministers Conference"
We are thankful for Pastor Sammy Kabyemera (Eva), who pastor Jesus Grace International Church, a church in Vancouver. Sammy, Eva and their six children came to Canada as refugees from Congo, via an Ugandan Refugee Camp.

While their church ministers primarily to African Immigrants, they retain a heart for the people and church of Africa. Sammy is troubled by the spread of the "prosperity gospel" in Africa, and is burdened to see that pastors are grounded in the Word of God and equipped to teach and guide God's people.

Sammy is trusting God to travel to Africa for a mission trip to train and equip African Pastors through a conference that he has been asked to speak at. Please see the attached email, to learn more of this conference, and the need in Africa, and how we can support this important ministry to brothers and sisters in Africa.

Arise_Pastors_Conference_2019.pdf

Please prayerfully consider giving towards this mission

***
CAMP EVERGREEN
August 5-10
This local summer camp is affiliated with the Lower Pacific District, and provides a great opportunity to extend your church ministry through camp, and to follow up afterwards. Many district families, including ours have benefited through this ministry, both in the children's camp and leadership development in the LTD program. This summer, there is a children's camp (Aug. 5-10), a teen camp and the LTD Leadership Program. Check out their website for details:
***

LPD/EFCC Pastor and Staff Orientation
All pastors staff and interested volunteers are welcome too this opportunity to learn about the history, ethos, doctrine and ministries of the EFCC. Orientation is a requirement for all persons seeking credentialing in the EFCC, and is valuable for everyone in EFCC churches.

Pastor_and_Staff_Orientation_2019_Invitation.pdf

***

LPD Pastor and Spouse Retreat
Nov. 22-24, 2019
Hello LPD pastors, we'd like to invite you to join us on Nov. 22-24, 2019 for a Pastors' retreat! We'd like to encourage you to take a breather in late November (before Advent begins) with your fellow pastors at Camp Charis in Chilliwack.
Registration is open on our LPD Website. Please see:
http://www.lpd-efcc.ca/event/lpd-pastor-and-spouse-retreat/