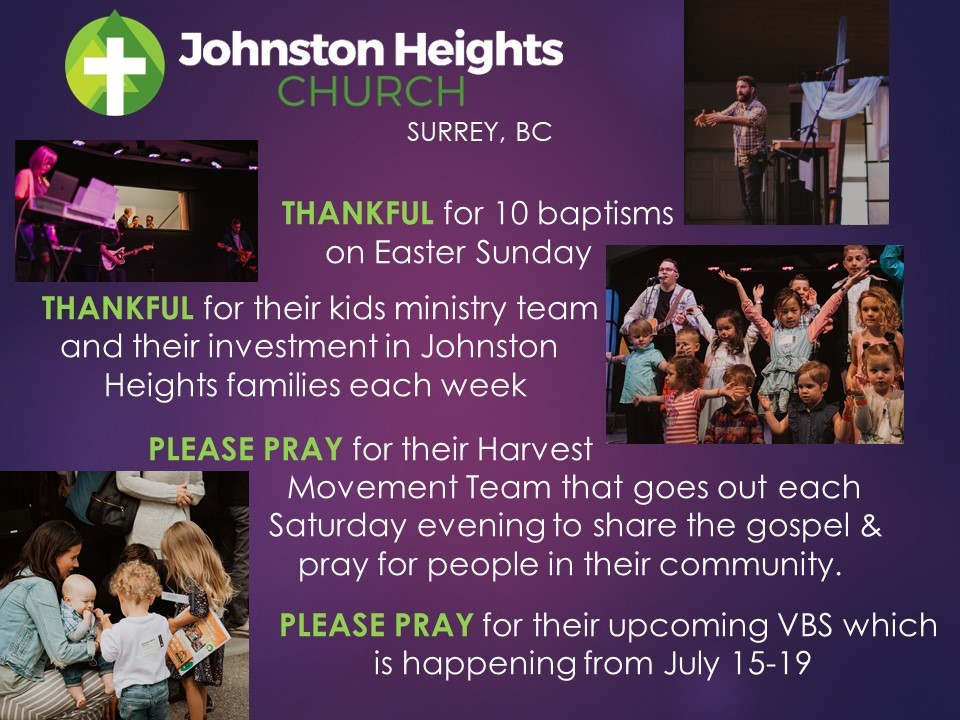 Johnston Heights Church
– our LPD Church of the Week
Thanks to Anna (Ben) Crumback at Sointula Community Church for producing the Church of the Week!
Today is officially the first day of summer! It is also the day on which the days will begin to get shorter, and we begin our journey towards winter.

While both statements are true, the perspectives are radically different! Are you a first day of summer person, or are you a first day towards winter person?
The summer person seizes the opportunity that the season brings and will use it to the full. The winter-orientated person will simply start getting out the winter clothes and plan for a winter escape to a warmer climate.
Let me ask – are you a summer or winter-orientated person when it comes to the local church? Like the season, we could make an argument either way as to optimism or pessimism, but our perspective will make all the difference.
Not a week goes by that I do not receive articles and studies on the challenges of the local church. This week, I received an article titled, "Ten Reasons People are Leaving Your Church." Nothing new. Nothing that you and I have not heard before. Reasons stated range from people having moved and not connected to a church in their new community to feeling hurt by a church. While I acknowledge these, I am also a person of hope and am thankful to serve with pastors and churches that share this hope, and invest themselves in participating and serving in their local body of believers.
Some of us are called to invest ourselves in new works of God by church planting. Others are called to serve in the local church, and trust God for renewal, revitalization and fruitfulness. I appreciate this and have come to value this as a "symbiotic relationship." Both are needed. We benefit from both, and each benefits the other.
As we feature our LPD Church of the Week each Friday (and Sunday too!), I want to share stories of what God is doing, in churches and church plants. You have indicated that you would like to hear more stories of God's work – and I want to share your story, or should I say, God's story through you. Our LPD mission is to, "encourage and resource our growing family of churches to reflect Jesus Christ," and we measure our "success" by what God is doing in and through local congregations.
This week's LPD Church of the Week is Johnston Heights Church. From the slide above, you learned that ten people were baptized on Easter Sunday, each with a special story of God's work in their lives. Through the Harvest Movement, people have been coming to Christ on a weekly basis. Our LPD Office is at Johnston Heights, and we witness this.
Lead Pastor, Jon Thiessen also shares this story from a recent Church Work Bee. It is of how God works through the actions and witness of the people of the local church.
Recently, our church held a work-bee to 'freshen-up' the church property. Among the projects was to paint over the graffiti on the neighbours' fence. The neighbour was so pleased that the church had done this free act of service that they offered to make a donation! Through a series of events, a few people from the church ended up in the living room of this house sharing the gospel with those inside. While the neighbours were not ready to receive the Lord that day the relationship between them and the church continues to grow. This is just one of many examples of how the people of JHC are continuing to show and share the gospel. The Spirit of God is always at work, his people are listening for his voice, and responding to his leading. Praise the Lord!

This is only a sampling of many stories that could be told, but illustrates how God uses the practical witness of his people!

We pray for you, Johnston Heights Church, and are thankful for what God is doing, both in and through you!


Who's Who in the LPD?
This week, we introduce a new feature, in which we would like to introduce people who serve in the Lower Pacific District of the EFCC, both as volunteers and vocationally. For many, I, Rob, as District Superintendent, is "the district," along with LPD Office Administrator, Josephine Papp.

In reality, the ministry of our district is shared by many. We have an excellent district board team of eight members, each with a portfolio of responsibility. We also have seven LPD Missionaries, ranging in ministry from church planting to ministry to the people of the Downtown Eastside of Vancouver.

This week, we would like to introduce to you Steve Sharpe, our LPD Missionary of Church Planting Development.

I first met Steve in May, 2009 when he relocated from Kelowna to plant a church in Ladysmith, BC, not knowing what denomination this would be with. After several closed doors and God's creativity, we were connected, and, as they say, "the rest is history." Steve was instrumental in the formation of the Rock Christian Fellowship in Ladysmith, and in 2016, moved to the Lower Mainland, where he has been an instrumental player/coach in the birth of the Steveston Project. Steve also served as Director of Church Planting on the LPD Board for six years, giving leadership to the district church plants through assessments, basic training and coaching for church planters.

In January 2018, our LPD, recognizing the need for Steve's gifts and skills to resource church planters and planting, hired and invested in him as part-time, LPD Missionary of Church Planting Development. In this capacity, he is coaching church planters, guiding/consulting the transition/rebirth of the "new" New Westminster EFC, and partnering with EFCC National Mission Director, Neil Bassingthwaighte in leading "Revitalization" workshops in local churches and districts in the EFCC.


Steve currently resides in Richmond with Gillian, his wife of 32 years and their dog Winston. Steve and Gillian have four adult children (Lauren, Natasha, Michaela, and Mackenzie) and four grandchildren (Landan, Samson, Carter, and Adira). Steve can be reached at srsharpe@shaw.ca.

I have asked Steve to share a few thoughts with us from a church/church planting coach perspective.

Title: Lessons for Discipleship that Transforms
First Lesson. Accountability: Set clear expectations.
Message: Accountability begins with establishing a clear understanding of an outcome and how that outcome is measured and to be mutually determined to be met or unmet. (If my son asks to go out and I say, "Don't be late!" lateness must be pre-determined. 10:00 pm is on time. 10:01 is 1 minute late.) Setting clear expectations for accountability answers two questions of what? and why?
If you want disciples to be transformed, then disciple transformation must be clearly stated as a goal.
First, discipleship accountability for disciples of Christ on mission will answer the why? question. The call to mission gives definition to purpose; sometimes it is a, "Why is this the right thing to do?" or, "Why is this a best practice for as a disciple?" or, "How is my missional contribution connected to my community of faith?" The transformation of disciples into the image of Christ needs to be clearly stated as an intended goal and the purpose of discipleship so that there can be accountability in discipleship.
Second, discipleship accountability answers the what? question. What are some strategies and tactics that disciples are asked to complete for the purpose of transformation? Throughout Scripture God calls his people to obedience so that the Kingdom of God can advance and the people of God can be the revelation of God through Jesus Christ as salt and light. Anyone in Christ becomes a new creation (2 Cor. 5:17). Transformation is the evidence of a God connection.
As I have learned to implement this lesson, I realize that my ability to make disciples is impacted by my personal transformation. The mission that God calls me to accomplish is directly connected to my spiritual development and personal transformation. For my leadership to be effective in my home, my church, or my community requires me to have healthy, effective relationships so that I can be held accountable.
Questions for your consideration:
Who holds you accountable?
What expectations have you set so that people can hold you accountable?
Do you know your personal what? and why?

Thanks Steve!

Please pray for:
Joshua and Nicole Fast, new Children's Ministry Intern at Parkdale EFC, who is also now a LPD Missionary, as he begins "Priceless Youth Ministries," a ministry to families of special needs children/youth. Pray for their son, Malachai, as he recovers from surgery he underwent on June 5.
The Steveston Project Team – Allen and Hannah Chang and Daniel and Joyce Wong. Pray for them, as they lead this developing work of God, and give thanks for the lives being touched through the Gospel. Pray for our Advisory Team, as we meet on June 26.
New Westminster EFC. Pray for Transitional Pastor Ralph (Karen) Hardy and Church Planters Jorge (Emily) Lin this church family, as they seek the Lord for the "new" work.
Tom and Sandy Ford and family, as he awaits transplants, made necessary through the impact of his diabetes.
Quadra Island Bible Church, as they seek the Lord in their pastoral search. They are interviewing a potential candidate.
Christ Community Church is readying the church for a new season.
Carl Lindstrom, a faithful member and volunteer at New Westminster EFC, who has aggressive prostate cancer. Praise the Lord that he is responding well to chemotherapy.
LPD Board. Board members are Randy Lemke (Allana) – Chair, Patrick Chan (Sarah) – Property and Finance, Ben Crumback (Anna) – Island Liaison, Charles Labun (Carolyn) – Church Board Liaison, Rob Stewart (Karen) – D.S., Tim Stewart (Emily) – Innovative Ministries, Paul Yang (Jin) – Korean Church Liaison; Phil Yung (Grace) – Church Planting and Josephine Papp, LPD Office Administrator – Recording Secretary. Please pray for provision of a Chinese Church Liaison.
Steve (Gillian) Sharpe, in his ministry as LPD Missionary of Church Planting Development, serving both our LPD Missionaries and Church Plants, and church planting in the EFCC.
Upcoming Events:
"Arise Ministers Conference"
We are thankful for Pastor Sammy Kabyemera (Eva), who pastor Jesus Grace International Church, a church in Vancouver. Sammy, Eva and their six children came to Canada as refugees from Congo, via an Ugandan Refugee Camp.

While their church ministers primarily to African Immigrants, they retain a heart for the people and church of Africa. Sammy is troubled by the spread of the "prosperity gospel" in Africa, and is burdened to see that pastors are grounded in the Word of God and equipped to teach and guide God's people.

Sammy is trusting God to travel to Africa for a mission trip to train and equip African Pastors through a conference that he has been asked to speak at. Please see the attached email, to learn more of this conference, and the need in Africa, and how we can support this important ministry to brothers and sisters in Africa.

Arise_Pastors_Conference_2019.pdf

Please prayerfully consider giving towards this mission
***
CAMP EVERGREEN
August 5-10
This local summer camp is affiliated with the Lower Pacific District, and provides a great opportunity to extend your church ministry through camp, and to follow up afterwards. Many district families, including ours have benefited through this ministry, both in the children's camp and leadership development in the LTD program. This summer, there is a children's camp (Aug. 5-10), a teen camp and the LTD Leadership Program. Check out their website for details:

***
LPD/EFCC Pastor and Staff Orientation

All pastors staff and interested volunteers are welcome too this opportunity to learn about the history, ethos, doctrine and ministries of the EFCC. Orientation is a requirement for all persons seeking credentialing in the EFCC, and is valuable for everyone in EFCC churches.

Pastor_and_Staff_Orientation_2019_Invitation.pdf


***
LPD Pastor and Spouse Retreat
Nov. 22-24, 2019
Hello LPD pastors, we'd like to invite you to join us on Nov. 22-24, 2019 for a Pastors' retreat! We'd like to encourage you to take a breather in late November (before Advent begins) with your fellow pastors at Camp Charis in Chilliwack.Registration is open on our LPD Website. Please see:
http://www.lpd-efcc.ca/event/lpd-pastor-and-spouse-retreat/