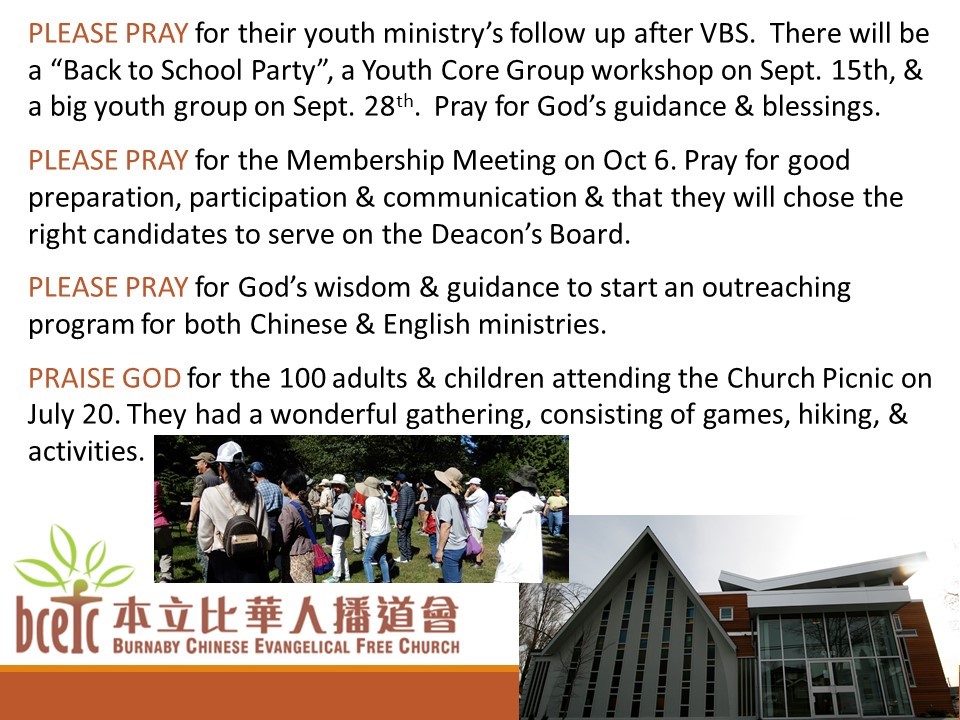 Burnaby Chinese EFC

– our LPD Church of the Week
Thanks to Anna (Ben) Crumback at Sointula Community Church for producing the Church of the Week!


So, who is your personal hero? You likely have not given thought to that lately – or recently been asked that question…

Green Party leader Elizabeth May was recently asked this question, in an interview with Vassy Kapelos, host of Power & Politics on CBC News Network.

May answered without hesitation, "Jesus Christ," but then immediately apologized, saying that she had, "… answered without bothering to self-edit."

Kapelos followed up with May, asking why she felt a need to apologize, and she answered, that it was because the Green party was a tolerant and diverse place — "inclusive and all-embracing."

Globe and Mail Columnist, Matt Gurney writes of this exchange, "Shouldn't that make it easier for the leader to discuss her own sincerely held moral positions?"
He writes:
"This entire campaign thus far has been infused with the background issue of religious tolerance in Canadian society. Indeed, I note with interest that it was just a few days ago that May was making the point that her party was welcoming of religious diversity and would not tolerate discrimination, this after some NDP defectors to the Greens were reported to have concerns with the electability of Jagmeet Singh, a Sikh, because of his religion."
Gurney, who himself makes no profession of faith, concludes his column with the comment, "If she does not see the absurdity in insisting that the Green party is too open and tolerant a place for her to express, in pretty mild and unobjectionable terms, that she has faith in the Christian Saviour, I'm not really sure that says anything good about either her, the party she leads or the notions of tolerance and inclusivity as embraced by Canada's political left. "

Here's a link to the full article:
I write of this exchange, not to critique Elizabeth May, but because she perhaps illustrates the confusing corner that some professing and no-doubt well meaning Christians have painted themselves into. "Tolerance" means embracing and welcoming all religions, with the exception of Christianity, because one fears that to identify with Christ and the faith that bears His name might be considered to be intolerant of others.
As I ponder May's rather inconsistent and perhaps incoherent thought, I wonder if there is not more behind this. Might it be that in the climate of Canada today, the word "Christian" is not associated so much with one being a disciple of Jesus Christ as Lord and Saviour as with one who is associated with the Christian religion, and is "anti" many of the initiatives of the "progressives" today – same sex marriage, abortion, gender fluidity, etc.

It is written of the early church in Jerusalem:

They devoted themselves to the apostles' teaching and to fellowship, to the breaking of bread and to prayer. Everyone was filled with awe at the many wonders and signs performed by the apostles. All the believers were together and had everything in common. They sold property and possessions to give to anyone who had need. Every day they continued to meet together in the temple courts. They broke bread in their homes and ate together with glad and sincere hearts, praising God and enjoying the favor of all the people. And the Lord added to their number daily those who were being saved. (Acts 2:42-47).

While followers of Jesus should not expect to be immune from persecution and hardship, it should not be self-inflicted. The Bible speaks to the uniqueness of the Christian Gospel and Jesus Christ our Lord. It also speaks to social issues of today. Let's preach the Gospel of Christ unapologetically, and with compassion, love and humility, remembering where we have come from, as Paul writes, "And that is what some of you were. But you were washed, you were sanctified, you were justified in the name of the Lord Jesus Christ and by the Spirit of our God." (1 Cor. 6:9-11).

What are we as EFCC churches known for in our communities? In our places of work? What are our people known for? What am I known for? How do we equip people to be those who "reflect Christ" (2 Cor. 3:18) to our communities?

CS Lewis, in "Mere Christianity" states this so well, as he writes, "
"The Christian is in a different position from other people who are trying to be good. They hope, by being good, to please God if there is one; or — if they think there is not — at least they hope to deserve approval from good men. But the Christian thinks any good he does comes from the Christ-life inside him. He does not think God will love us because we are good, but that God will make us good because He loves us; just as the roof of a greenhouse does not attract the sun because it is bright, but becomes bright because the sun shines on it."

May we reflect the love, grace and holiness of Christ to our neighbours and friends.

***

Here are some interesting stats on the increasingly secular region in which we live:

And an article on millennials and faith:

canadian-millennials-choosing-god-in-a-secular-world

***

Please pray for:
Phil and Laura Harris. Phil is Pastor of Congregational Life at Johnston Heights Church, and his parents Doug and Mary Harris pastored and led in Fellowship Baptist Churches for many years. Doug also was a pioneer in the Transitional Ministry Training with Outreach Canada. Mary Harris passed away recently, and a service will be held for her on Saturday, September 14, 1:30 PM at South Delta Baptist Church. A reception will follow. Please pray for the family, and for Phil, as he has the privilege to speak and share the Gospel there.
Karen and me, as we travel to Sointula this weekend, to be with Ben and Anna Crumback, and minister at Sointula Community Church. We are thankful for them and their ministry.
Pray for Peter Han, who is in basic training as a chaplain in the Armed Forces. Let's also remember chaplain Shiya Janzen (Padre Shiya Janzen, Lt(N) / Ltv),  as she continues to serve as chaplain in Esquimalt and coordinates chapel. Chris Willis, another EFCC Chaplain has also been assigned to the Canadian Forces base in Esquimalt as well, and we welcome him to our region.
Pray for our nation – that our leadership candidates will acknowledge our Lord, and will speak and act with integrity.
Joshua and Nicole Fast, new Children's Ministry Intern at Parkdale EFC, who is also now a LPD Missionary, as he begins "Priceless Youth Ministries," a ministry to families of special needs children/youth.
The Steveston Project Team – Allen and Hannah Chang and Daniel and Joyce Wong. Pray for them, as they lead this developing work of God, and give thanks for the lives being touched through the Gospel. Pray for them and their leadership, as they seek the Lord for the next steps in this work.
New Westminster EFC. Pray for Transitional Pastor Ralph (Karen) Hardy and Church Planters Jorge (Emily) Lin this church family, as they seek the Lord for the "new" work.
Tom and Sandy Ford and family, as he awaits transplants, made necessary through the impact of his diabetes.
Quadra Island Bible Church, as they seek the Lord in their pastoral search. They have plans to candidate a pastor on September 22, and we trust God to guide all in this process.
Christ Community Church is considering options for pastoral ministry for the future.
Praise the Lord that Carl Lindstrom, a faithful member and volunteer at New Westminster EFC he is responding well to chemotherapy.
LPD Board. Board members are Randy Lemke (Allana) – Chair, Patrick Chan (Sarah) – Property and Finance, Ben Crumback (Anna) – Island Liaison, Charles Labun (Carolyn) – Church Board Liaison, Rob Stewart (Karen) – D.S., Tim Stewart (Emily) – Innovative Ministries, Paul Yang (Jin) – Korean Church Liaison; Phil Yung (Grace) – Church Planting and Josephine Papp, LPD Office Administrator – Recording Secretary. Please pray for provision of a Chinese Church Liaison.
Steve (Gillian) Sharpe, in his ministry as LPD Missionary of Church Planting Development, serving both our LPD Missionaries and Church Plants, and church planting in the EFCC.
Upcoming Events:
LPD/EFCC Pastor and Staff Orientation
Monday, September 23 at the EFCC Office
All pastors staff and interested volunteers are welcome too this opportunity to learn about the history, ethos, doctrine and ministries of the EFCC. Orientation is a requirement for all persons seeking credentialing in the EFCC, and is valuable for everyone in EFCC churches.
Here is the info.
Pastor_and_Staff_Orientation_2019_Invitation.pdf

You can register online at:
https://www.efccm.ca/wordpress/pastors-orientation/
***
Best Practices for Mission Workshop
The Best Practice for Church Missions Workshop, developed by Fellowship International and Northwest Baptist Seminary, has benefited almost 50 churches across Canada. It has been designed to help churches navigate the maze of missions options to become effective and strategic partners in God's mission to the world.
This one-day workshop provides church leadership and missions committee members the opportunity to revisit and clarify their missions program. The interactive format encourages vision and passion as participants see a role and purpose for their leadership in missions involvement.
Join others in a day of discovery and decision making that will give clarity, purpose – and a plan – for impacting missions participation.
Book your table soon, there is only room for 6 churches.
Date: Saturday October 5
Time: 9.30 – 3.30
Cost per church (includes lunch): $80 (up to 6 participants), $100 (7-10 participants), $120 (11-15 participants)
Venue: Vancouver Chinese Evangelical Free
3295 E Broadway (at Rupert)
Missions_Committee_Workshop_brochure.doc
***

Theology in Culture: Of God and Games Public Lecture

The first instalment of ACTS' new Theology in Culture series will explore what it looks like to think critically about God, faith, video games and gaming culture. With presentations from John Auxier, Ph.D. (Professor of Marriage and Family Therapy at ACTS Seminaries) and Kevin Schut, Ph.D. (Professor of Media and Communication and creator of the new Game Development program at Trinity Western University), this event will offer a chance to learn and discuss the interaction between faith and games.

The seminar will be hosted by SouthRidge Fellowship Church in Langley on Saturday, October 5th from 9am-3:30pm and the cost of $40 includes lunch.

For more information, please check out the webpage at actsseminaries.com/culture.
Online registration is available through Event Brite.

***
LPD Pastor and Staff Cruise


a day of fellowship, learning and encouragement with co-workers in Christ–
Wednesday, October 30
Here are the details:
Pastors_Cruise_Oct._30_2019.pdf

***

LPD Pastor and Spouse Retreat
Nov. 22-24, 2019
Hello LPD pastors, we'd like to invite you to join us on Nov. 22-24, 2019 for a Pastors' retreat! We'd like to encourage you to take a breather in late November (before Advent begins) with your fellow pastors at Camp Charis in Chilliwack.Registration is open on our LPD Website.