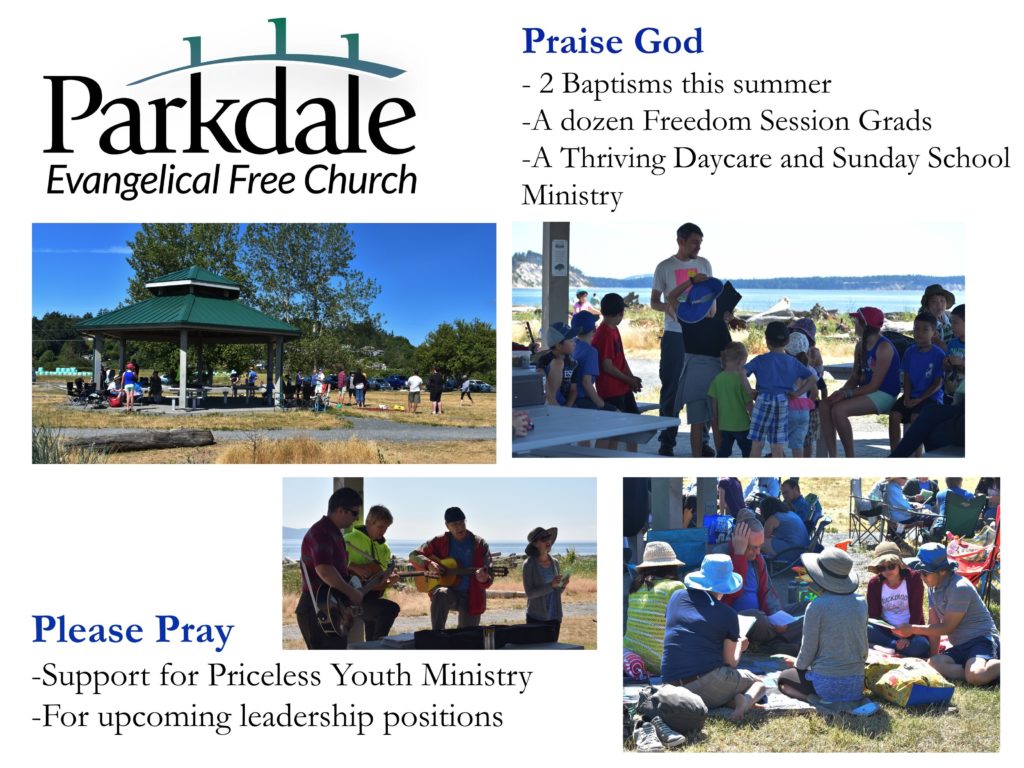 Parkdale Evangelical Free Church

– our LPD Church of the Week
Thanks to Anna (Ben) Crumback at Sointula Community Church for producing the Church of the Week!
Parkdale EFC is in Victoria. Karen and I used to attend this church when we lived in Victoria from 1980-1985, while I was on staff with InterVarsity Christian Fellowship.

It was while attending Parkdale that our first two children, Jon and Tim were born, and both were dedicated there.

Little did we know that years later, our son Tim, his wife Emily and children Miriam, Malcolm and Wesley would return to pastor this church. Since Tim and Emily arrived, the church has grown in numbers, believers and in diversity of cultures, and we are thankful for this.

Very recently, the church called Joshua Fast to be Intern of Children's Ministries, and we are thankful for this step. Joshua and his wife Nicole have been blessed with their dear son Malakai, who deals with some special needs. Through their experience, they have felt called to begin a ministry to families with special needs children and youth, and they have named this, "Priceless Youth Ministry." We celebrate this ministry, and have appointed Josh to be a Lower Pacific District Missionary as he establishes this work.

Here is a link to some information on this ministry. Please contact Joshua for information and see our LPD website for information on support.
 
https://gallery.mailchimp.com/433d3cb120e1cebbbc3b0c67c/_compresseds/dd5d4191-f171-4322-a13b-0e2a1bf8163a.jpg


Page 2

https://gallery.mailchimp.com/433d3cb120e1cebbbc3b0c67c/_compresseds/dd5d4191-f171-4322-a13b-0e2a1bf8163a.jpg


***


Today is the Global Climate Strike – will you be there?

Chances are, as an evangelical Christian, you won't be. Yes, you, like me, may need to work. Others may not see this as a priority or simply choose to not be involved.

Whether we join a protest, ignore it or just go about our business, we all share the same environment, and the consequences of our actions and inaction.

Evangelical Christians tend to not be engaged in environmental studies, let alone the "environmental movement." Here is a link to a study that argues that western Christianity has contributed to environmental degradation:


Why conservative Christians don't believe in climate change

https://journals.sagepub.com/doi/pdf/10.1177/0096340215599789
As an evangelical Christian, I am frankly somewhat disturbed by this article. I am also somewhat conflicted when it comes to supporting the position of political leaders.

As we are in the midst of a federal political campaign, I find myself aligning more with the moral stance and financial policy of one party, and aligning more the with the environmental policy and emphasis of another party. Must I choose between leaving our grandchildren a legacy of a polluted and damaged environment, or that of financial indebtedness and moral compromise?

As it is, I will work today, but will ride my bicycle to do my part for the climate – and my health. At 20k return, it provides a good work out, and an opportunity to greet my Indo-Canadian neighbours who are out walking the paths.

Pastors, when was the last time you preached on God's creation? On our stewardship of creation? When was the last time you gave thought to the environment?

I ask these questions, not to embarrass anyone, but simply to say that we as evangelicals need to step up the plate with a voice. One of our sons is a botanist, and I am so proud that he is actively involved in studying and caring for God's creation. If I wasn't a pastor/DS, I would likely be out there with him in environmental work!

Here are some articles to get you thinking. First is a short article I wrote, entitled, "Me and God's Creation," a brief reflection on our relationship to and stewardship of our Father's creation.

Secondly, here is a much more extensive paper by Dr. Daniel Block, "A Biblical Theology of Biodiversity,"in which he addresses our Christian responsibility as stewards of creation:
Biblical_Theology_of_Biodiversity_Block.pdf

Though God has most perfectly revealed himself in His Son, He has also through "natural revelation," revealed himself through his creation. Many today worship the creation rather than the Creator (Romans 1:18-25), and we have the opportunity to join with others in caring for the environment and sharing of our Hope in the God of Creation.
***

PLEASE HELP

Vancouver Gospel Home Church is a Korean church plant that meets in Coquitlam. We have enjoyed coming to know Pastor Daeho Cho, and are working with them, as they make application to join our district and the EFCC Family.

Sadly the facility their church rents was recently broken into, and all their sound equipment was stolen. If your church can donate either equipment or funds towards replacing what was stolen, this would be a great blessing to these brothers and sisters in Christ.

Here is a list of what is needed:Speakers 2~3(under 100W)
Speaker stand 2
Microphone 2~3
Sound mixer(up to 10chn)
Projector 1
Please contact me (Rob) for more information, and thank you for considering this need. (rob@lpd-efcc.ca).

Please pray for:
Darren and Wendy Young of Town + Field Church, who will be completing their ministry on September 30, as he transitions to minister with the Leadership Network. Pray for Darren and Wendy as they complete their ministry, and as they and the church trust the Lord for the future.
Pray for me, as I minister at Vancouver Chinese EFC, and participate in the English Ministries series on the Book of Hosea.
Pray for Peter Han, who is in basic training as a chaplain in the Armed Forces. Let's also remember chaplain Shiya Janzen (Padre Shiya Janzen, Lt(N) / Ltv),  as she continues to serve as chaplain in Esquimalt and coordinates chapel. Chris Willis, another EFCC Chaplain has also been assigned to the Canadian Forces base in Esquimalt as well, and we welcome him to our region.
Pray for our nation – that our leadership candidates will acknowledge our Lord, and will speak and act with integrity.
Joshua and Nicole Fast, new Children's Ministry Intern at Parkdale EFC, who is also now a LPD Missionary, as he begins "Priceless Youth Ministries," a ministry to families of special needs children/youth.
The Steveston Project Team – Allen and Hannah Chang and Daniel and Joyce Wong. Pray for them, as they lead this developing work of God, and give thanks for the lives being touched through the Gospel. Pray for them and their leadership, as they seek the Lord for the next steps in this work.
New Westminster EFC. Pray for Transitional Pastor Ralph (Karen) Hardy and Church Planters Jorge (Emily) Lin this church family, as they seek the Lord for the "new" work.
Tom and Sandy Ford and family, as he awaits transplants, made necessary through the impact of his diabetes.
Quadra Island Bible Church, as they seek the Lord in their pastoral search. They candidated a pastor last Sunday, and trust God to guide all in this process.
Christ Community Church is considering options for pastoral ministry for the future.
LPD Board. Board members are Randy Lemke (Allana) – Chair, Patrick Chan (Sarah) – Property and Finance, Ben Crumback (Anna) – Island Liaison, Charles Labun (Carolyn) – Church Board Liaison, Rob Stewart (Karen) – D.S., Tim Stewart (Emily) – Innovative Ministries, Paul Yang (Jin) – Korean Church Liaison; Phil Yung (Grace) – Church Planting and Josephine Papp, LPD Office Administrator – Recording Secretary. Please pray for provision of a Chinese Church Liaison.
Upcoming Events:
YeBit Praise Folk Dances & Concert Party(Korea) and Continental Singers Mission Choir(Korea)

at Fort Langley Evangelical Free Church
(8870 Glover Rd., Langley)
5:00 pm – Tomorrow -September 28, 2019
Both are excellent Christian artists groups from Korea, which are well known to Korean churches for their outstanding performance. Through this performance, you will be able to feel how Korean traditional music meets the Christian gospel. They are currently visiting Canada to support aboriginal mission of the Korean churches in Greater Vancouver and Fraser Valley areas.
Admission is free and children are welcome(but babysitting not provided).

please contact Dr. Rev. Paul Yang if you have any question(1-604-996-8439).

Here is a poster for the event:
https://gallery.mailchimp.com/433d3cb120e1cebbbc3b0c67c/images/c0866a9e-e059-4fc3-bfad-e2a7d202b3a1.png

***
Best Practices for Mission Workshop
The Best Practice for Church Missions Workshop, developed by Fellowship International and Northwest Baptist Seminary, has benefited almost 50 churches across Canada. It has been designed to help churches navigate the maze of missions options to become effective and strategic partners in God's mission to the world.
This one-day workshop provides church leadership and missions committee members the opportunity to revisit and clarify their missions program. The interactive format encourages vision and passion as participants see a role and purpose for their leadership in missions involvement.
Join others in a day of discovery and decision making that will give clarity, purpose – and a plan – for impacting missions participation.
Book your table soon, there is only room for 6 churches.
Date: Saturday October 5
Time: 9.30 – 3.30
Cost per church (includes lunch): $80 (up to 6 participants), $100 (7-10 participants), $120 (11-15 participants)
Venue: Vancouver Chinese Evangelical Free
3295 E Broadway (at Rupert)
Missions_Committee_Workshop_brochure.doc
***

Theology in Culture: Of God and Games Public Lecture

The first instalment of ACTS' new Theology in Culture series will explore what it looks like to think critically about God, faith, video games and gaming culture. With presentations from John Auxier, Ph.D. (Professor of Marriage and Family Therapy at ACTS Seminaries) and Kevin Schut, Ph.D. (Professor of Media and Communication and creator of the new Game Development program at Trinity Western University), this event will offer a chance to learn and discuss the interaction between faith and games.

The seminar will be hosted by SouthRidge Fellowship Church in Langley on Saturday, October 5th from 9am-3:30pm and the cost of $40 includes lunch.

For more information, please check out the webpage at actsseminaries.com/culture.
Online registration is available through Event Brite.

***
LPD Pastor and Staff Cruise
a day of fellowship, learning and encouragement with co-workers in Christ–
Wednesday, October 30
Here are the details:
Pastors_Cruise_Oct._30_2019.pdf

***

LPD Pastor and Spouse Retreat
Nov. 22-24, 2019
Hello LPD pastors, we'd like to invite you to join us on Nov. 22-24, 2019 for a Pastors' retreat! We'd like to encourage you to take a breather in late November (before Advent begins) with your fellow pastors at Camp Charis in Chilliwack.
Registration is open on our LPD Website. Please see:
http://www.lpd-efcc.ca/event/lpd-pastor-and-spouse-retreat/
***